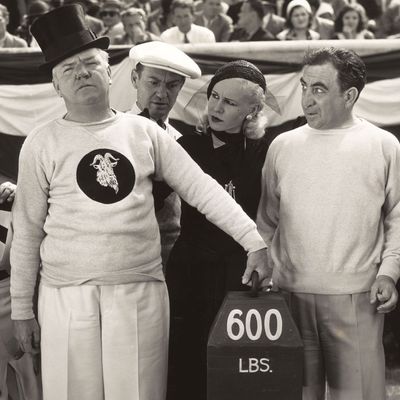 Jack Oakie and W. C. Fields in 1932's
Million Dollar Legs.
Photo: Paramount/Kobal/REX/Shutterstock
Looking for some quality comedy entertainment to check out? Who better to turn to for under-the-radar comedy recommendations than comedians? In our recurring series Underrated, we chat with writers and performers from the comedy world about an unsung comedy moment of their choosing that they think deserves more praise.
Adam Resnick is a writer whose name makes comedy geeks sit up and take notice. He's penned material for Late Night With David Letterman and Saturday Night Live, served as a writer and co-executive producer on The Larry Sanders Show, and in addition to consulting on HBO's dearly departed Bored to Death, he's more recently been working for the network as a writer and consulting producer on Divorce.
For a certain segment of the population, however, Resnick is known best and remains most beloved for his work with a gentleman he first met during his Late Night tenure: Chris Elliott. In addition to the time they spent together in the trenches with their old pal Dave, Resnick and Elliott also co-created the bizarre but brilliant Fox sitcom Get a Life and — as if we'd ever forget — Resnick directed and wrote the screenplay for the 1994 film Cabin Boy, which recently received its belated Blu-ray debut.
(For the sake of completeness, it should also be noted that Resnick was also thanked on Elliott's 1986 Cinemax comedy special Action Family, on which Resnick claims he was Elliott's "wig wrangler." We didn't reach out to Elliott for confirmation because we didn't want to risk having him break our hearts by denying the claim.)
Resnick took some time to pinpoint the perfect item for discussion for this installment of Underrated, and even after he made his selection, he still found himself questioning whether it was underrated or more below the radar. Thankfully, Million Dollar Legs is both. Whether or not his slightly askew comedic sensibilities were the direct result of watching the 1932 film is a premise worth considering, but your time would be far better spent considering the film itself. Jack Oakie, best known for his Oscar-nominated turn in Charlie Chaplin's The Great Dictator, stars as brush salesman Migg Tweeney, who visits the (fictional) country of Klopstokia to peddle his wares, only to wheedle his way into the heart of a young woman named Angela, played by Susan Fleming. In Klopstokia, all of the women are named Angela and all of the men are named George — no, we don't know why — but this Angela stands above all others because her father (W.C. Fields) is the president of Klopstokia. The country's finances are in a state of ruin, but Migg has a plan to bring them back from financial ruin: enter the 1932 Summer Olympics!
When you selected this film, it didn't even ring a bell with me, and this is coming from someone who actually had a copy of the book The Films of W.C. Fields when I was a kid! Did that surprise you?
It's not a movie most people would be aware of. Unless they owned a book called The Films of W.C. Fields as a child. So, yeah, I was a little surprised.
Okay, at the very least, I think it's fair to say that Million Dollar Legs is not exactly the first film that leaps to most people's minds when they think of W.C. Fields. How did this first cross your radar? Was it happenstance or an intentional deep dive after discovering his more popular work?
I saw it on cable when I was really young. Maybe around 8? I could tell it was supposed to be funny — I didn't think in terms of genre at that age, like, "Oh, it's a comedy!" — but it was so strange, it actually creeped me out a little. Which is my sweet spot, I guess. I don't think I saw it again until I was a teenager, and that's when I realized how much I loved it. I'd seen other W.C. Fields films like It's a Gift, which is actually a much funnier movie, but overall I like Million Dollar Legs more because it's so surreal and jittery.
It's a weird amalgam of political satire and live-action cartoon. If viewed during a formative period, I could see how this could both shape someone's comedic sensibilities while almost permanently warping them.
I never thought about that, but it may have been one of many things that played a part in shaping my sensibilities or gave me a sense of the kind of things I liked. Cabin Boy and Get a Life are kind of weird. When I was a kid I was always drawn to Depression-era movies on TV — the ones I'd later learn were pre-production code. Even if a movie wasn't good, and many from that period aren't, I can still get by just by the look of things: the cars, the clothes, the way people talked, and the stilted acting. A scene in a luncheonette, I can stare at that forever. I like the way the audio sounds, sort of scratchy and tinny.
There are a few W.C Fields movies from this period that are really good. There's one called If I Had a Million, also kind of strange. It's funny — two weird ensemble movies with W.C. Fields and Jack Oakie with the word "million" in the title. You'd think someone at Paramount would've flagged that. Both written, or partially written, by Joe Mankiewicz, by the way.
Jack Oakie is one of those actors who was a pretty huge star in his day but is virtually unknown today. I'm a little surprised, because — just to use pop-culture references that all the kids will know — he comes across as somewhere between Red Skelton and Bert Lahr. That's money in the bank!
Right off the bat, you have to love the name. He pretty much delivers on it too. You could see that guy for the first time and you'd say, "His name's gotta be Jack Oakie." I don't know a lot about him, just what I've seen in some movies from this period, but he's pretty funny. I sense a very strong vaudeville background. [Laughs.]
When I mentioned this film on social media, I had one person say, "Starring the future Mrs. Harpo Marx (Susan Fleming)!" Another said, "Lyda Roberti is incredible!" For my part, the other other actor in the film besides Fields and Oakie who'd previously been on my radar was Ben Turpin … but, really, once you've seen a picture of Ben Turpin, it's hard to forget the guy. Did you know any of these actors beforehand, and did their work in this film send you looking for their other work?
I don't know anything about Susan Fleming or the other actress you mentioned. Maybe text Leonard Maltin to get some intel on them. Ben Turpin, geez. He does that thing with his eye that makes my eye hurt. He fits into the movie, but I sort of look away whenever he's onscreen. I can't look at that. I'm like you — he's one of those silent-movie guys you recognize from seeing his picture in books or TCM documentaries. He's like an unpleasant version of the Moon with the rocket in its eye. That said, I don't recall seeing much of Mr. Turpin's work.
Given that there's material in the film that's still relevant today — it's not like we don't still hold the Olympics — are you surprised that no one's ever tried to either remake or update this film, or at least its concept? 
No, not really. I don't see how that would be possible, and I can't imagine the pitch — an acid trip about a brush salesman who winds up in a strange country and leads its oddly athletic residents to the Olympics. It doesn't strike me as something people would be begging for. I doubt they were begging for it in 1932. Although I guess there's always a lame modern twist for any idea. I mean, there's never been a shortage of hack comedies with the "big game" in the third act.
But this movie is too of its time. Part of its appeal for me is how ragged and incomplete it feels. Lots of strange jump cuts that look like they go back to the negative. It's only about an hour long. Who knows what was cut out or why. And when you're a little kid, not understanding any of this, not even knowing how movies are made, it adds to the mystery of it. Leaves you feeling a little unsettled. That was my experience, anyway. I liked that feeling.
So are you a W.C. Fields fan as a rule, or is this film an exception?
No, I really love him, but I was never an obsessive comedy nerd, so I wasn't hanging W.C. Fields posters in my room.
I didn't know if there were any other films from his oeuvre that you'd recommend.
Most of his early-'30s movies. But sometimes it's just his performance in a film more than the movie itself. Oh, and a lot of his early shorts are great, like The Dentist and The Fatal Glass of Beer.
Do you think there's a lesson to be learned by modern audiences from watching this film? Or is it too far from today's typical comedic mind-set to be appreciated by the masses nowadays?
I could never criticize anyone for not liking this specific movie, or even attempt to convince them why they should like it. You either feel it or you don't, like anything else. As far as a lesson that could be learned from watching it, I don't know what it would be … Find pleasure in sloppy jump cuts?