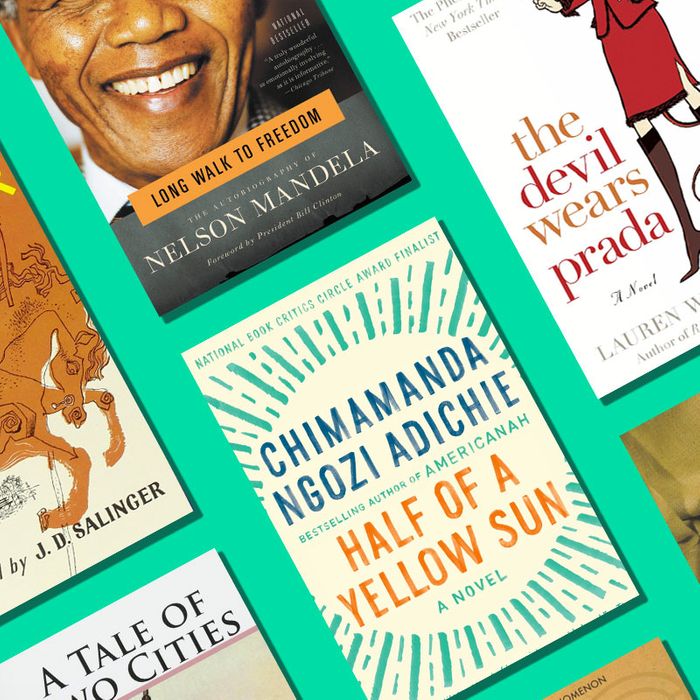 Bookseller One Grand Books has asked celebrities to name the ten titles they'd take to a desert island, and they've shared the results with Vulture. Below is two-time Emmy winner and Orange Is the New Black star Uzo Aduba's list.
I read this book in kindergarten. As a child born to immigrants, it reminded me that even though things can look different to the outside eye, in the end they are all the same, and all taste delicious.
My tribe were the primary victims of this wretched war, and like most who have survived the sights of war, they don't like to talk about it because they are hard, very real memories. I knew pieces of my family's story during this time, but when I read this book, I felt like I suddenly understood who my parents, aunts, and uncles were and what part of their formative years had entailed.
This is one of the most gripping books I've ever read. It's inspiring to read the evolution of such an iconic figure in American history, and a sharp lesson on always going to the source if you truly want to know a person.
One of the last great men. His entire life was an education on how to be better, and this book reflects two things for me: greatness and the measure of a human, and how the essence of bravery can take many forms.
I read this for the first time my sophomore year in high school. This is where I fell in love with the Bard. The drama, and the incredibly powerful words Lady Macbeth is given to say were unlike any I had heard from a woman in literature at that time. It felt like a page-turner. Even though it wasn't. Cause, y'know, iambic pentameter.
The first book that made me curious about a fictional character's inner life. The whole thing was so psychological, he was so lost. And I think I realized that teenagers have always been this way — since the beginning of time.
Whoa! From the very beginning, it is the original soap opera, and I loved every second of the drama! To watch a writer like Dickens yet again (I had already read Great Expectations) weave so many characters' story lines together with one another… This book required you to pay attention to every character and every word and served to remind this: no person or thing is insignificant.
I read it before I saw the movie. I thought it was funny and tragic, exactly where a new girl to a big city — like me — could see pieces of herself, when she's trying to figure out her place in this concrete jungle. It was just good … that's all.
This is a book that found me. I read it the summer after college, right before moving to NYC and starting out on my own personal legend. The Alchemist has found me every time I'm about to embark on a new path, or during a major transition. I've read it each time, and every time there are even more treasures to discover.
James Baldwin remains one of the most prolific and prophetic writers to have lived. Every page had been stamped by a genius. This autobiographical collection of essays moved my heart, expanded my mind to the larger, richer perspective of the black experience in civil rights America, and firmed up my opinion that, "There is more to being black than meets the eye."