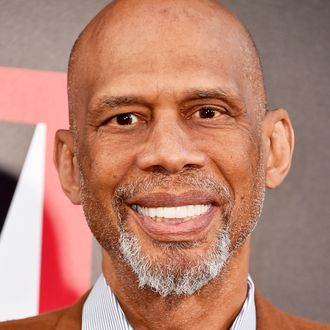 Photo: Alberto E. Rodriguez/Getty Images
So you're the all-time leading scorer in the NBA. You're well into your next act professionally, and you're ready to take on new creative pursuits? So what do you do next? You join the writers room of a high-profile television revival, naturally. Veronica Mars creator Rob Thomas announced his new writers room on Twitter today, and among the lineup of generally average-sized people stands a giant of a man and one of the greatest professional basketball players of all time, Kareem Abdul-Jabbar. Abdul-Jabbar has of course been an established writer for some time now, with bylines appearing in outlets like the Guardian, and he's authored or co-authored more than ten books, one of them being a tangential entry in the Sherlock Holmes literary universe called Mycroft Holmes. So, he writes, but is he a Marshmallow? How deep does his Mars love go? Is this the fulfillment of a long-held dream, or is Abdul-Jabbar just a working writer like anyone else in Hollywood and this is his latest gig? So many questions!
Oh, and Thomas also shared some revival casting news on Twitter as well. Maybe you know some of them.