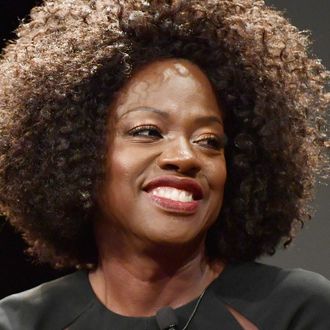 Davis.
Photo: Ben Gabbe/Getty Images
Viola Davis is at the Toronto International Film Festival promoting her new movie, Widows, and in a new interview with the New York Times she shared some of her biggest professional challenges. Presented with questions from Times readers about her career, Davis talked about carrying the weight of being an A-list black actress in Hollywood ("The responsibility of feeling like I am the great black female hope for women of color has been a real professional challenge.") and shared some of her professional regrets. One of them had to do with The Help, which Davis said did not do enough to prioritize the stories of the maids in the film.
Have I ever done roles that I've regretted? I have, and The Help is on that list. But not in terms of the experience and the people involved because they were all great. The friendships that I formed are ones that I'm going to have for the rest of my life. I had a great experience with these other actresses, who are extraordinary human beings. And I could not ask for a better collaborator than Tate Taylor.




I just felt that at the end of the day that it wasn't the voices of the maids that were heard. I know Aibileen. I know Minny. They're my grandma. They're my mom. And I know that if you do a movie where the whole premise is, I want to know what it feels like to work for white people and to bring up children in 1963, I want to hear how you really feel about it. I never heard that in the course of the movie.
Upon the The Help's release, it was criticized for nice-washing the dynamic between black workers and their white employers, in addition to playing up the role of white characters in building the civil-rights movement. Davis herself has talked about how the anger of the characters played by her and Octavia Spencer was softened or dropped entirely before the movie hit theaters. If, however, you'd like to see Davis play a character very much in control of a group of women trying to pull of a big heist, you can see her in Widows starting November 16.
Update: In Ava DuVernay's past Hollywood life, she was in public relations, and she actually worked on The Help. Today she posted on Twitter about her support for the issues Davis had with the movie.