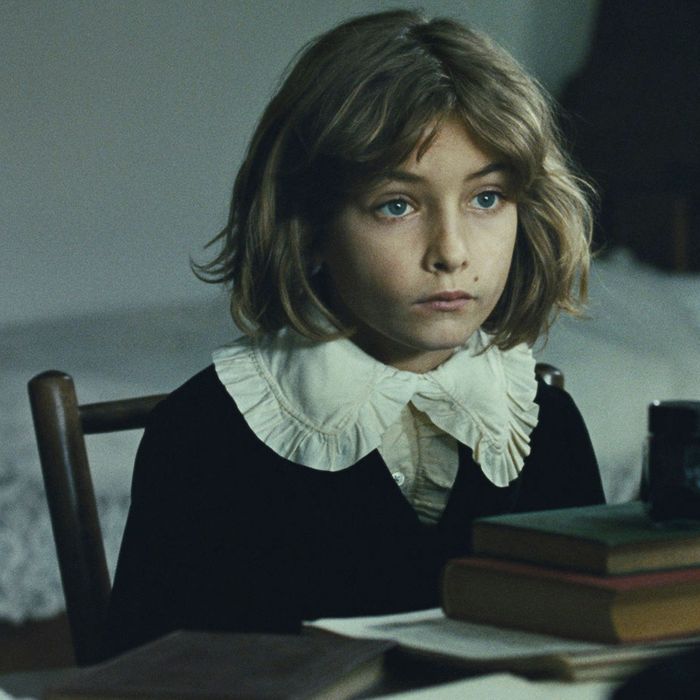 The Childhood of a Leader.
Photo: IFC Films
The standout premieres of the fall festival circuit tend to fall into two categories. First, there are the favorites, the studio-backed movies by Oscar-nominated or Palmes d'Or–winning filmmakers that come into Venice or Telluride or Toronto with high hopes and a lot to lose; in that category this year, you might include Damien Chazelle's First Man, Luca Guadagnino's Suspiria, and Barry Jenkins's If Beale Street Could Talk, all films that carry the expectation of greatness with them into their first screenings.
Then there are the ones you didn't see coming. A movie in that latter camp this year is probably Vox Lux, by the 30-year-old American Brady Corbet, which has been receiving major buzz out of Venice. Possibly, you were tipped off to the potential of Vox Lux when Corbet cast Natalie Portman as its central character, a pop star experiencing her downfall; possibly, you flagged it when Sia signed on to write the songs. Or possibly, you've been following Corbet since his days in front of the camera, when he showed up in movies like Michael Haneke's English-language remake of his own Funny Games, Sean Durkin's brutal and committed Simon Killer, and his partner Mona Fastvold's beguiling The Sleepwalker. You may even have recognized him as the American guy who kept showing up in European films, a role that he served in Ruben Östlund's Force Majeure, Mia Hansen-Løve's Eden, and Olivier Assayas's Clouds of Sils Maria — all in the same year.
But even if you were hip to any of this, you'd still be forgiven for thinking that this was Corbet's first outing as a director. In fact, Corbet has another movie under his belt: The Childhood of a Leader. And it isn't just one of the best debut efforts in recent memory: It ranks among the most striking and accomplished American films of the last few years. Unfortunately, however, it was criminally underseen and underappreciated when it was released back in 2016, and it's more than worth revisiting as you wait for Vox Lux to reach American shores.
Co-written with Fastvold, The Childhood of a Leader is set in France during the closing days of World War I. In three parts, or "Tantrums," each introduced with a title card, plus a mesmerizing coda, Corbet shows the son of an American diplomat and his polyglot wife growing increasingly unruly and aggressive, rebelling against everyone and everything in his life. Watching The Childhood of a Leader, it isn't hard to understand why the film didn't exactly set the multiplex on fire when it came out: Corbet's approach runs contrary to just about every prevailing trend in modern movies.
He favors the long takes employed by European auteurs over the frenetic editing of recent American cinema, his approach ranging from carefully framed dialogues in the vein of Ingmar Bergman and Carl Th. Dreyer to loping tracking shots reminiscent of Max Ophüls, particularly when they take place within the massive French villa he utilizes as his primary location. His framing is geometric and painterly, his actors often center-punched, his colors rich and dark. And his treatment of the material is serious and unadulterated: Much of the dialogue is in French, and there's little explanation of the geopolitical situation or a clear spelling-out of the central conceit, the one hinted at by the title.
This isn't filmmaking in the expository style of many American indies, where each emotional thread is pushed to a clarifying climax, leaving you with a clear picture of exactly what happened, why, and what everybody learned. Instead, it's a thrilling trip into the Freudian abyss, a mysterious and allusive piece of work that attempts to address the hell-on-Earth that was the first half of the 20th century, in an elegant and deliberate style that suggests the sure hand of a craftsman, not the learning curve of a debut director.
If you haven't seen The Childhood of a Leader yet, spoiler alert. As I mentioned, its structure revolves around three tantrums thrown by the young boy at its center, a character who goes unnamed until the last ten minutes of the film. In the first chapter, he throws rocks at the parishioners of a local church; in the second, he touches the breast of his French teacher, then locks himself in his room; in the third, during a dinner party meant to celebrate the end of the Great War, he strikes his mother in the head with a rock after refusing to say a prayer at the table.
More happens in each of these segments, but ultimately, the events describe a boy — who, with his chin-length, feminine hair, is often mistaken for a girl — engaging in a pair of twinned rebellions with echoes that reach back to Greek myth: an Oedipal undermining of his father, with the associated adoration of his mother; and then a campaign against his mother that ends, like that of Orestes in Aeschylus' Agamemnon, with an attack. The sense of Freud comes not just from the time period, but from how these narratives seem to play out in a kind of psychosexual childhood mania.
One of the delights of the film is that the pieces don't fit completely until the end. Early on, we meet a journalist, played by Robert Pattinson, who visits the family in France. While he and the mother, played by Bérénice Bejo, seem familiar with each other, it isn't until two-thirds of the way in that we start to more strongly suspect that they might be having an affair, and then it isn't until the coda — subtitled "Prescott the bastard," during which Pattinson appears again as a kind of American or Anglo fascist dictator in the vein of Hitler and Mussolini — that it becomes fairly clear that the boy, whose name is Prescott, was the product of this affair. With that information, the boy's behavior can be read as a punishment of his cuckolded father and philandering mother; his rage and confusion, which seems deeply tied to his bilingual life, results, presumably, in a rejection of European cosmopolitanism in favor of fascistic nationalism.
In the closing credits, Corbet acknowledges Hannah Arendt, Robert Musil, John Fowles, and Jean-Paul Sartre, all writers who engaged deeply with notions of cosmopolitanism, totalitarianism, and society, as influences, and those references feel earned. (There's actually a Sartre story called "The Childhood of a Leader" that has parallels with Corbet's story, but it's far from a direct adaptation.) The Childhood of a Leader represents a remarkable design, one that tries to contemplate the deeply corrosive instinct that drove the world to the brink of ruin — an instinct that has hardly gone away — and put a face and story to it. It isn't a literal work so much as an allegorical one, a film that tries to visualize the corruptive elements within human culture, including violence, anger, jealousy, sexual impropriety, and mechanization, and point to the effect they can have. In that way, it seems most in the tradition of Stanley Kubrick and Roman Polanski. Yes, Corbet exists in their stylistic legacies, but more than that, he shares their knack for working with themes that parallel greater societal and historical subjects.
There's one more thing: the score. The Childhood of a Leader's score, by the legendary pop star turned avant-gardist Scott Walker, is unreal. It's a seething, throbbing nightmare of a thing, one that channels the rhythmic command of Stravinsky and the slicing precision of Webern. Beyond being a stellar piece of orchestral work in its own right, it beautifully contains and supports the spirit of Corbet's film, as any good score should do.
While Vox Lux sounds, from the early reviews, like a more accessible and widely pitched movie than The Childhood of a Leader, the latter, which earned Corbet the Best Director prize at Venice 2015 as well as an award for best debut, shouldn't be thought of as a warm-up for the former. It's a fully realized work on its own, and hopefully, the release of Vox Lux will help draw some much-deserved attention.