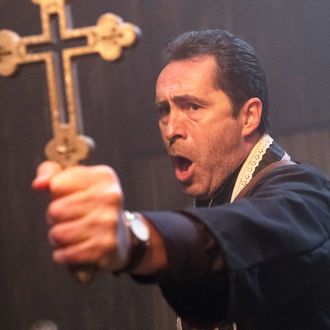 The power of Christ compels you to see
The Nun
.
Photo: Warner Bros. Entertainment Inc.
The weekend box-office numbers are in, and the fifth film in the expanded Conjuring universe, The Nun, cleaned up both at home and abroad. Here in the States, early tracking suggested The Nun would bring in a very respectable figure in the mid-$30 million range, but it blew past estimates for a U.S. haul of $53.5 million. That's more than double its budget of $22 million. Thanks to a ton of highly motivated Conjuring fans out there, The Nun earned the biggest opening of the franchise by a wide margin (the original film was the previous benchmark). It's also the second-highest first weekend of all time for an R-rated horror* film.
Seems like the fifth time is the charm for Warner Bros. with its James Wan–produced series, and it can now claim the first- and second-best R-rated horror openers of all time, thanks to last year's It making a mint by running off with $123 million out of the gate. The superhero business might be spotty at WB, but the horror business is damn good. Even Jason Blum, the head of Blumhouse and WB's friendly foe in the fright game, had words of congratulations for the studio.
It should be noted that Nun crushed it overseas as well, generating more than $77 million across foreign markets. And, according to Box Office Mojo, it even scored the biggest opening weekend ever for a horror movie in 19 countries. This officially makes it a global horror sensation, and should indicate to studios that if you want to play around the world with horror, the combination of ghosts and God — a pair of concepts you really don't need linguistic nuance to translate — is a good bet. (Or maybe Brazil and Indonesia and Spain just really love Taissa Farmiga?)
WB will be going back to the James Wan well next year, too, with the third Annabelle film, which will feature the doll back in the Warren family evil-talisman storage room, and show her affect on the other haunted objects around her. That plot really sounds like it could be a Conjuring 3, but it's not, so we don't know yet whether or not Patrick Wilson and Vera Farmiga (Ed and Lorraine Warren) are part of the project.
As for where the genre as a whole stands this year? Horror performed incredibly well at the box office in 2017, with four films exceeding $100 million in domestic box office alone. So 2018 was always going to be dealing with "little brother syndrome" in trying to keep pace. This year started off big with A Quiet Place, but since then, horror movies have been more of a respectable presence at the box office than a financially blinding one. However! The slate was top-heavy in 2017, with the Universal/Blumhouse productions Split and Get Out opening within a month of each other. Then Warner Bros. showed up at the end of summer to collect all your dollars with It and Annabelle: Creation. This year, we've seen a steady rollout of solid earners throughout the year, and thanks to an over-performing opening weekend from The Nun, the fall looks to deliver big for the genre.
How do we know more good things are on the horizon? Because Blumhouse's forthcoming Halloween sequel is getting wildly good reviews from its debut at the Toronto International Film Festival. The return of Halloween legacy powers like Jamie Lee Curtis and John Carpenter, paired with the timely October release and Blumhouse's trusted brand name, bodes well for the film's box-office chances. If Halloween can join the nine-digit club — along with A Quiet Place and The Nun (Box Office Mojo predicts that Nun will end up hitting the $100 million mark based on comparable openings from both Annabelle movies) — that's only one shy of last year's highest horror earners. (And no, nobody expected anything to replicate the success of It, because that was completely insane.)
As for Suspiria, it's a great brand name, but also more of a genre deep cut, and a remake of an Italian giallo classic from a highly respected but very art-house director sounds like a real box-office wild card, so we're abstaining from any speculation about its financial prospects. But the bottom line is: The bottom line is good. Horror may not have an apparent Oscar darling this year like it did in 2017 with Get Out, but don't sleep on Toni Collette getting a possible push for Hereditary, which had an outstanding box-office run in its own right and broke records for its studio, A24. Not every year can be the best year ever, but horror is reaffirming itself as a safe box-office haven for big studios and mini-majors alike, and that's good news for fans.
*This post previously omitted the qualifier of "horror" before the describing the The Nun as having the largest opening weekend of all time for an "R-rated film." It has been corrected throughout.