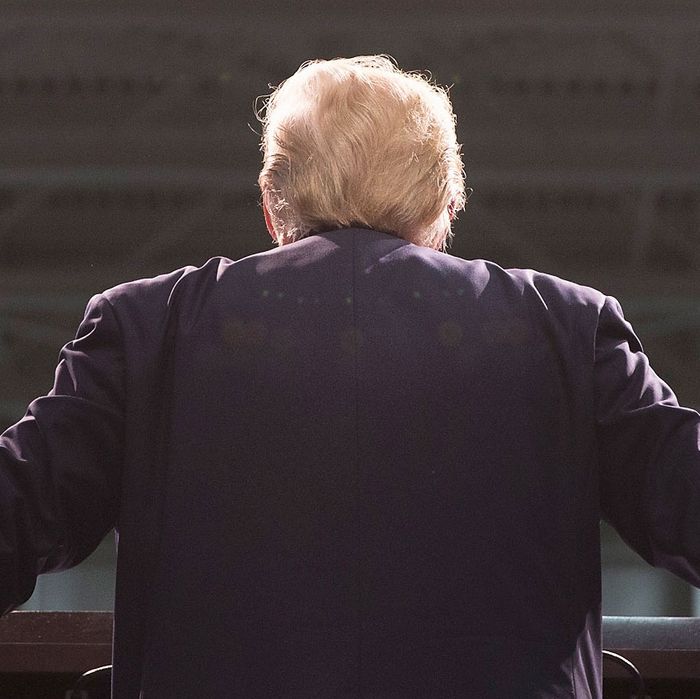 Photo: Scott Olson/Getty Images
In a fiery campaign speech over the weekend, Barack Obama took aim at Donald Trump, accusing the 45th president (and, more broadly, the Republican Party) of fueling the "politics of fear and division." Heading into prestige movie season, however, the commander-in-chief has managed to rally and unify at least one outside-the-Beltway constituency: documentary filmmakers.
A raft of new documentary features either chronicling the president's rise to power or the people who helped him get to the White House have been making the film festival rounds and generating fresh headlines on the way to their theatrical releases. Several of these movies are unabashedly partisan, with the directors' anguish and confusion over Trump's upset victory in the 2016 election baked into their narratives. And as perhaps befits any film chronicling a former reality-TV star whose Oval Office tenure has been characterized by almost nonstop chaos, several of the docs deliver a kind of histrionic viewing experience that's as over the top as their subject.
With so many Trump documentaries flooding the movie marketplace, it can be confusing to distinguish one from another. Here's a rundown of the growing list of Trumpumentaries:
Active Measures (August 31)
Having premiered at Toronto's Hot Docs Film Festival in May, this rigorously researched, zealously informational documentary attempts to connect the dots between Trump and Russia — specifically, to illuminate how Vladimir Putin used propaganda and disinformation to manipulate the 2016 presidential election in an effort to further Kremlin foreign policy. Featuring talking-head interviews with a deep bench of former State Department and CIA officials, geopolitical leaders, academics, and politicians — Hillary Clinton and John McCain among them — Active Measures credibly establishes a pattern of collusion. Director Jack Bryan wisely chooses to follow the money, establishing a spiderweb of connections between Russian mobsters and oligarchs who invested heavily in Trump's real-estate holdings, propping up his failing businesses and pulling Trump into the Russian sphere of influence while laundering their ill-gotten cash. The film ultimately fails to find the smoking gun tying Trump to Russia — but onscreen, there's smoke aplenty.
American Chaos (September 14)
In the months leading up to 2016's presidential election, self-described "political junkie" and lifelong Democrat James Stern became increasingly alarmed by Trump's galvanized base and set out on a journey across red-state America to better understand the people comprising the Trump wave. "The thing to do is actually to listen," Stern says in the film. "Not to fight with them. Just take it in." A movie of earnest intentions, it follows the director (who is better known as a producer of such movies as Steve Jobs and Harold & Kumar Go to White Castle and the TV series Last Chance U) as he travels to suburban Florida, the Arizona border near Mexico, the coal mines of West Virginia, and Cleveland for the GOP convention, interviewing fervid Trump supporters — nearly all of them elderly and white — about their motivations for supporting the Make America Great Again candidate. Unfolding more like a listening tour than some culture-war diagnostic, the Sony Pictures Classics–released doc is notable for its near total absence of hardball questions.
Fahrenheit 11/9 (September 21)
A deliberate inversion of the title of firebrand documentarian Michael Moore's George W. Bush–bashing doc Fahrenheit 9/11 — the highest-grossing documentary of all time — the new film is explicitly intended as a rallying cry for depressed progressives and insurgent Democrat politicians that sets out to answer the central conundrum surrounding Trump's election. As Moore asks in the film (which premiered at the Toronto International Film Festival last week): "How the fuck did this happen?" Although Fahrenheit 11/9 queasily recounts the infamous 2016 election night (and traffics a screwy theory that Trump was motivated to run for president as a side effect of discovering Gwen Stefani's salary on The Voice was larger than his on The Apprentice), the movie is not wall-to-wall Trump agita. The Oscar-winning director travels to his hometown of Flint, Michigan, to ambush Republican governor Rick Snyder, whose catastrophic directive to switch Flint's water supply to a lead- and bacteria-poisoned water source sickened thousands of residents. And as Fahrenheit wends toward its conclusion, the director lays out a pair of opposing ideas meant to motivate viewers into political action: that the government is even more sinister and corrupt than liberals dared fear (and the total destruction of democracy is nigh), and yet despite all the chaos, America stands poised for a progressive revolution.
American Dharma (TBD)
Premiering out of competition at the Venice Film Festival last week, ahead of its North American premiere at the Toronto International Film Festival, Academy Award–winning director Errol Morris's documentary about controversial former White House strategist Steve Bannon has been enveloped within a hive of controversy. Essentially an extended interview between Morris and the so-called architect of Trump's blindsiding electoral victory, the film touches upon Bannon's hard-edged nationalist ideas, the media, his favorite movies (a former film producer himself, Bannon singles out directors including Stanley Kubrick, Orson Welles, and John Ford for praise) as well as expounding on the most famous occupant of the West Wing. But some critics have put the film on blast for Morris's decision to not take a more confrontational approach — "it's a toothless bromance," Variety opined — effectively giving Bannon a new soapbox from which to broadcast his white nationalist worldview.
Divide and Conquer: The Story of Roger Ailes (December 7)
A disquieting deep dive into one of the most influential media moguls in history, this feature doc, which premiered recently in Toronto and will make its American debut at the New York Film Festival on October 3, shines a spotlight on the current moment in America's fractious political life. Ailes is the controversial Republican power broker who, over nearly half a century, helped stage manage Republican politicians from Richard Nixon to the tea party to Donald Trump — anger and fear-mongering at the core of his messaging. Founding Fox News with the backing of Rupert Murdoch, Ailes chucked out the rule book for television propriety and turned verbal bomb-throwing, agenda-driven opprobrium and toxic conservatism into must-see TV. And before the #MeToo movement achieved critical mass, the news mogul was among the first powerful men to be brought down by accusations of sexual misbehavior.
F*** Your Hair: The Latin-Owned Brewery That Dumped Trump (TBD)
An as-yet-unfinished doc that is currently employing a Kickstarter campaign to fund its final post-production costs, F*** Your Hair chronicles the predicament of 5 Rabbit Cerveceria, a Latin-owned and -inspired brewery in Chicago that in 2015 had been producing a house beer for Trump International Hotel & Tower. But when the then-candidate made ugly public comments calling Mexican immigrants rapists and criminals, the brewery severed all ties with the Trump organization and withheld its kegs of Trump Golden Ale, leading to a minor media flap, with the Donald himself taking to television to castigate the brewery — but also (arguably) inspiring larger corporations such as Macy's, Amazon, and NBC to sever business relationships with Trump.
Our New President (TBD)
Making its public debut as an opening-night selection at the Sundance Film Festival in January, this "collage film" arrived as the very embodiment of fake news, covering the 2016 American presidential election entirely through footage comprised of Russian state-sponsored propaganda, YouTube clips, and segments from Russia's government-operated puppet news TV channels. The focus is on Trump's political ascent: the candidate is deified as a Putin-style aristocrat-strongman leader while wild falsehood after wild falsehood — that Hillary Clinton murdered her political opponents and suffers "retardation," that the American government plotted to assassinate Trump on his Inauguration Day — is pumped into Russian public consciousness with Orwellian gusto.