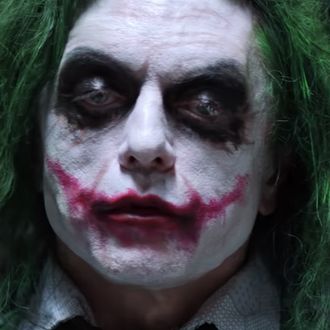 Tommy Wiseau's Joker.
Photo: Nerdist
Joker's wild, and we wouldn't have it any other way! That's right, America has clown fever (presumably contracted from a nasty It bite) and we absolutely refuse to be limited to one Joker per generation ever again. To whit, Nerdist asked The Room star Tommy Wiseau to revisit the classic DC supervillain for a second time this calendar year and reenact a full scene from The Dark Knight. He is technically out and about doing the promotional rounds to hype his recent film with Greg Sestero Best F(r)iends, but clearly that clown has been lying under the surface this whole time, just waiting to emerge.
You're telling us that doesn't raise your hackles?!? If you've got those un-raisable hackles we've been hearing about, however, take a gander at the brand-new clown director Todd Phillips posted from the filming of his upcoming stand-alone Joker film with Joaquin Phoenix. As you can see, it clearly adds depth and richness and giant shoes to the glimpse we saw of Phoenix in the role last week.
Two deranged clown men, both on the brink. But which Joker makes you wonder about the thin line between genius and insanity, humanity and depravity the most? And, more importantly, which one would you like to see Batman dangle from the side of a building until he realizes that is just giving the Joker what he wants.