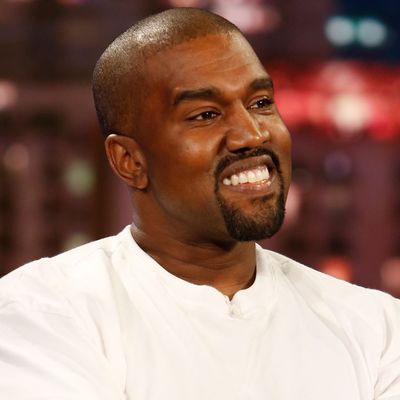 Here we go again.
Photo: Randy Holmes/ABC
Wasn't June so long ago? It's time to reset, erase the many, many, many, many, many albums Kanye dropped on our heads that month, and start anew. But he's back already, and it's like he never even went away: Kanye will soon release his third album of the year — following June's Ye and Kids See Ghosts (with Kid Cudi) — or, in fact, his sixth, if we're counting all those other albums he produced (Pusha-T, Nas, Teyana Taylor). Surprise! Yandhi is out September 29. Well, okay, great, but what the hell even is Yandhi? Why is Yandhi? And how scared should you be? Let us guide you through the latest Kanye storm.
Maybe it's a Yeezus sequel, maybe not.
The rumor that Yandhi is Yeezus 2 isn't without merit. Its album cover, featuring an image of a MiniDisc, is almost identical to Yeezus's. Their titles are also both portmanteaus combining Kanye's nickname, Yeezy, with Biblical and historic paragons of peace: Jesus in the case of Yeezus, Gandhi in the case of Yandhi. Lending further credit to the theory: Kanye has been having dinner with Rick Rubin, for whom he played Yeezus right before its release, ending up drastically overhauling the album at the eleventh hour in response to Rubin's feedback. Kanye previously promised to release three albums per year, from now on; Yandhi would meet his quota for 2018, and double it if we're counting his production work. And still, sigh, no Turbo Grafx 16 — whatever that was supposed to be.
It's a low-key rollout, so far.
Unlike Ye and the other G.O.O.D. Music projects released around it, there's been little lead-up to Yandhi's release and also little fuss. He's given just over a week's notice — Ye and the rest were announced two months in advance — and seemingly plans to let it drop more like The Life of Pablo dropped (after a few hiccups). For that album, he threw a live listening party at Madison Square Garden — just as he did for more recent projects, in Wyoming and Los Angeles — but ultimately the album didn't arrive on streaming services until days later, the second he finished performing on Saturday Night Live. Once again, Kanye plans to release the album on the day he's set to return to SNL, though beyond that it's unclear how it will be timed. (Note that Childish Gambino also simultaneously released the video for "This Is America" while debuting the song on SNL.) In a follow-up tweet, Kanye confirmed that Yandhi is indeed an album and it'll be released Saturday night, though it's still unclear what time. Ye didn't get any singles, though it appears Yandhi might have already … and we just didn't know it.
Update: Oh how two weeks can change everything. On the contrary, Kanye's Yandhi rollout has escalated from low-key to breaking the sound barrier. After performing both as a bottle of sparkling water and in a MAGA hat on SNL, then pissing off SNL castmembers with a pro-Trump post-show speech, then tweeting that he wanted to repeal the 13th Amendment, there's still no album in sight. And now his official spokesperson, I mean wife, Kim Kardashian, has tweeted that Yandhi will now arrive on Black Friday, November 23. So just keep on stuffing your face with turkey and you'll sleep right through it.
These songs might be on it … or not.
Since the data-dump that was Kanye's June, he hasn't let up. In August, he released "XTYC," a song about his impure thoughts about his many sister-in-laws. And then there's Kanye's biggest hit in years, this month's "I Love It" featuring Lil Pump, which is an ode to how some women are "such a fucking hoe" — but they love it — and how Kanye is a "sick fuck" who "likes a quick fuck." (It also allegedly features an uncredited sample of the bassline from Chicago DJ David Morales's deep house mix of Alexander O'Neal's "What Is This Thing Called Love," because Kanye's got Chi-Town on the brain; more on that below.) If you're looking for further evidence that we're about to get a Yeezus sequel, those songs' hypersexual graphic objectification is a decent clue. Remember, he first released "I Love It" and its wacky video (executive-produced by Spike Jonze) at the first-ever Pornhub Awards, which Kanye creative-directed.
Kanye has also been teasing snippets of new songs on Instagram — in vlog-style videos of his time in Chicago — which may or not be from this album. It's unclear if any of the above will be on the album either, but they are an indication of where he's creatively at.
He likely made it in Chicago and Colombia.
For the last month and change, Kanye has been spending time at home in Chicago. He's been holed up in the studio there, while also venturing out to meet with the locals, visit his childhood home, give interviews to local radio stations, and get reacquainted with the city and the friends he left there many years ago. During an appearance at Chance the Rapper's local Open Mike student series, Kanye announced he'll be moving back to Chicago for the foreseeable future. (He's even vowed to make a new Yeezy home base there, and said that he would teach at the School of the Art Institute of Chicago, though the school denied that there were any plans for that.) It appears Chicago could serve as a major influence and theme for the album.
But Kanye has made a few stops outside of Chicago, recently, most notably to record in Santiago de Cali, Colombia (again, more on that below). While there, he also visited with the city's mayor, Norman Maurice Armitage, and played marimbas with him and some locals — another possible hint of the album's sound.
Tekashi 6ix9ine could (unfortunately) be involved.
Earlier this month, Kanye flew to Colombia to work with controversial rapper Tekashi 6ix9ine, who is awaiting sentencing after pleading guilty to the use of a child in a sexual performance, and whom Nicki Minaj has also recently worked with. 6ix9ine's manager posted photos of the two in the studio and hanging out elsewhere, seemingly in Colombia and in New York City on two separate occasions.
Young Thug definitely wants to be involved.
And what better way to get your way than with a threat. Kanye reportedly played their latest collaboration backstage at J. Cole's tour, for which Thug is an opener.
And who knows who else might be involved.
Other contenders: producer Zaytoven, Chance the Rapper (more on him below), Jay-Z (same), Kanye's go-to engineer Mike Dean (who did "I Love It"), Lil Pump, Ty Dolla $ign (who was all over the previous Kanye releases in June), Kid Cudi, O70 Shake (who also featured on Ye and Kids See Ghosts), Spike Jonze, Donda designer Ryder Ripps, Yeezus mentor Rick Rubin, controversial rapper A$AP Bari, as well as close members of his inner circle like Reese LaFlare, GLC, Rhymefest (who is apparently cool with Kanye again after their falling out), local Chicagoans like G Herbo and Jeremih, and almost definitely a few dozen other names.
But at the top of our wish list: North West, who recently made her singing debut on Instagram with a cover(ish) of Drake's "In My Feelings."
It's not the only album he's working on.
Simultaneously, Kanye has been working with Chance the Rapper on their joint album Good Ass Job (which was the working title for the project that eventually became My Beautiful Dark Twisted Fantasy). The two officially announced the joint effort on September 17 after teasing it for weeks.
Kanye also cryptically teased, with zero context, that he and Jay-Z might be doing the unthinkable and working on a sequel to 2011's Watch the Throne — something once thought impossible due to their rocky relationship. There's been no evidence that Kanye and Jay have even been in the same room in over a year, let alone the same studio, so take this tweet with several grains of salt. It could just be Kanye speaking the reunion into existence.
This post has been updated throughout.