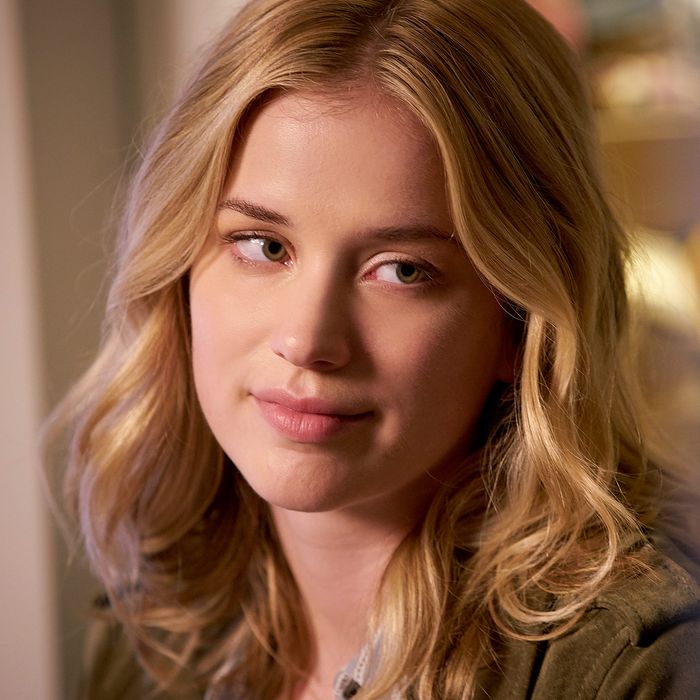 Elizabeth Lail as Beck.
Photo: Lifetime
Spoilers ahead for Lifetime's You.
Joe may have been a huge disappointment in the sack on Sunday's episode of You, but viewers got a jolt when they heard Beck's inner monologue instead of those of the Lifetime drama's creepy stalking murderer. "What was that? Eight seconds?" she thinks to herself, moments after a crushing first sexual interlude with You's Prince Charming of the Dark Arts. "Oh yeah, he's got that Trump-just-took-Pennsylvania look."
Those are the first thoughts Beck (Elizabeth Lail) shares with viewers, but viewers should expect more to come. You's co-creator and showrunner Sera Gamble told Vulture that the series will expose more of Beck's thoughts, as well as other points of view, in a major departure from Caroline Kepne's novel, which is written entirely from the perspective of Joe (Penn Badgley).
"We tried to capture that in Joe's voice over in the show, but the thing is as you're reading the book, over time, you start to realize that you've been trusting an unreliable narrator," Gamble said. "It took me a minute in reading the book to realize that I was making the same mistake Joe makes when he ascribes all of this motivation to everything she does. He's deciding she wants to be looked at in certain ways, but he has no fucking idea what she's actually thinking."
The show only let viewers in directly on Joe's thoughts for the first three episodes, in order to give them a chance to get to know him and his so-called honesty. "There's nothing more compelling than hearing someone's honest thoughts," Gamble said. "And then, [we] start to move to her point of view so you can compare and contrast the truth. Sometimes he's right. Sometimes he's wrong."
Other characters also will share their points of view through different narrative devices, but only Joe and Beck will continue to reveal their innermost thoughts in voice-over. "It's not as claustrophobic as it could be, literally being a show about a guy who barely speaks but thinks a lot and has a cage in a basement," Gamble said. "It's good to expand outward a little."