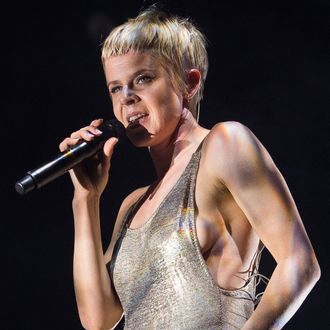 Robyn.
Photo: Charles Sykes/Invision/AP/REX/Shutterstock
Last March, Robyn teased a song on the final season of Girls, and now, so many months later, you can listen to all of it sans-Adam Driver. Robyn has finally (finally!) dropped her single "Honey," which will appear on her album of the same name that's out October 26. It's both melancholy and sweet, very much Robyn's best zone, and will probably have you dancing and craving Winnie the Pooh–sized vats of honey. Robyn's album also includes her single "Missing U" and collaborations with Metronomy's Joseph Mount, Klas Alund, Kindess's Adam Bainbridge, Mr. Tophat, and Zhala. Hear (taste?) "Honey" below.
If you'd like to trip back to that Girls scene, you can watch that too.