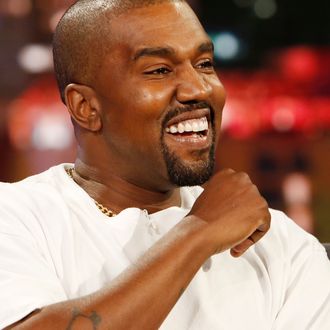 Photo: Randy Holmes/ABC via Getty Images
You probably, definitely have no idea at all, because of course you've never visited it, but this Thursday the website Pornhub will be streaming its very first awards show, hosted by Asa Akira, live from the Belasco Theatre in Los Angeles. And now Page Six is reporting that the site is also in aggressive talks with Kanye West himself to serve as the creative director for the ceremony. Pornhub, for those of you who still insist on feigning innocence, is a pornography website that claims 81 million visitors a day (of course, none of which are you) that West admitted to enjoying on Jimmy Kimmel Live! last month. The namedrop earned him a free lifetime membership to the site and the opportunity to direct a scene in an adult film.
We don't know if he plans to take up the offer to direct an actual porno, but if he does end up working on their award show, it'd be quite the event, since the ceremony is also going to be the only awards show available in virtual reality. But look, if it happens, someone from a news website will probably live tweet or recap if for you, so don't worry, you won't necessarily have to visit a website you've never ever been to, definitely haven't heard of, and probably wouldn't even know how to find.