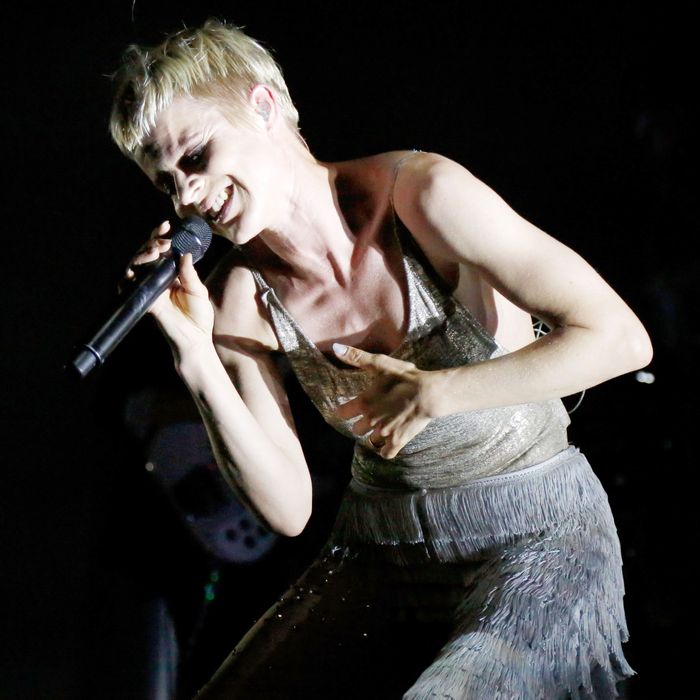 Photo: Taylor Hill/2016 Taylor Hill
There's a reason why Honey, the forthcoming sixth full-length from Swedish pop phenom Robyn, is so heavily anticipated. For one, it's been eight years since her last release, the astounding Body Talk — and between that record and 2005's seminal self-titled LP, Robyn's been responsible for some of the most effervescent, radiantly emotional, and lush synth-pop of the century thus far.
Even more astounding is that the 39-year-old singer/songwriter/producer's career has been going strong since she was a teenager; if you're of a certain age, you likely remember a few songs from her 1990s teen-pop phase ("Show Me Love," "Do You Know (What It Takes)" that managed to register as hits over in the U.S. In addition to her early material, Robyn's charted an adventurous path throughout her career, straying far from straight-ahead pop and toward varying strains of dance music, from flashy freestyle to cavernous dark disco. Navigating the less publicized corners of her impressive catalogue can be a bit difficult without a primer on hand — which is exactly why we made one.
Look, we know that if you clicked on this article, you've listened to "With Every Heartbeat" on repeat and have contributed at least a few hundred views to the 6-million-plus-and-counting eyeballs who have watched the astounding video for "Call Your Girlfriend." You've probably fired off a few #WheresHoney tweets at Robyn too. This deep-cuts primer isn't meant to rattle off her hits and crowning achievements — instead, the songs selected are intended to give you a deeper understanding of her career, as well as to offer an alternate pathway to understanding the multitudes that are Robyn. Why not dive in while counting down the minutes and hours until your Honey preorder hits your in-box?
"Do You Really Want Me (Show Respect)" (1995)
Released when she was just 16 years old, the sound of Robyn Is Here is more than indicative of the time period in which it was released, largely comprised of low-slung R&B motifs and the occasional dusty hip-hop beat or two. There are some aberrations from that formula, though: Max Martin co-writes "Do You Know (What It Takes)" and "Show Me Love" (the latter of which appeared on the U.S. version of the album, as well as the Swedish re-release) offer hints of the sound Martin's Midas touch would dominate pop airwaves with near the end of the decade, and the sing-songy "Do You Really Want Me (Show Respect)" blooms from a skittish R&B beat to the type of infectious key-change-heavy chorus that's wholly out of fashion 20-plus years later (Beyoncé's "Love on Top" excepted, of course). Of specific note: the song features songwriting and production from Christian Falk, a frequent collaborator of Robyn's who passed away in 2014.
"Long Gone" (1999)
Effectively the beginning of Robyn's label troubles with then–North American home RCA, the 1999 sophomore effort My Truth had its Stateside release canceled after she refused to alter lyrics talking about an abortion she'd had. Indeed, as that detail and the album title infers, My Truth is a more personal effort than Robyn Is Here, with Robyn notching co-write credits on all 14 tracks; sonically, the record is part continuation of Robyn Is Here's R&B-pop palette and part stylistic divergence into more subtle, chillout-inflected territory. "Long Gone" appears on the album's back half, and it's a gorgeous and soulful ballad showcasing Robyn's vocal timbre over lush strings and a pared-back acoustic guitar.
"Keep This Fire Burning" (2002)
Upon release, this 2002 single was Robyn's biggest hit to date, lapping "Do You Really Want Me (Show Respect)" seven years previous — so why is there a decent chance you probably haven't heard it? The answer, again, lies with label woes; the album it appeared on, that year's Don't Stop the Music, only saw release in Sweden and Japan, despite the decision to put out this ace tune and the album's title track as a single throughout Europe. Both songs are fire, but this herky-jerky heater slightly edges out "Don't Stop the Music" in terms of quality; you can hear the DNA of AlunaGeorge's "You Know You Like It" in Swedish production team Ghost's composition, and the song later resurfaced in re-recorded form as a bonus track on the U.K. edition of Robyn's self-titled LP in 2005.
"Handle Me" (2005)
Robyn's self-titled fourth full-length marked the beginning of her critically beloved streak that continues to this day, highlighting her and her collaborators' top-notch songwriting and establishing the candy-coated synth-pop sound she's become known for since. "Handle Me" is subtle compared to the bleep-bloop rap cadence of "Konichiwa Bitches" or the towering majesty of "With Every Heartbeat," centered around airy guitar and a few stray synth lines — but the kiss-off anthem is packed with the sort of tangy attitude that goes overlooked when focusing on Robyn's more well-known capacity for chronicling love and loss. Oddly, the North American release of the song censored the part where Robyn refers to her jilted ex-paramour as a "Nazi creep," which is the version that's currently featured on streaming services as well.
"Hang With Me (Acoustic)" (2010)
2010 was a banner year for Robyn, as she put out a whopping four releases over the span of 12 months: three mini-albums in the Body Talk series, and a full-length of the same name that cherry-picked highlights from that series. Gems abound, but one of the most fascinating cuts featured on the first part is an acoustic take of "Hang With Me," which was later featured in all its synthetic glory on the second installment. The stripped-down recording is a reminder of how powerful Robyn's voice is — as well as the sentiments she expresses with it — even when divorced from the sound most commonly associated with her music.
"Criminal Intent" (2010)
Although Robyn's Body Talk era is most frequently identified by its overwhelmingly anthemic and emotional singles, there's a few tracks splayed across the series that extend her more playful, funny, and boisterous side —like this Diplo co-production that appears on the second edition, featuring Robyn coolly sing-rapping over a dirty-sounding beat studded with zippy synths and a siren or two. Someone alert the authorities!
"Stars 4-Ever" (2010)
There are so many bangers across all three volumes of Body Talk that you could practically throw a dart at the tracklists and hit a certified classic. "Stars 4-Ever" doesn't get as much love as, say, "Dancing on My Own," but its lovely loop-pop construction — a perpetual melodic crest crafted by Klas and Jocke Åhlund of Swedish electro-rockers Teddybears — hits as hard as Robyn's biggest songs, a declaration of immortality via the glittering night sky.
"Do It Again" (2014)
Robyn's collaborated with Swedish dance duo Royksöpp a few times during her career: she appeared on the excellent "The Girl and the Robot" from Royksöpp's 2009 LP Junior, and they contributed the rough-and-tumble production to her pissed-off Body Talk anthem "None of Dem." In 2014, the two entities teamed up for an EP and subsequent tour; Do It Again features plenty of extended and simmering synth-jamming, but the title track is punchy and deliriously catchy, with a back half packed with so many sonic doodads that it nearly sounds like fireworks.
"Love Is Free" [ft. Maluca] (2015)
A year after the release of Do It Again, Robyn teamed up with Falk and keyboardist Markus Jägerstedt as Robyn & La Bagatelle Magique for the Love Is Free EP. Featuring Robyn's cover of Arthur Russell's "Tell You (Today)" that appeared on the tribute album Master Mix: Red Hot + Arthur Russell the year before, Love Is Free is flashy, fun, and indebted to vintage NYC club music — qualities that are no more apparent than on the EP's giddy, Maluca-featuring title track, accompanied by a colorful and arch video treatment from SSION.
"Trust Me" (2017)
Swedish dance producer Mr. Tophat contributes production to Honey, so checking out "Trust Me" — as well as the EP of the same name from last year — is practically homework ahead of the new album's release, only much more fun. A three-track collaboration released on Norwegian outré label Smalltown Supersound, Trust Me features Robyn and Mr. Tophat going deep into dance music's darker corners, crafting shadowy grooves that evolve into dark-disco fantasies. The title track's percolating beat and subtle euphoria stand out, but the whole release is as easy to get lost in as any of Robyn's poppier fare.