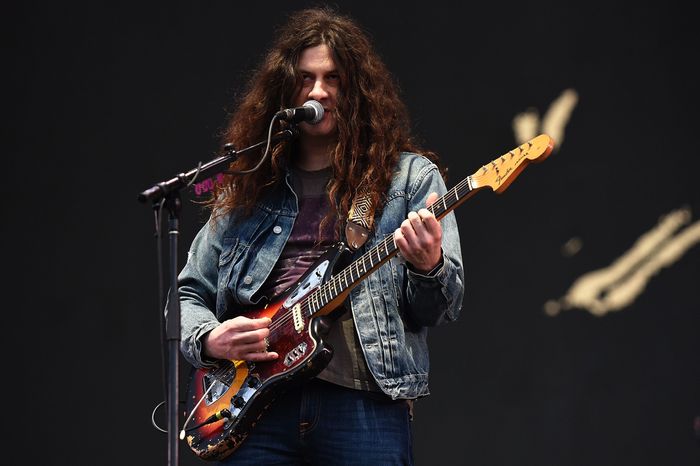 Photo: C Flanigan/WireImage
In the heady days of 2009, before Twitter turned casual discourse into a fraught landscape of missteps and endless arguments, it was still a little bit weird to compare a new artist, to, say, Bob Dylan, but that sentiment was floating around when Kurt Vile released Childish Prodigy, his third album in a two year period. It's hard to know how much of that was genuine excitement, and how much of that was his label recognizing talent and deciding to push that talent to its logical conclusion: some dude from Philly who mumble-sang over plaintive guitar may actually be the voice of a generation — or at the very least an artist we could count on to quietly innovate within the boundaries placed on them by a forever-fickle music industry. So is Vile the voice of a generation? Probably not, but thankfully, being the voice of a generation — any generation — is a concept that has been abandoned. In 2018, taste is too fragmented, too subject to what is served to us by algorithms, too specific to crown anyone as the best person to speak for — and to — everyone. But does Vile quietly innovate within the boundaries placed around him? Absolutely. Each Kurt Vile album, from 2008's Constant Hitmaker through today's Bottle It In is an incremental move within the pleasant world of meandering, existential folk that he has always occupied. Each Kurt Vile album also demonstrates a new level of songwriting confidence: ten plus minute songs speed by, snatches of lyrics are personal epiphanies. Right now, you can read about Kurt Vile in the New York Times, but he still operates outside of what we understand as the music industry in a way. Not in the literal sense — the guy tours and has album release plans and all that stuff — but his music feels out of time. It's almost as if he's not beholden to the machinations of the music industry, or the world. His fans are not fickle listeners. In some post-apocalyptic future we'll be huddled around barrel fires roasting cockroaches for sustenance and Kurt Vile's albums will still sound vital.
Against my better judgement — Kurt Vile is first and foremost an album artist — here are some of his great tracks, presented in chronological order. Start here, and if you dig what you're hearing, maybe just throw on any LP he's released in the last 10 years and let it play until you're no longer sure what time it is.
"Classic Rock in Spring/Freeway in Mind," Constant Hitmaker
This is the last song on Kurt Vile's first LP, but it's also something of a mission statement for his entire career: "I'm blasing classic rock in spring/A couple of summer demons with battery recharging/when you hear the Bob Seger song, you know I'll be long gone." Embedded in just a few lines is a healthy mix of self-awareness, but it's the kind of self-awareness that doesn't so much lead to crippling self-doubt as it does to a sort of "fuck you, I am who I am" attitude.
"Beach on the Moon (Recycled Lyrics)," God Is Saying This To You…
Vile made these home recordings before he wrote on Constant Hitmaker (in other words, it's his earliest work). It is an unusually accomplished record, and maybe Vile's best. It contains less outright songs than anything else he'd release — there are lots of ambient digressions and song sketches — but taken as a whole it's an achingly gorgeous document of an artist settling on a sound that is, by design, transient. Still, if you were to pick one song from the album, "Beach on the Moon" is pretty much as close as any musician has ever gotten to creating music that sounds like a sunset.
"Freak Train," Childish Prodigy
If you listen to "Freak Train" and think you're hearing echoes of The War on Drugs, that's completely understandable. Vile was a member of the band circa their first album, Wagonwheel Blues, and though he didn't play on subsequent releases, the blueprint of their sound could be partially credited to him. Though it was his third album, Childish Prodigy was, in a sense, Vile's breakout. It was his first for Matador, and this propulsive track is something of a centerpiece of the entire album. It doesn't have any of the earlier releases' homespun beauty, but it doesn't need to.
"Losing Momentum (For Jim Jarmusch)," Square Shells
If the full-band vibes of Childish Prodigy freaked you out, not to worry. Vile headed back to the bedroom for this robust collection of demos, including the beautiful instrumental "Losing Momentum (For Jim Jarmusch)." The only bad thing about it is that it's too short.
"Society Is My Friend," Smoke Ring For My Halo
This is going to sound weird, but instead of listening to this song, just put on Smoke Ring … in its entirety. It is Kurt Vile's most formless album (not in a bad way!) In an interview he said that it was "kind of a wandering record," and it is. That said, "Society Is My Friend" is an obvious highlight — it's a laconic road trip song that manages to evoke the best of Springsteen without sounding anything at all like Springsteen.
"It's Alright," So Outta Reach
Another Kurt Vile EP acting as an appendix to the album that came before. Consisting of songs that didn't fit onto Smoke Ring, So Outta Reach isn't as good as Square Shells, but it does have "It's Alright," which, thanks to its fuzzy riff, paints Vile as a lost grunge genius.
"Pure Pain," Wakin On a Pretty Daze
After about a minute, "Pure Pain" unfurls itself. It starts out coiled and jumpy, full of friction and awkwardness, then, over a soft drumroll tangled up in Vile's now signature guitarwork, we hear him, barely awake, half singing about being on the road. It's one of his most overtly melancholy songs and a career standout.
"Feel My Pain," It's a Big World Out There (And I Am Scared)
You guessed it! It's a Big World is another EP of Pretty Daze leftovers. It's not essential, but it does have "Feel My Pain," a throwback Vile track that's just a simple drum machine loop, his guitar, and his voice.
"Lost My Head There," B'lieve I'm Goin Down…
You'd be forgiven if, at some point across Kurt Vile's discography, you got a little fatigued. The dude figured out what he wanted to do pretty early on, and has been iterating on that for about a decade. That doesn't mean that there aren't great songs, or that B'lieve doesn't pave some new ground, though. "Lost My Head There" is almost shockingly jaunty for Vile, which means that it sounds like enjoying a Spring day sounds, instead of, like, sinking into a couch after taking too many resin hits to cope with a life you don't hate so much as tolerate. (I'm joking, mostly … Kurt Vile's music is not overwhelmingly depressing, but sometimes it does get there.)
"Pretty Boy," Parallelogram
This Randy Newman cover, from a split EP with Steve Gunn, as part of a box set for Three Lobed Recordings, is pretty straightforward. Vile doesn't really deviate from Newman's original, but he doesn't need to. Listening to this is illuminating — it's one of those moments where you suddenly hear the blueprint for Vile's whole style. He does step out of his comfort zone though — partially because he's forced to: Newman's lyrics are spaced out and emotive in a way that Vile normally isn't. There's even a bit of spit and bile there, which is a completely alien sound in the world of Kurt Vile. This might be a cover, but it's also one of the best things he's ever done.
"Fear Is Like a Forest," Lotta Sea Lice
It was probably not lost on Courtney Barnett and Kurt Vile that when they did an album together, people would constantly refer to them as Kurt and Courtney. It was also probably not lost on them that, though they operate in very different sectors of indie rock, their sounds are very complimentary: both bury insights about what it means to be alive in seemingly mundane lyrics, both sound perpetually over it, and together, at their best, they sound like they're paying tribute to hyper-literary bands like Silver Jews, even as they carve out their own post-Pavement space. This entire album could easily have been written off as a fun curiosity, but thanks to tracks like "Fear Is Like a Forest," it stands up as a crucial entry in the catalogs of both artists.
"Bottle It In," Bottle It In
There are three songs on Kurt Vile's new album that orbit ten minutes, and you'd better believe that he's earned the right to pull a wild move like that. Like, a full half hour is taken up by just three songs, and one of them is the title track! That is a ballsy move, but this is what Vile is good at. "Bottle It In" the track, and Bottle It In the album marks a major turning point for Vile. Here, he synthesizes the calm drift of his earlier recordings to a mastery of his voice, and a new sense of confidence that you could hear on "Pretty Boy," but really showed itself on Lotta Sea Lice. It's tempting to say that it'll be exciting to see what Kurt Vile does next, but we know what he's going to do next, and there's something important to that.