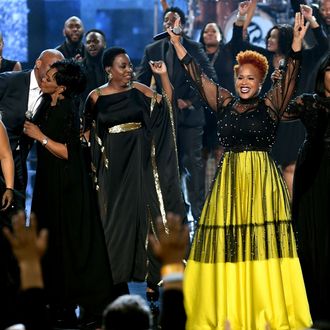 An Aretha Franklin tribute at the American Music Awards.
Photo: Kevin Winter/Getty Images For dcp
Perhaps this August's VMAs fell too close to the death of Aretha Franklin. Maybe they couldn't pull together the powerhouse collective needed to give the late legend her due. Maybe Madonna's story about singing an Aretha song and not even actually getting the job she wanted wasn't that bad after all. (Oh no, we checked. What's the opposite of "still holds up"?) Or maybe they had just seen Aretha Franklin's funeral and knew they had to step their game way up. Either way, Tuesday night's American Music Awards did their own Aretha tribute and, well, they knocked it out of the park. No, really. The combined force of the voices onstage could propel a regulation baseball out of a stadium.
Gladys Knight kicked off the tribute with a rendition of "Amazing Grace," and was later joined by Ledisi, Donnie McClurkin, CeCe Winans, Erica Atkins Campbell, Tina Atkins Campbell, and a host of other incredible singers in a swelling gospel performance, itself an homage to Franklin's 1972 live album Amazing Grace. Behind them, a half century of Aretha portraits slid by. Concluded host Tracee Ellis Ross after the showstopping (and show-ending) number, "We love you, Aretha."