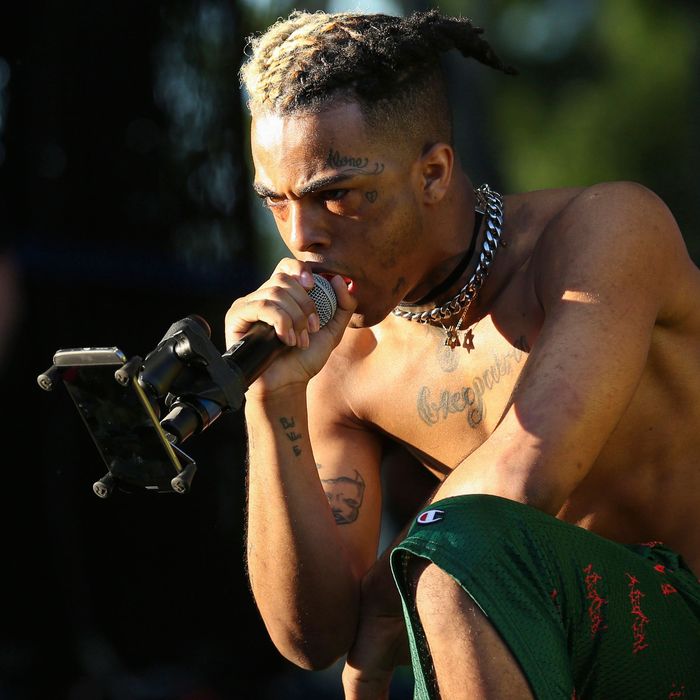 Photo: Matias J. Ocner/TNS via Getty Images
The Grammys are still four months out, but it's never too early to start preparing for the worst. Earlier this week, the Associated Press reported that the Recording Academy is up to its old tricks, voting to disqualify Post Malone from Best New Artist contention on the basis that he's just too popular. How could his potential competitors, like, perhaps, Dua Lipa and Ella Mai (with whom Malone shares a Billboard cover this week to campaign for that very award), stand a chance against a guy who's had two No. 1 hits, a No. 1 album, and set streaming records at all of two albums into his career, seemed to be their reasoning. (Similar complaints were lodged against Alessia Cara when she won BNA earlier this year, given she broke out in 2015, prompting her to write a defense.) Also disqualified: Cardi B, on a technicality. The Recording Academy's rules state that you can't be nominated for BNA if you've been previously nominated for other awards as a performer, which Cardi was, twice, at this year's awards. (She was also submitted for BNA at the 2017 show but was not nominated; artists can be submitted up to three times.)
But the Post Malone decision appears to be more be subjective, with a source telling Variety that the vote was reached amid "strenuous objections." It also doesn't make much logistical sense. The choice stands in direct contradiction with the new initiatives the show claims it's trying to make to shake things up. For the first time in its history, the 2019 Grammys will expand the Big Four categories — Album of the Year, Record of the Year, Song of the Year, Best New Artist — to eight nominees, up from five. Tightening the reins on who can and can't make the cut, based on arbitrary rule interpretation, is a regression. (In further archaic commitment to genre strictures and racial bias, the Academy has also ruled that Malone must compete in the pop categories and not rap because his album doesn't meet the 51 percent requirement for how much actual rapping a rap album must contain — whatever that means.) If not even Cardi and Post Malone — two of the best, newest, and most popular artists of the last two years — can get into the club (and Billboard reports Camila Cabello might be in danger of a snub, too), then who does?
The answer might be even pricklier than the Grammys could've predicted. In declaring Post Malone and Cardi B ineligible for BNA while still forcing members to now fill up a wider pool of nominees, the Grammys have all but painted themselves into a corner and left the door wide open for XXXTentaction. The rapper was murdered in June at 20 years old and though he had not previously been recognized by the Grammys in his short career, he'll be harder to ignore in the wake of his death. His single "SAD!" became the first posthumous No. 1 song on the Hot 100 since Biggie, who also received a posthumous Grammy nomination for Best Rap Album when he, too, was murdered in his early 20s. X's sophomore album, ?, also became the first SoundCloud rap album to go to No. 1, and that was prior to his death. Posthumous Grammy winners have historically been older artists (David Bowie, Ray Charles, etc. — though Amy Winehouse is one exception), but given the Biggie precedent and X's commercial success, it's likely the Grammys will have to consider him. To ensure it, his team has given them no choice: X's reps confirm to Vulture that he has been submitted for Best New Artist; ? for Album of the Year and Best Alternative Album; "SAD!" for Record of the Year and Best Rap Song; and "Pain = Best Friend" for Best Rock Song. (The hope being, it seems, that the same genre-less rules benefiting Post Malone can also apply to X.) His team will have a "full on" Grammy campaign and expect to see nominations.
But, unlike Biggie, whose domestic-abuse allegations were not widely reported on until years later, the controversy surrounding XXXTentacion has defined him. At the time of his death, X was awaiting trial on charges that he violently assaulted his then-pregnant girlfriend in 2016. The Grammys, then, have a choice to make: take a morally impartial stance and vote neutrally, as they've already proven they can't, and nominate X or decide that it will not make another alleged abuser canon. Already, the Grammys have fumbled in the #MeToo era, when earlier this year its president Neil Portnow told women they need to "step up" to be represented after Cara was the only woman to win an award on the broadcast. They have since established a task force to address inclusion, announcing most recently that 900 women and POC have been invited to become voting members to encourage a paradigm shift. But the Grammys have long stood on the wrong side of history: In 2012, they awarded Chris Brown Best R&B Album and invited him to perform just three years after he assaulted his then-girlfriend, Rihanna, the night before the 2009 Grammys.
If the Grammys were planning to wait to gauge the climate and act accordingly, they'll have to look no further than this week. On Tuesday night, X posthumously won Best Soul/R&B Album at the American Music Awards, accepted by his mother; days prior, he won Best New Artist at the yet-to-air BET Hip-Hop Awards, where Vic Mensa called out the rapper's alleged abuse in his performance, with X's mother in the audience. "Domestic & sexual abuse are not excusable because you have talent or you are troubled," he later said. "I vehemently reject the trend in hip-hop of championing abusers, and I will not hold my tongue about it." The first round of Grammy voting gets underway next week.