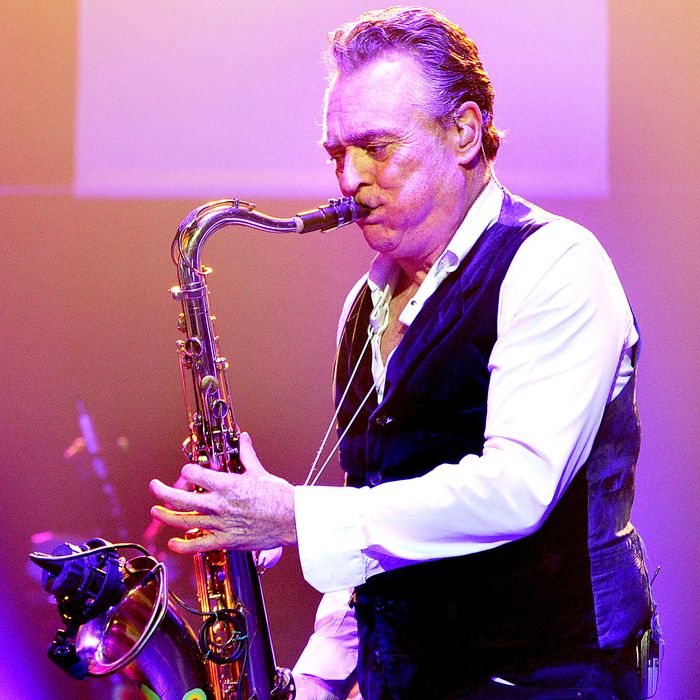 Photo: Shirlaine Forrest/WireImage
Nearly every detail surrounding the many allegations from the past few weeks regarding Supreme Court nominee Brett Kavanaugh has provoked a wide range of emotions not at all limited to the political spectrum. A peculiar feeling of befuddlement prevailed, then, with last night's New York Times-reported revelation that Kavanaugh was allegedly involved in a bar fight in 1985 near the Yale campus, following a concert by British reggae-pop group UB40. He allegedly threw a beer in a fellow pub patron's face after he and his friends mistook said patron for UB40's then-lead singer Ali Campbell.
For many reasons, the news cycle surrounding Kavanaugh has become a matter of national concern to a degree that stories involving Supreme Court nominees rarely are — and by extension, this latest story most likely marks the first time in a while that the American public has been forced to think about UB40 at all (that is, unless there was a recent countrywide vacation at Sandals or Club Med that I wasn't invited to). For reasons we'll get into a little later, UB40 currently have two active official Twitter accounts, and they've commented briefly on their bizarre entrance into this news cycle on both. One of the accounts replied to a joke about entering Kavanaugh into a contest to win free concert tickets with the crying-laughing emoji, while the other quoted "our good friend" and reggae veteran Shaggy's song title "It Wasn't Me" in response to the news story itself.
"Well it least it got you on the news," Twitter user @Skatrain (haha) replied to the latter Tweet, pointing out the obvious: this is undoubtedly the most that America has collectively thought about UB40 in a very long time.
The album of repurposed material the band released that year was 1985's Baggariddim, but two years prior they released Labour of Love, a platinum-selling album of covers that also featured their deathless rendition of Neil Diamond's "Red Red Wine" — UB40's first of two #1 singles in the U.S. (The second and most recent, their similarly once-ubiquitous cover of Elvis Presley's "Can't Help Falling in Love," was released in 1993 as part of the soundtrack to the erotic thriller Sliver.)
But UB40 have been a frequent concern in their native England and Europe at large, with over 70 million albums sold worldwide to date and a smattering of highs, lows, and pop-cultural intersections that might prove surprising to anyone who hasn't paid close attention to the group. So if you woke up this morning, looked at the news, grimaced, and decided you needed a primer on the career high-and-lowlights of UB40 to distract yourself, that's exactly what we're here to provide.
1978: The first iteration of UB40 forms in Birmingham around Campbell and rhythm section Jimmy Brown (drums) and Earl Falconer (bass); the octet agrees upon the UB40 band name as a reference to the form issued to British citizens claiming unemployment (Unemployment Benefit Form 40), cheekily riffing on the band members' then-collective joblessness.
1979: A few lineup changes, including the addition of vocalist/percussionist Astro, who is still a member of the band in its current iteration. The band's first show goes down in February at Kings Heath's The Hare & Hounds Pub. The gig was commemorated at the venue in 2011 with a plaque awarding the band the Performing Rights Society's Music Heritage award. Around this time, Pretenders front woman and future UB40 collaborator Chrissie Hynde catches a performance by the band at a local pub and offers them a support slot on a Pretenders tour.
1980: UB40's first single, "King"/"Food for Thought," is released through then-new label Graduate Records and becomes the first single to reach the UK Top 10 without major label support. Their debut LP Signing Off sees release later that year, emblazoned with the UB40 form the band derived their name from and recorded in a cramped Birmingham space that found percussionist/trombonist Norman Hassan recording his parts in a nearby garden.
1983: After a few years building a fan base in the UK, UB40 achieve their first true global success with Labour of Love, which notches a worldwide #1 with "Red Red Wine." The record initially peaked at #39 on the Billboard Hot 200, but reentered the charts five years later — the same year the band performed the song at Nelson Mandela's 70th Birthday Tribute at Wembley Stadium — and eventually peaked at #14.
1985: The same year that Kavanaugh's alleged altercation takes place, UB40 releases Baggariddim. It's unclear whether the album's conspicuous lack of new material incited Kavanaugh's rage against the Campbell-look-alike barfly, but in this messed up news cycle, pretty much anything seems possible at this point.
1987: The same year UB40 release their first "Greatest Hits" collection, The Best of UB40 — Volume One, producer Ray "Pablo" Falconer dies in a car crash with his brother Earl behind the wheel. Having driven with nearly twice the legal limit of alcohol in his blood, Earl Falconer is sentenced to six months in jail the following year along with a three-year ban from driving.
1993: Along with the smash success of their cover of "Can't Help Falling in Love," UB40 release what goes on to be their biggest-selling album to date, the all-covers Promises and Lies, which peaks at a career-high #6 on the Billboard chart and goes on to sell over nine million copies worldwide.
1995: Riding a wave of success from their contribution to the Sliver soundtrack, UB40 take their best shot at Stevie Wonder's immortal "Superstition" for the soundtrack to Eddie Murphy's immortal-in-character-designation-only horror comedy, Vampire in Brooklyn. Even though audiences don't bite (har, har) at the box office, the cover is eventually also featured on The Best of UB40 — Volume Two.
1997: Not content to appear in one mid-'90s box office bomb, UB40 make a guest appearance in one of the worst sequels of all time, Speed 2: Cruise Control, performing the not-very-speedy-at-all "Tell Me Is It True" (from the album Guns in the Ghetto, which also saw release that year) on the cruise ship that Jason Patric (oh, Jason Patric) is trying to control.
2003: After a few releases that saw UB40's international profile diminishing (2001's Cover Up dropped off the UK charts after three weeks and didn't receive release elsewhere), the band teams up with United Colours of Sound to cover "Swing Low, Sweet Chariot" for the England national rugby union team's official anthem. After the team wins the Rugby World Cup that year, the cover peaks at #15 on the UK Singles Chart.
2008: Campbell states he's leaving the group months ahead of the release of their 16th studio album, TwentyFourSeven, which finds UB40 pulling a retroactive U2, kind of: the record is included as a free insert in British newspaper The Mail on Sunday and is distributed to nearly three million people as a result. Obviously, unlike U2, no one had to try to figure out how to delete it from their, uh, newspaper — but retailers still balked when an expanded version of the album was shipped for release a month later, refusing to sell the album wholesale. During the lead-up to the album, it's also rumored in the press that reggae vocalist Maxi Priest has been tapped to replace Campbell as the band's lead singer — but Ali's brother Duncan ends up taking the reins instead.
2011: Bankruptcy proceedings commence against Ali Campbell, saxophonist Brian Travers, vocalist/toaster Terence Wilson, a.k.a. Astro, Hassan, and Brown in relation to debts incurred by the band's DEP International record label. The five are officially declared bankrupt in October.
2013: Astro parts ways from UB40 following the release of that year's Getting Over the Storm, which features the band taking on cover versions of country songs. Although the vocalist spoke positively of the band's adopting the style of country leading up to release ("Country music and Jamaica are so finely entwined"), he later stated the change in musical direction as playing a role in his departure: "While it may be true there is a long relationship with reggae musicians and country music, that doesn't mean that's what I want to play, far from it, and it's definitely not something I wish to be part of." He joins former members Ali Campbell and Mickey Virtue onstage to perform by the year's end …
2014: … And at the top of 2014, the trio announce their official reformation, as well as that they're in the studio working on new material. Far more mud-slinging takes place than you'd expect from members of a genial reggae-pop band, as Ali Campbell mouths off in a post-reformation interview about "[watching] Duncan destroy my songs for five years" and how the genre turn represented by the band's last album "was a disaster and a betrayal, a slap in the face for me and my fans." In the same chat, Ali claims the remaining members of UB40 are threatening to sue him for future use of the band's name (essentially daring them to do so), but a compromise is eventually reached; he, Virtue, and Astro currently record as and perform under the all-encompassing moniker of UB40 Featuring Ali, Astro, and Mickey.
2018: UB40 Featuring Ali, Astro, and Mickey release A Real Labour of Love, a self-referential LP of covers that goes on to become their most successful album since the mega-smash Promises and Lies. Then, nearly seven months later (as in, like, right now), the accomplishment is wiped out by the news-cycle twist that all but ensures that, when you think of the words "UB40" and "2018" in the future, the only thing that's gonna come to mind is the churlish frat boy who may end up with a seat in the nation's highest court for the rest of his natural life.