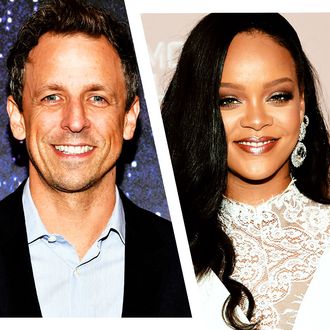 Seth's booker: Shoot your shot!
Photo: Getty Images
Here's the list of people rightfully bewitched by Rihanna: you, us, Leonardo DiCaprio, and Seth Meyers. In a Variety cover story about his ascension as late-night's leading anti-Trump voice, Seth didn't bury the lede: He really wants Rihanna to come on his show. "I really want to have Rihanna on my show," Variety hears Meyers telling an audience member who asked who his dream guest would be. "My wife knows I love Rihanna. My wife has encouraged me to share my feelings with Rihanna. My wife is very confident that Rihanna will not respond."
Seth's crush on Rihanna is well-documented: After going to the Met Gala in 2017, he told Kelly Ripa and Ryan Seacrest on Live! that he was blessed enough to be near someone Rihanna waved to at the Met Gala, and that he was honored to even be in the wave zone. When they suggested he shoot his shot and invite her on his show, he guffawed. "You think I haven't invited Rihanna onto the show? No, she doesn't meet our high standards. Yeah! We only have Rihanna or more famous on my show," he said. "Look, it's an open invitation."
Later in 2017, he and Rihanna's Ocean's 8 co-star Sarah Paulson discussed their "low-level, super cool, chill, perfectly legal obsession" with the star. Paulson promised to put in a good word for Seth and his show, but Rihanna has yet to make an appearance.
If you're keeping score at home, Rihanna now has a makeup line, a Puma collab, two albums in production, and also Seth Meyers's undying love and affection.