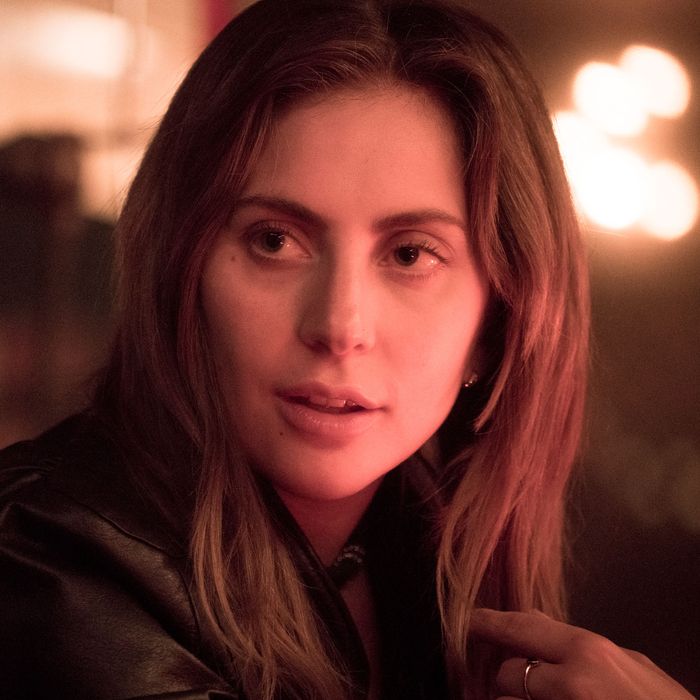 Hey.
Photo: Clay Enos/Warner Bros.
A Star Is Born is a movie you can't help but want to take another look at. As is perhaps proven by the film's strong box-office hold, Bradley Cooper's musical melodrama has been attracting devotees who watch it again and again. As two of those devotees, here are the things we noticed on our second (and third, and fourth) viewings.
1. If you're still unclear what kind of musician he's supposed to be, the crowd at Jackson Maine's Stagecoach show is all middle-aged white people in cowboy hats.
2. "Just wanted to take another look at you" is going to be the top Star Is Born GIF, but don't sleep on Ally's "fucking men!" from her opening scene.
3. Early in the film, Jackson tells Ally, "That's the thing about being famous, people start saying your full name." Accordingly, most of the Star Is Born discourse continues to use his full name.
4. At the cop bar, Jackson isn't just leaning in to Ally because he's a creeper who disregards personal space; it's also because he can't hear her.
5. In the parking-lot scene, one of the first high points of her relationship with Jackson, Ally is wearing a crop-top with a boob window, underneath a jacket. This look is mirrored in the outfit she wears at her SNL performance, one of the lowest points.
6. Ally tells her father Lorenzo she doesn't want to get involved with Jackson because "he's a drunk, you know all about drunks." Lorenzo's prior experience with drunks pays off after the Grammys, when he and his buddies are responsible for cleaning Jackson up.
7. Ally's house is filled with photos of young Stefani Germanotta.
8. On the soundtrack, "Digging My Grave" is a duet between Jackson and Ally, but in the movie we only hear it as an instrumental Jackson plays during a sound check.
9. Also, the soundtrack uses clean rerecordings of all the songs, not the audio we hear in the movie.
10. When he shows up to take Ally to Arizona, Jackson wears a leather vest over a leather jacket.
11. Ally's choreographer is Lady Gaga's real-life choreographer, Richy Jackson.
12. Jackson's breakdown comes after he plays the 25th Annual Pharmacy Convention.
13. Dave Chappelle says "bro" five times during his scene.
14. Not only is Dave Chappelle's wife fine with her husband's drunk friend crashing in their flower beds, she also encourages his girlfriend to marry him, that same day.
15. Ally and Jackson are married by Eddie Griffin, of all people.
16. Why didn't soundtrack dialogue track "Vows" make the movie's final cut?
17. Rez is the kind of guy who says everything twice: "You got it, you got it."
18. All of the non-Jackson and Ally music in the film — including "La Vie En Rose" at Bleu Bleu; Tyler, the Creator's "Yonkers" in Ramon's room; LCD Soundsystem's "New York, I Love You But You're Bringing Me Down" at a photo shoot; and "Pretty Woman" at the Grammys — is diegetic.
19. After you've listened to them a thousand times, you really notice how songs like "Hair Body Face" are only in the movie for like two seconds.
20. Cinematographer Matthew Libatique has a cameo as the photographer doing the shoot where Ally leans about her three Grammy nominations.
21. The kid who bumps Jackson from the Roy Orbison tribute is New Zealand musician Marlon Williams. Also, why would the Grammys be doing a Roy Orbison tribute, again?
22. Jackson's story about almost dying during autoerotic asphyxiation foreshadows his own eventual death
23. When Ally visits Jackson at rehab, her shirt says "OH OH OH OH," which I choose to see as a reference to her "HAAAAAA AH AH AH" scream in "Shallow."
24. Jackson says he didn't tour Europe until a decade into his career, which Rez points was summer 2004. Either Jackson became famous in his late teens, or he's supposed to be much older than Bradley Cooper is.
25. Ally's last show of her tour is at the L.A. Forum, a venue that this summer hosted Paramore, Harry Styles, and Imagine Dragons, which gives you an indication of how big she's supposed to be.
26. Halsey is credited under her government name Ashley Frangipane, playing the role "Music Awards Presenter."
27. That steak was way too big for one dog.