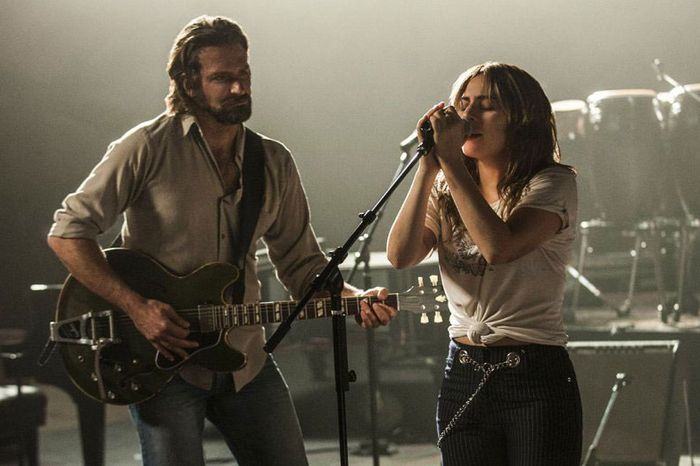 Two stars being born
Photo: Warner Bros.
Real stars, the astrophysical ones, are born through a lengthy process of collapse. They begin as tiny reactions in the midst of clouds of dust and gas in space, condensing and bonding over hundreds of thousands of years until the collected heat and mass result in nuclear fusion. It's poetic that A Star Is Born, the enduring tragedy of the Maines, a Hollywood power couple whose fame dynamic grows catastrophically unbalanced, has built its titular star time and again under a pall of collapse and decay. That's art. That's showbiz. You make sacrifices to get to a better station in life. That's Phoenix. That's Jesus. The story of A Star Is Born abides because it is familiar. But it taxes because it is cruel. The destruction of the male lead is mechanical in its effectiveness. It treats its female lead like a hunk of iron ore, something that needs to be manipulated and refined by a professional to tease out its inner strength.
Bradley Cooper's latest incarnation, the film's fourth, is one of the best because it works hard to make you like the characters, to make you believe they like each other, and then to show you why you never should've trusted it with your feelings to begin with. As much of a joy as Judy Garland is in George Cukor's 1954 adaptation, it never seems smart for her to pour so much time into James Mason's bullish Norman Maine. As believable as Barbra Streisand and Kris Kristofferson are as a couple in the quiet moments of Frank Pierson's 1976 iteration, barroom brawls and pistols fired at helicopters give certain sections the tone of a Charles Bronson film. Cooper and Lady Gaga's Star works because it's charming and realistic in its staging, acting, and music. It's part One Crazy Night and part Greek tragedy, a little bit country, and a little bit EDM. I believe in the 2 a.m. drunk stumbling into a gay bar because it's the only thing open serving alcohol and being paralyzed by great karaoke. (I've seen it!) I believe in the kitchen clerk with the gobsmacking voice, the Yes tee, and the Carole King Tapestry LP hanging on her bedroom wall. I believe in the doting dad who'll never let you forget the time Paul Anka paid a compliment to his singing.
I also believe in the music of A Star Is Born, and I didn't think I would at first pass, wincing at the grungy ramble of Bradley Cooper's Jackson Maine, a grizzled but muscular composite of Kristofferson's John Howard, tenured alt-rock stadium gods like Pearl Jam's Eddie Vedder, and latter-day Gregg Allman, whose battle with addiction in the '90s feels like the Ur-text for this version. I couldn't place Jackson in time in my head. I couldn't see a world where he headlines Coachella and Glastonbury. The ideal that he represents — the austere thinking, the hard drinking, the worship of the physicality of rock and roll — is in decline. At first, this made the soundtrack seem dizzyingly anachronistic. But rot is the core of A Star Is Born. Jackson is supposed to seem like a dinosaur. His crumbling sense of what's relevant in music is one of the forces driving the film toward its grisly final act. What's tragic is that his songs are sturdy. He's great when he can keep his demons leashed. But Jackson's dwindling music-industry cachet and his reactionary drinking quickly form a terrible feedback loop, and you can hear him crying out in his songs.
Cooper's musical performances in A Star Is Born dramatize the discouraging sensation of trying your best and losing. Failure and death are chilling undercurrents in nearly all of his songs. Writing alongside gifted country troubadours like Jason Isbell and Lukas Nelson — son of Willie Nelson and leader of Promise of the Real, which currently serves as Neil Young's backing band — Cooper produced a batch of songs haunted by time and memory. "Maybe it's time to let the old ways die," the Isbell song muses with foreboding clarity. "Too Far Gone" and the duet "Diggin' My Grave" double down on the fixation with mortality. Cooper is surprisingly effective singing the sad songs; the only points where you remember you're watching a movie star play a musician are heavier tunes like "Black Eyes" and "Alibi," where the actor strains too hard to play the part of rock star and comes out with a lot of gruff vocal tones and emotional boilerplate, but even those seem believable as old blues-rock hits that still pop for older crowds.
The rise of Lady Gaga's Ally Maine amid Jackson's systematic self-destruction is both a heavy-handed rockist parable and a clever opportunity to modernize the film's music. Ally's growing pop-radio traction makes for some cunning Gaga qua Gaga dance-pop tunes as the film moves along, and her character finds footing as a backing vocalist, a songwriter, and later, a solo star. The solo Ally tunes reunite Gaga with Artpop producers Nick Monson and DJ White Shadow. "Hair Body Face" sees the singer presiding pridefully over her comfort zone in the same way that Barbra Streisand's Mrs. Maine comes to life belting out slow-boiling, melodramatic ballads like "Evergreen." Like Artpop, A Star Is Born's overt pop moves are fascinating, but "Why Did You Do That?" and "Heal Me" ride promising verses to choruses so canned they threaten to prove Jackson's point that Ally is more "real" when she's reaching deep for pained blue notes. Gaga's ease with soul and country tunes, foreign-language standards, and torch songs means that Ally's journey toward (and later, away from) big radio songs is more illuminating than the performances where the line between Gaga the real-life pop star and Ally the imaginary pop ingenue begins to blur.
"Shallow" is the big-deal duet of this soundtrack, and deservedly so. The hook is a freight train, equal parts "Bad Romance" and Born to Run. The thunderous last-minute key change and home-run final chorus are worth every statue the tune stands to snag next awards season. The songs that gamble most on the natural soulfulness of Gaga's voice reap the best rewards. "Always Remember Us This Way" is a patient ballad co-written by veteran country songwriters Lori McKenna and Natalie Hemby that takes flight when the singer breaks out hooting wordlessly after the second verse. "Look What I Found" is top-notch retro soul that relies on Gaga's upper register to convey the breathless rush of a new crush. Her voice is equally powerful in small moments, like the bit of "Somewhere Over the Rainbow" sung in tribute to Judy Garland in the film's title sequence, and in colossal ones like the show-must-go-on closer "I'll Never Love Again," a jack of Harry Nilsson's "Without You" so heartbreaking that it'll make you cry in spite of yourself, which is frankly the arch purpose of the entire endeavor.
A Star Is Born is the Hollywood myth writ large, a survey of doomed silent-film actors that keeps getting revived because its root truth — that fame is a beast that bucks when you least expect it — has not changed in 80 years. It's fitting that Gaga, an artist who warned that fame was a monster a decade ago, should embody the role of Mrs. Maine with such grit and grace. This isn't her first go at blending music and acting, and it won't be her last. It's an ambitious venture for Bradley Cooper as well, blotting away the stain of the gaudy, indulgent '76 version of this film by teaching himself to direct, write songs, and sing live on the journey to becoming Jackson Maine. A Star Is Born perseveres in spite of its minor faults and quirks, and it shines brightest in its music. The lasting gift of a great musical is watching the soundtrack grow a life of its own outside of it; it won't be long before these songs dominate the kinds of bar karaoke nights where Jackson met Ally in the first place.