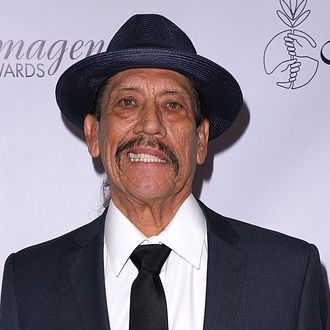 Danny Trejo.
Photo: JC Olivera/Getty Images
It's easier to imagine actor Danny Trejo tearing across hell on a machine gun/motorcyle hybrid than mending together the generations of a Latinx family estranged by prison time. That's undoubtedly why ABC (correctly) assumes you'd tune into a Danny Trejo sitcom, to see if he can pull off family comedy as easily as he would, say, a drug baron's severed arm. According to Deadline, the network has put Trejo's upcoming multi-cam Food & Familia into development.
Don't assume, however, that Danny Trejo's sitcom dad will be, by necessity, un-badass-ified. The show, based loosely on the actor's own life, features the Sons of Anarchy actor as an ex-con tasked with taking over his late mother's restaurant … while repairing his damaged relationship with his daughter, who is resentful of the time he spent behind bars. And so, as one ass-kicking actor passes on into network fame, somewhere else, a new one is born. And thus the cycle of action stars continues its dance.