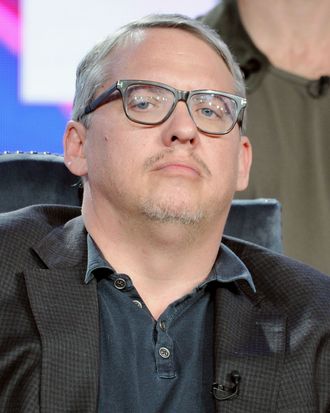 Adam McKay.
Photo: FilmMagic
2018 has been a year full of changes at Funny or Die, the comedy website founded by Will Ferrell, Adam McKay, and Chris Henchy back in 2007 when they released their very first video "The Landlord." In January, a round of layoffs hit the site, which reportedly included nearly two dozen members of the editorial team. (A previous round of layoffs occurred in 2016 when the site's San Mateo engineering office shuttered, followed by the closing of the New York office last year.) Soon after January's layoffs, the site announced a multiyear partnership with Vox Media, which moved the site to Vox's platform in August. Another big change that went unreported this year, it turns out, is Adam McKay's decision to part ways with the company.
A rep for Funny or Die and McKay has confirmed to Vulture that McKay stepped down from Funny or Die sometime earlier this year, though he will remain an executive producer on Funny or Die–produced series like Sarah Silverman's Hulu show I Love You, America and No Activity on CBS All Access. "Lately, I've found myself increasingly drawn to stories and projects that mean a lot to me — big money, corporate entanglements and global warming. Given Funny Or Die is driven by ad revenues, I felt the time had come for me to step down," McKay said in a statement. "I have to say I love what we created at Funny or Die and all the really fun collaborators, and I wish them the very best for the future."
Funny or Die also released a statement on the change: "We remain indebted to everything Adam has done and contributed to Funny Or Die. His passion for the creative process and nurturing talent has been beyond inspiring and appreciated by everyone."
Earlier this year, some tension between McKay and the company played out in public. In mid-January, Funny or Die debuted a three-episode web series titled Glowing Up Fast sponsored by the Shell oil and gas company, and after its release, McKay — who has long been outspoken about global warming and the environmental damage caused by companies like Shell — was not happy when the series was brought to his attention:
As is the case with Ferrell, McKay's involvement with the company over the years has been mostly in the capacity as a founder and owner, not with day-to-day operations. A source at Funny or Die says that while McKay has stepped down, Ferrell and Henchy are still involved as owners.