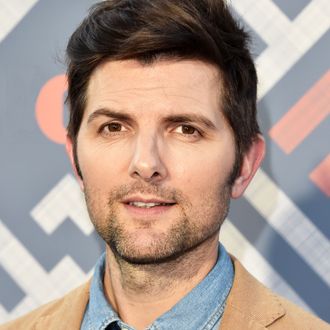 Scott.
Photo: Alberto E. Rodriguez/Getty Images
We've already seen two iterations of the iconic Twilight Zone episode "Nightmare at 20,000 Feet," so why not have another? It's been announced that Adam Scott will star in a new version of the story, this time called "Nightmare at 30,000 Feet," for Jordan Peele's rebooted take on the classic science fiction series. Scott's role was previously played by John Lithgow in The Twilight Zone movie from 1983, and it was originated in 1963 by William Shatner during the pioneering show's first run. If you haven't seen either of those, they focus on a man traveling by plane who descends into madness while he watches a creature on the outside of the plane that only he can see.
It was also recently announced that Sanaa Lathan will enter The Twilight Zone and star in the episode "Rewind," an episode from the early 2000s revival of the series that focuses on a gambler who thinks they can beat the house with the help of a mysterious tape recorder. New Twilight Zone episodes will begin airing in 2019 on CBS All Access, with Peele serving as host and narrator.