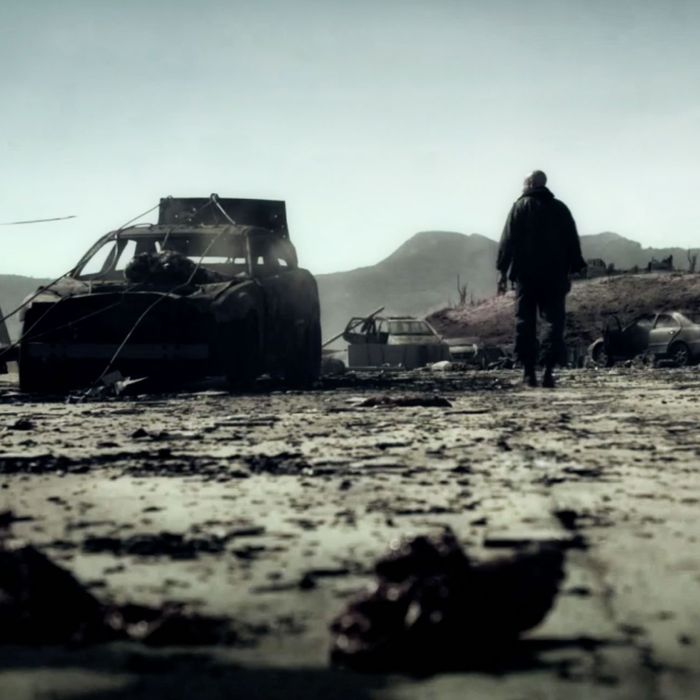 American Horror Story's eighth season has rendered an apocalypse worthy of installation in the "world-gone-to-hell" celluloid canon. For all the fun crossovers from previous AHS seasons, this iteration most stands out for its depiction of an arid planet populated by mutant humans unlucky enough to have survived nuclear devastation — the crucial backdrop upon which the season's wider Antichrist vs. witches story line plays out. It calls to mind a particular subset of sci-fi and horror films steeped in desert hues, threadbare clothing, Darwinism at its most cavalier, and very limited fields of vision (on account of the sand and soot and wind and all).
If you're looking for an Apocalypse companion, we bring you this select handful of five terrific Dust Bowl Dystopia flicks. See if you can spot the influence they had on Ryan Murphy's macabre genre satire — or in the case of Solarbabies, simply marvel at the sensory overload of talented actors in service to a convoluted premise. If you take one prevailing lesson away, it's this: Don't prep for civilization's final days without sunscreen and a scarf.
When It Takes Place: 2024
Dust Bowl Dystopia Signatures: Endless stretches of mountainous desert; roving gangs of feral scavengers and plunderers in tattered clothes; makeshift tent encampments; random heaps of car parts and used furniture repurposed as shelter.
Is It As Bleak As AHS? It's comparable, although in this post–World War IV vision based on Harlan Ellison's 1969 novella, free-roamers like Don Johnson's Vic and his telepathically communicative dog Blood don't deteriorate from radioactive fallout. Still, it is not a particularly prosperous place for women, who are hunted down for one-sided sexual pleasure and forced breeding. But there is a wackadoo subterranean society of survivors lorded over by Jason Robards that out-weirds Apocalypse's sterile sanctuary.
Actual, Trivial Connection to Apocalypse: Tim McIntire, who voiced Blood, appeared several times alongside his father John McIntire in 1960s NBC Western The Virginian, a show whose guest stars also included a 40-something Joan Collins. And now she's on AHS!
When It Takes Place: An unspecified point in the future
Dust Bowl Dystopia Signatures: Evil villain hoarding Earth's precious resources (water, specifically); sun-cracked desert surfaces where oceans and rivers used to flow; orphaned teen misfits alternately left to their devices and held captive by controlling tyrants; fringe communities subsisting on crude barter systems and crass theatrical entertainment.
Is It As Bleak As AHS? Well, the kids (a cast boasting Jami Gertz, Jason Patric, Lukas Haas, Adrian Pasdar, and James LeGros in one collectively regrettable affair) do at least get sanctioned rollerblading time, which beats Apocalypse's hellish cocktail hours. They also enjoy each other's company and ultimately manage to gain possession of a groovy orb that unlocks all that precious agua and saves mankind from Nazi-like eco-terrorists. So yeah, these brats are relatively spoiled.
Actual, Trivial Connection to Apocalypse: Cinematographer Peter MacDonald was also responsible for the look of 1987's underrated Vietnam drama Hamburger Hill, starring a young (and dreamy, naturally) Dylan McDermott, who once again touched down in the AHS universe for this week's Apocalypse episode, "Return to Murder House."
When It Takes Place: Unclear, though possibly a cautionary present day
Dust Bowl Dystopia Signatures: Blinding windstorms; grafter nomads in steampunk garb; blood-orange horizons; clusters of industrious humans getting by trading second-hand odds and ends of 20th-century technology that ultimately become sentient and murderous. (Okay, that last one is unique.)
Is It As Bleak As AHS? The most ominous aspect of Richard Stanley's Terminator-in-the-wasteland plot is it's essentially a preface to government-subsidized human extinction. Otherwise, at least they get to rock out to music by industrial provocateurs Ministry.
Actual, Trivial Connection to Apocalypse: There's that Dylan McDermott guy again, this time in the lead. But dig a bit deeper and you'll note editor Derek Trigg was also a crewman on 2003's Mona Lisa Smile, starring Julia Roberts, whose niece Emma is back as witchy diva Madison Montgomery.
When It Takes Place: An unspecified date in the near-future
Dust Bowl Dystopia Signatures: Where to start? More refashioned old jalopies than the span of Old Havana; tribal albinos pledging fealty to an elements-ravaged dictator who forcibly impregnates young sirens and monopolizes precious water; a veritable desert-situated X-Games of Rad-worthy dirt bikers; and, of course, a severe personal-hygiene epidemic. (Note: Of Fury Road's three predecessors, Beyond Thunderdome would be the most apt to also include, but this list is a Mel Gibson–free zone.)
Is It As Bleak As AHS? This is way, way more concerning. If Apocalypse's prima donnas thought getting hosed and scrubbed down and kept from copulating was bad, it beats being used as a human blood bag and smothered by an iron muzzle while you're strapped to the front of a primitive war tank like Tom Hardy's titular hero. Sure, everyone gets Charlize Theron's one-armed Furiosa as their benevolent leader at the end, but we all know how quickly well-meaning coups curdle into something corrupt.
Actual, Trivial Connection to Apocalypse: Nick Zinner of the Yeah Yeah Yeahs, who contributed guitars to the Fury Road score, recently joined Apocalypse guest star Stevie Nicks in a call to boycott SiriusXM satellite radio over their opposition to new music-licensing legislation. (Hey, we said trivial.)
When It Takes Place: Yet another unspecified date in the near-future
Dust Bowl Dystopia Signatures: Cannibals; relentlessly punishing desert sun; eccentric rave-like gatherings under the cover of night; makeshift community run dictatorially by a resource-hoarding slob forcibly impregnating young women (played by Keanu Reeves, channeling Tony Clifton and Pablo Escobar); un-showered children left to their own devices.
Is It As Bleak As AHS? A Girl Walks Home Alone at Night director Ana Lily Amirpour's follow-up feature is particularly unsettling because the so-called "bad batch" floundering in the desert were banished there by civil society. The town of Comfort and its surroundings represent a glorified clearinghouse for supposed ne'er-do-wells, but at least Suki Waterhouse's heroine Arlen gets lent a helping hand by a grimy, wordless Jim Carrey.
Actual, Trivial Connection to Apocalypse: Executive producer Megan Ellison recently wrapped work on the Christian Bale–as–Dick Cheney drama Vice, co-starring Apocalypse's dramatically re-animated Lily Rabe.