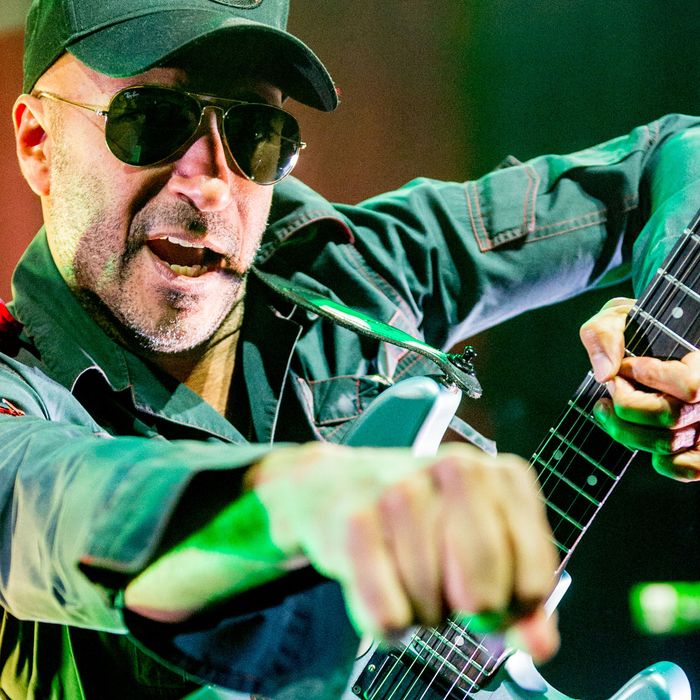 Tom Morello of Rage Against the Machine performing in November 2017.
Photo: Ollie Millington/WireImage
As guitar player for the rap-rock pioneers Rage Against the Machine and the supergroups Audioslave and Prophets of Rage, Tom Morello has cultivated a style that crosses wires between hip-hop and classic rock, siring white-hot guitar licks indebted to the sinister proto-doom of Black Sabbath and whirring through solos that make his instrument sound like scratches on a turntable. Elsewhere, in a series of folk albums as the Nightwatchman and a stint as a session player on the last few Bruce Springsteen albums, the activist and guitarist proved to be as comfortable in restraint as he was cutting through the sinews of bassist Tim Commerford and drummer Brad Wilk's meaty rhythm section. This week, in the first album released under his own name, Tom Morello attempts a new trick. The Atlas Underground teams up with singers, rappers, and producers from far-flung reaches of the modern mainstream to speak to the social concerns of the times through music. As was the case with similar all-hands-on-deck ventures like the Bright, Suicide Squad, and Judgment Night soundtracks, collections of unlikely cross-genre pairings that ranged from brilliant to ill-conceived, the quality of The Atlas Underground depends on how well the pieces fit together.
Atlas serves up ace drama the minute you press play. Opener "Battle Sirens" launches one of the greatest riffs of Morello's career, then reneges as the EDM producer team Knife Party shatters the track and reconstructs it as a blistering dubstep beat. "Sirens" is solid molly-gobbling festie fare, but it's a risky way to start a record; the first album billed under Morello's real name is bound to draw out fans who've been following since "Bullet in the Head," and those ears aren't the target audience for the bounty of wubs the producers deliver. It's a necessary provocation, though; the next track does less. "Rabbit's Revenge" lays Morello's guitars over a booming Bassnectar beat as Atlanta rap vets Big Boi and Killer Mike call out the names of black victims of police violence and ask for justice. Morello told Rolling Stone his stated mission was to "make a record that was unapologetically a guitar album, but that had the sonic imprints of 2018." "Rabbit's Revenge" braids rap, rock, EDM, and social justice threads with an ease that comes and goes throughout the rest of the project.
The involvement of Portugal. The Man, Gary Clark Jr., and Marcus Mumford on an album with beats by Steve Aoki, Boots, and Pretty Lights; and raps by Vic Mensa and members of Outkast and Wu-Tang Clan, suggests that Morello possesses a festival-circuit lifer's sense of who's making noise in music on and off the charts, but its attempts at sounding current feel a little strained, and the farther it leans into the guitarist's own legacy, the more assured it sounds. The Portugal. The Man cut "Every Step That I Take" is the one on this album that could actually grace the rock charts. It understands what rock music is becoming at the end of the decade across records like "Thunder" by Imagine Dragons and "Walk on Water" by Thirty Seconds to Mars. Their root is the blues, but their sonics branch out into hip-hop and dance music. "Every Step" is not a particularly gripping or original song, but it's a catchy one where Morello's mission statement comes cleanly into focus. "Find Another Way" strikes a similarly careful balance between radio rock melodicism and tasteful dance-music aesthetics with a hooky but labored vocal from Marcus Mumford and stormy production from Phantogram's Josh Carter.
The center does not hold; the closer Atlas comes to actual rave music, the blander it gets. The Steve Aoki team-up "How Long" is a vehicle for motivational boilerplate from Rise Against's Tim McIlrath. It's tuneful, but the production's so mannered and dated it almost makes the album's all-inclusive spirit seem like a bad idea. (Morello texted both McIlrath and Dave Grohl to come and sing on the track and resolved to give the gig to the first responder; one wonders what Grohl, who once landed in hot water for a Grammy acceptance speech condemning music made on computers for sounding too clean and inhuman, might've done with an opportunity to emote over programmed drums.) When Atlas reaches deeper than festival headline acts, it charms. The Pretty Lights song "One Nation" actually feels like disparate genres meeting in the middle, and late in the album, on "Roadrunner," the masked Brooklyn rapper Leikeli47 gives the album its coldest lyric: "In the valley of death, my name changed / Got introduced to my best friend, pain."
"Roadrunner" is one of a handful of moments here where Morello gestures at the sound and fury of Rage Against the Machine. The chemistry between Tom Morello and Zack de la Rocha was special, and you can hear some of the rappers on The Atlas Underground easing into Zach's shoes, given the opportunity to rap alongside a Morello riff. Tom's guitar draws a bombast out of Leikeli47's voice she tends to avoid in favor of detached, effortless cool in her solo records. "We Don't Need You" lights a fire under Chicago rapper Vic Mensa, a gifted rhymer whose heart is in the right place but whose music hasn't gripped in quite the same way his politics have in the years since his 2013 solo debut Innanetape. Collaborations like these work because they're no-brainers. But they make the album's loftier endeavors feel like overkill. The Atlas Underground is full of good ideas drenched in too much sauce. "Where It's at Ain't What It Is" is a fine mix of bluesy Gary Clark Jr. vocals and hooky house-music production values that kills its own vibe on hair-raising drops. When Morello and his friends give these tracks room to breathe, as he does with singer/rapper K. Flay on the straightforward rock track "Lucky One," they float. A few more of these and a few less hands on deck would've done this album better. As it is, The Atlas Underground is an amusing but often overbearing collection of gutsy experiments from rock and roll's most tasteful mixologist.