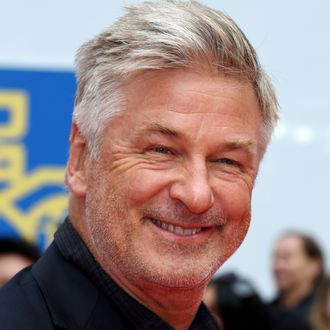 Alec Baldwin.
Photo: Amanda Edwards/Getty Images
To promote his upcoming ABC talk show, Alec Baldwin did an interview with The Hollywood Reporter, and there's a quote from it that's getting a lot of attention. At one point during the interview, Baldwin is approached by a black man who compliments him on his SNL Trump impression, which Baldwin goes on to talk about: "I mean, it's cartoonish. All I wanted my Trump to be is mean-spirited and miserable, like Mr. Potter from It's a Wonderful Life," he says. "But then I'll say, 'Oh, I don't want to do it anymore,' and people will go, 'Don't you dare give that up, we need you.' Like I've gotten people through something in our nation's history."
Soon after, and still reflecting on his fan encounter, Baldwin continues: "I don't know how to say this and I don't want to get it wrong either, because everything is a minefield of bombs going off, but ever since I played Trump, black people love me. They love me," he says. "Everywhere I go, black people go crazy. I think it's because they're most afraid of Trump. I'm not going to paint every African-American person with the same brush, but a significant number of them are sitting there going, 'This is going to be bad for black folks.'"
Baldwin also reflects on #MeToo in the interview and his defense of men like James Toback and Woody Allen. "It's not a witch hunt because a witch hunt indicates that there is very little truth, if none at all, and there is a lot of truth here. But what worries me is that this is a fire that needs constant kindling," he says, telling THR that last year, a publication reached out to one of his former co-stars about alleged misconduct by Baldwin on the set of a film in the '80s. "I just remember thinking in that moment, 'Wow, they're looking for people. This is a fire that needs fresh wood, and they're coming for me.'"
Baldwin also expands on some thoughts he previously shared about late-night hosts Stephen Colbert and John Oliver and their shows becoming what he calls "grand juries" instead of entertainment. Reflecting on the time Colbert asked him last year what made him an "angry guy," Baldwin says, "If I don't [respond], I am the angry guy. You can't win either way because people have already made up their minds. It's either, 'Alec Baldwin, I think you're a philanthropic, wonderful citizen of the community, whatever talent you have' or 'Alec Baldwin, you're just an asshole.' And it's never going to change."
Read the full interview over at THR.