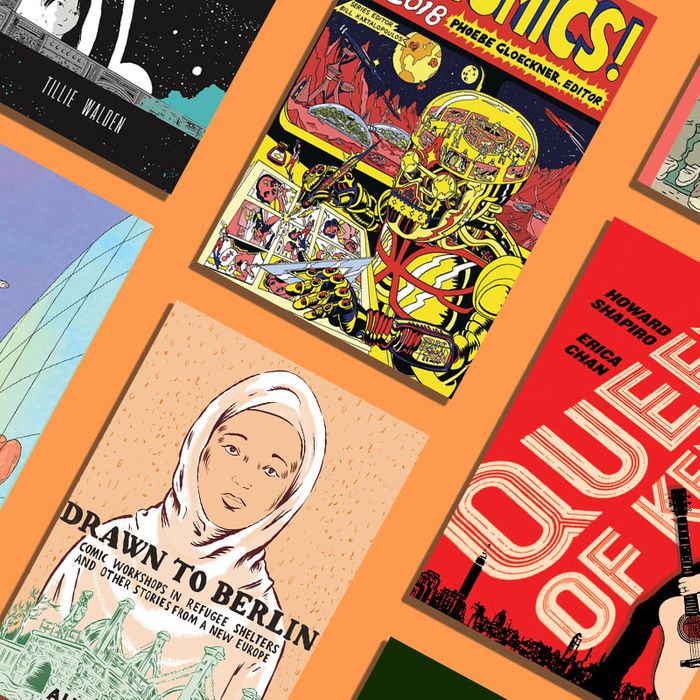 Goodies for a fallen world!
Photo: Vulture
Each month, Abraham Riesman offers recommendations of comics media, including book-length graphic novels, comics-format nonfiction, ongoing series, and comics-related items in other forms. With any luck, at least one of them will be a match for you.
Drawn to Berlin: Comic Workshops in Refugee Shelters and Other Stories by Ali Fitzgerald (Fantagraphics)
Late in Drawn to Berlin, cartoonist Ali Fitzgerald wonders whether she has any right to tell the stories of the Middle Eastern and North African refugees she met during a period of teaching comics art to them in Berlin. "The exact ethical contours of this question still elude me," she tells a friend, and though I can't clarify them for her, I'm glad she overcame her uncertainty and produced this wonderful book. The sensuous, swaying inks conjure up a European capital where wandering world citizens have long walked and pondered the nature of their journeys, where the first world and the third world meet and awkwardly shake hands. Fitzgerald seamlessly weaves her own experiences into those of her new acquaintances and those of long-gone observers and transients, and the result is one of the finest pieces of comics nonfiction I've read in years.
On a Sunbeam by Tillie Walden (First Second)
Oh, Tillie Walden. How does she do it? After putting out the doorstop-sized memoir Spinning just last year, the early-twentysomething critical darling has produced yet another 500-odd-page epic. This one is a far cry from the tenderly observed realism of her previous books — after all, it takes place in a bizarre outer space-scape of fish-shaped ships and mysterious books about lost civilizations. But at the same time, it fits right in with the rest of her oeuvre insofar as it describes the longing and frustration of adolescence in the form of its cast of teenage protagonists, all of whom are struggling to carve out a life-path in a world that barely makes sense to them. Or to us, for that matter, but letting the crazy wash over you is part of the fun.
Art Comic by Matthew Thurber (Drawn + Quarterly)
It's hard to describe what, exactly, happens in Art Comic without sounding like a madman. It's about … Well, I suppose it's about art and artists? Beyond that general description, sense fails: there's an aspiring artist who dies and meets a flying pony that may or may not be God, an art student who suffers a hammer-blow to the head and decides to become a medieval knight, an art teacher who accepts a Faustian deal with a bat-person who pays him to suppress the dreams of art students, an art aficionado from another planet who builds sex robots, and so on. Each of these narratives would be delightfully baffling enough on their own, but Matthew Thurber toggles back and forth between them in an admirable effort to keep the reader disoriented at all times. His crude visuals are perfectly suited to this raw, bizarre meditation on why we idiot humans bother to create anything.
One Dirty Tree by Noah Van Sciver (Uncivilized)
I don't know whether I'm supposed to like Noah Van Sciver as a result of the narrative he presents in One Dirty Tree — he offers up plenty of reasons to be irritated with him — but I certainly like the way he tells it. The critically acclaimed cartoonist behind Fante Bukowski and The Hypo turns his careful eye on himself in this autobiographical outing, which alternates between delving into his bizarre, impoverished, Mormon childhood (keep an eye out for cameos from his controversial comics-artist brother, Ethan) and his life in the wake of turning in his breakout work, Fante Bukowski. The thick, crayon-like artwork is compelling and distinctive, as is the storytelling; the former conveys the literal grit of the underclass and the latter, the emotional grit of ending a relationship and entering your thirties. Van Sciver is one of our best up-and-coming talents and everything he does is worth a look.
Infinite Dark by Ryan Cady, Andrea Mutti, K. Michael Russell, and Troy Peteri (Image)
My father used to scare the crap out of me by occasionally telling me what he referred to as the world's shortest horror story: "The last person on Earth sat alone in his room. There was a knock at the door." That could serve as a decent log line for Infinite Dark, which features one of the most interesting setups in recent comics history. Set in the far future, the eventual entropic heat death of the universe has come and gone, wiping out all life and matter save for one space station designed to survive in the ultimate void. When the crew, already half-crazy, find out one of their own has been murdered under odd circumstances, chaos threatens to break loose. Andrea Mutti and K. Michael Russell deliver solid, manga-inflected sci-fi design and execution, but the real action here is Ryan Cady's taut and chilling narration and dialogue. Here's hoping there's something worthwhile in the mystery box.
Queen of Kenosha by Howard Shapiro and Erica Chan (Animal)
The concept behind Queen of Kenosha is so goofy that it almost sounds like a parody: a struggling singer-songwriter in the early-'60s folk scene gets hired by a secretive government agency to take down a neo-Nazi spy ring. And yet, in spite of the odds, Howard Shapiro and Erica Chan somehow pull it off. This first installment in a planned trilogy crackles with earnest energy, well-mapped action sequences, and charming personalities. Bob Dylan could never.
Best American Comics 2018 edited by Bill Kartalopoulos and Phoebe Gloeckner (Houghton Mifflin Harcourt)
As always, I'm sort of cheating here by recommending what is essentially an existing list of comics recommendations, but whatever, it's my column, I make the rules. This year's Best American Comics collection is, as always, a stellar lineup chosen by series editor Bill Kartalopoulos and the year's guest editor, in this case Phoebe Gloeckner (Diary of a Teenage Girl). There's a bevy of treats, from already well publicized work by Emil Ferris, Gabrielle Bell, Jaime Hernandez, and Guy Delisle to more obscure pieces by underappreciated talents like Julia Gfrörer and Max Clotfelter. Just be prepared to drain your wallet on a bunch of these creators' full books once you're done reading the collection.
Marvelocity by Alex Ross, Chip Kidd, and Geoff Spear (Pantheon)
Any true superhero-comics fan is able to identify an Alex Ross work so quickly that it's almost like you know it before your eyes alight upon it. Since he made his first big splash alongside writer Kurt Busiek with 1994's Marvel Comics graphic novel Marvels, his photorealistic painting has been widely beloved by casual readers and diehards, alike. In this sequel to 2003's Mythology, the retrospective of his DC Comics efforts, editor Chip Kidd looks back at Ross's Marvel corpus, from well-worn epics like Earth X to a previously unpublished short story featuring Spider-Man foes the Sinister Six. Marvelocity is everything a Ross fan could want in a coffee-table book, showcasing his mastery of covers, concepts, and content. There are original photo references, sketches that showcase his early evolution as a designer, and even adorable childhood scribblings. One walks away from Marvelocity realizing Alex Ross is truly sui generis and unlikely to ever be matched.