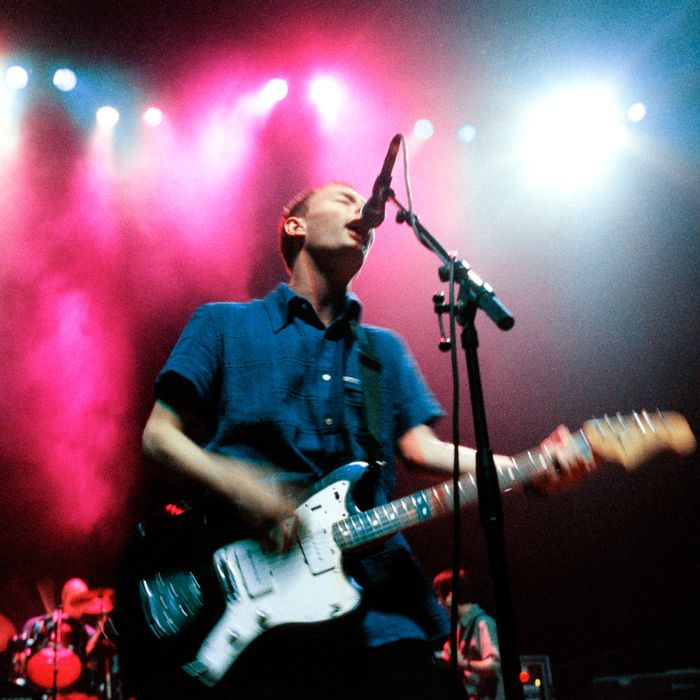 Photo: Michel Linssen/Redferns
The nominees list for the 2019 inductees to the Rock and Roll Hall of Fame was released this week. Below are the candidates, ranked in order of merit. For background on the hall and its procedures, and all the previous inductees, click here.
Roxy Music
Given that they've been eligible for 20 years, this is the most glaring omission in the hall's history. Roxy was one of the most challenging bands of its time, mixing glam, art rock, and some species of European chanteuserie (courtesy of leader Bryan Ferry) layered with postmodern rock imagery, a decayed, regretful sexuality, and venturesome soundscapes (courtesy of founding member Brian Eno). Brassy early releases gave way to several art-rock classics (Country Life, Stranded) and then shifted around the time of Manifesto into haute global pop in Flesh & Blood and Avalon that arguably has never been equaled.
Radiohead
The debate about Radiohead is whether they are a transformative, pantheonic band, worthy of immediate entry to the hall, or just a really great one. I think they are at least as great as R.E.M., say, which got in on its first year. This is the band's second year of eligibility. I think they are a top-tier band, musically adventurous, and innovative in all sorts of ways. I can still remember where I was the first time I heard "Paranoid Android."
To its credit, the nominating committee went for them, despite the fact that the members of Radiohead have disparaged the hall repeatedly, and have already said they won't be coming to the induction ceremony. Hard to believe the members of the voting committee, now said to be 1,000 strong, could decide that Radiohead is not a hall of fame band, but perhaps they won't given the band's position. From the point of view of the organizers of the induction ceremony, this means one less big-ticket headliner.
Janet Jackson
Some will say she's only a pop artist, which in a way she is, but she is also a great R&B star. Besides that, she has a story — marshaling the talent to break out of the rut of her early albums (and, more importantly, away from her benighted family) and finding the collaborators she needed in Jimmy Jam and Terry Lewis. Besides the statement of independence that was Control, she scaled things up for Rhythm Nation 1814, which rocks substantively and confidently to this day. She ultimately made a few years of the era her own, against some significant competition, including Prince, Springsteen, Madonna, and — who am I forgetting? — her brother.
Kraftwerk
The industrial Germanic sound is much favored in some critical conclaves. I think it's great — and an early, arguably the Ur-influence on the electronic music that would dominate the '80s and '90s.
Todd Rundgren
Rundgren is a consummate pop craftsman and yet still a rock artiste. He's cool enough to have one of his earliest songs, "Open My Eyes," from his first band Nazz, be included in Lenny Kaye's history of garage rock, Nuggets. In the 1970s, he was a quirky auteur, writing, producing, and performing pop hits that never quite made it to the top ten but stay with us to this day — "Hello It's Me," "I Saw the Light," "We Gotta Get You a Woman," "Can We Still Be Friends" — even while experimenting musically in all sorts of ways, from space-rock excursions with Utopia to filling one side of an album with perfect note-for-note covers of rock classics like "If Six Was Nine" and "Good Vibrations." But: He dressed glam — he made an appearance on The Midnight Special done up like a gay butterfly — and the hall gets uncomfortable with boys who dress up like girls, and Rundgren has remained on the outside while all sort of Spinal Tap-y manly men in spandex have been ushered in — not to mention much less talented acts from the same era, like Bill Withers, Cat Stevens, even Laura Nyro. And as I wrote in my ranking of the hall acts earlier this year, he's also produced more than a handful of signal rock albums, including New York Dolls, We're an American Band, Bat Out of Hell, Wave, Skylarking, and Forever Now .
Rufus featuring Chaka Khan
Classy funk-pop outfit from the 1970s. Khan is an awesome presence and had a solo latter-day hit, but I don't think her or the band's work warrants inclusion.
The Cure
The omission of Joy Division and New Order looms over the hall; I don't know whether it's the shortage of women in the nominating and voting process or just the in-clubby nature of the nominating committee, but the lack of respect for dance music is inexplicable. "Love Will Tear Us Apart" is one of the greatest rock singles of all time, and New Order's '80s works, timelessly orchestrated and produced, were formidable underground dance music presences in the 1980s. They kept at it and the world came to them and they ended up global superstars. The band's lyrics sometimes come across as dorky, I take the point; but you also have to agree that at least three of their actual albums — Power, Corruption and Lies, Low-Life, and Brotherhood — are substantive works peppered with good songs.
Anyway, I go into such detail to note that the one good argument against the Cure is that as far as electronic acts of the era goes, they are less important than JD/NO. In their favor: They were around British punk when it was created, and quickly emerged as among the first post-punk bands, boasting brainy compositions (an early song was based on Camus's The Stranger, and titled, uncompromisingly, "Killing an Arab") and killer hooks (like the ones in "Boys Don't Cry"). Their albums got better and better (not the typical rock dynamic) and scaled up to big sales, and the band eventually played a few stadiums. And at a time when a lot of traditional rock bands were still putting on old-school shows, Cure concerts were sonic and visual extravaganzas.
John Prine
Prine is a postmodern folkie with a minor critical corner. I think he veers into dorkiness and an unstable absurdism, but you can't gainsay the uncompromising singularity of his songs. That said, there's not that many great ones. Seems odd that there are people pushing him when songwriters like Warren Zevon, Gram Parsons, and even Dolly Parton and Willie Nelson are not in yet.
Devo
The cover of "Satisfaction" was as post-punk as it got, and there were one or two other serious songs, but it was hard to take them seriously. "Whip It" was a big novelty single and then the novelty wore off. Leader Mark Mothersbaugh has gone on to do notable film soundtrack work.
MC5
Like the Stooges, MC5 are much beloved of punk lifers, and certainly a candidate as an early punk progenitor. The band was the ferocious embodiment of the most revolutionary and romanticized edges of the antiwar movement in the late 1960s. "Kick Out the Jams" is quite a song. I think they are something of a footnote at this point but, as I said, much beloved of punk lifers.
The Zombies
A semi-distinctive British invasion outfit, delivering an early semi-psychedelic hit "She's Not There" (which predated the Yardbirds' semi-simlair "For Your Love"), and later one called "Time of the Season." Fans like the overlooked second album Odessey and Oracle, complete with misspelled word "odyssey," but truth be told this is a highly twee work that's hard to listen to, outside of a decent song or two by Rod Argent, who went on to some moderate solo success. And that's the band's career! Compare that to the Hollies, who recorded 15 or 20 albums and had hits for more than a decade. This is a minor band.
Rage Against the Machine
They rock very hard and who doesn't like Tom Morello's guitar playing? I like Marxist rock as much as the next guy, but I want songs too.
Stevie Nicks
Fleetwood Mac was inducted way back in 1998, so Nicks is already in the hall, which she deserves to be. Her solo career includes one-and-a-half decent hits ("Edge of Seventeen" [the one about the "white wing dove"] and "Stand Back") and a couple of duets, which are fine but full of '80s production gassiness. You can even throw in the pre-Fleetwod Mac Buckingham Nicks album, which I still have on LP (it was never released on DVD), to which she contributes a few markedly awesome songs, like "Long Distance Winner"; but there's nothing remotely in Nicks's solo career that warrants induction into the Rock and Roll Hall of Fame as a solo artist. And if you think she deserves to be in because the hall hasn't inducted enough women, let's start with the B-52's and the Go-Gos and move on to the Carpenters, Carole King (in as a songwriter, not a performer), Lucinda Williams, Parton, and PJ Harvey. And that's not to mention Diana Ross, whose (un-inducted) solo career post-Supremes is far more impressive than Nicks's post–Fleetwood Mac, and that goes double for Tina Turner's post–Ike and Tina.
LL Cool J
LL has always had a coterie who claim he's some sort of talent, but he's really just a hack entertainer. There's nothing wrong with that, but hacks don't belong in the rock hall of fame. It didn't have to be this way: Midway into his early career he teamed up with Marly Marl and made one terrific song, "Mama Said Knock You Out," on a the album of the same name, that showed promise of substance. But that was just for a moment, and after that he drifted back into pop–slash–hip-hop novelty-tinged numbers, with nothing in his recorded oeuvre I can think of offhand that bears listening to today. And even by a hack's standards, his smarmy hostings of the Grammys are pretty extreme. LL seems to have a PR machine that works overtime — how else to explain his being the recipient of the Kennedy Center Honors two years ago? Were there really people sitting around the Honors' offices saying, "Yeah we gotta get the host of Lip Sync Battle in!" Forgive me for quoting my own tweet: "I would bet you my prized oversized [Public Enemy] Fear of a Black Planet poster that LL has a team of people holding not one but a series of meetings to decide which stupid hat he wears to the Grammys."
Def Leppard
Def Leppard were an overproduced, oddly anonymous lite-metal aggregation that had a couple of massive-selling albums in the mid-1980s. I don't have a problem with dumb rock bands being in the hall — where's Grand Funk Railroad, for example? — but if these guys had suddenly disappeared the only people who would have noticed besides their immediate families would have been Mercury Records' accountants.
I spoke to hall founder Jann Wenner and current CEO Joel Peresman earlier this year. They both flatly denied any messing around with voting procedures. We have to take them at their word. But still: When I look over the current nominating-committee membership — the Rolling Stone critics; industry vets like Seymour Stein and Bill Flanagan; artists like Robbie Robertson, Questlove and Tom Morello; a few people I know slightly or have met over the years — I think, who among these people would advocate for an unheralded, critically ignored band like Def Leppard? There are about 30 members of the nominating committee right now, and, if as I've been told, each member gets to advocate for two acts, that's 60 total in the mix for each year's nominations. Are Little Steven, or Paul Shaffer, or the Patti Smith Group's Lenny Kaye really making the case for these lunkheads, or even just nodding along in agreement as someone else makes the case? ("They need to be an advocate," Peresman told me of the nominators. "They need to tell a story to sell to the others in the room.") Could dark forces at the hall insert a fan-friendly but crappy band to sell tickets to the annual show and drive audience to the Hall of Fame Museum in Cleveland? I spoke to one nominating committee member who said … "No. There's a lot of support for Def Leppard in the group. No one went [gagging sound]. There are some nominations where I think, 'You have got to be kidding me.' I didn't notice anybody cringing." This seems to be in keeping with what Wenner told me earlier this year: "I think over the years now, the generations are changing, and commercial success seems to be a more relevant element to some people." 2019 could be Def Leppard's year.