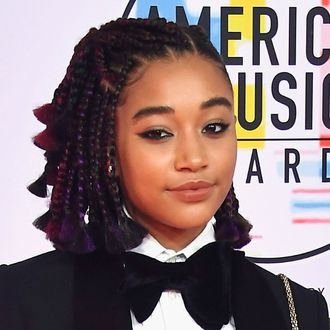 Amandla Stenberg.
Photo: Frazer Harrison/Getty Images
Called to action by Christine Blasey Ford's testimony at the Brett Kavanaugh hearings, The Hate U Give star Amandla Stenberg wrote an essay for Teen Vogue exploring the factors at play in her own sexual assault, specifically the social and personal ones that make the question Why didn't she just report it at the time? naive and reductive.
The assault happened, the actress writes, in a foreign country, and it left her afterwards on a lonely three-hour train journey to find emergency contraceptives. "The night before, what started as a consensual experience had turned forceful," she recalls. "Painful things had been done to my body that made me feel broken and disposable. I was unable to consent to them, and was silenced verbally and physically when I protested."
Stenberg ruminates on her assault, which was perpetrated by "someone who was respected by my peers and had invited us into his space." The tacit social agreement, she says, was that male approval of her as a woman required her sexual availability — or at least their presumption of it. "Implicit within that was the notion that, because my body served such a transactional purpose, it was no longer just my property," she wrote. "That was a form of social currency I was familiar with and, honestly, at times accepted."
Previously assaulted at a younger age, the actress had blamed herself for that incident as well. Confronting what was actually going on, she says, seemed like an insurmountable task with often dire consequences. "The embarrassment, the feeling of culpability, the need to be resilient, the social ramifications, the glorification of cis male violence towards femme bodies encouraged us to accept our assaults as normal and deterred us from seeking the help we needed, despite the beliefs we espoused," Stenberg writes.
It was only when she heard Ford's testimony, the actress explains, that she decided to share her experience in the hopes that it could help other survivors deal with their trauma and remove their misplaced sense of guilt. "I will no longer blame myself for being human," says Stenberg. "It is not your responsibility to sacrifice your comfort to gratify others. Assault can look like many different things. Consent is continual. You are not dirty. You are not stupid. You are not weak for needing help. You are not defined by this."