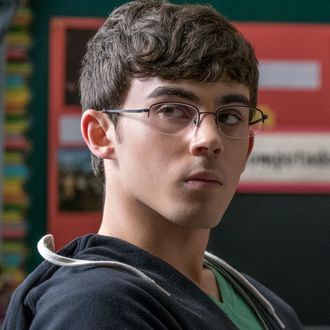 Goodbye to all those dick jokes.
Photo: Tyler Golden/Netflix
The smartest supplier of dick and poop jokes on television is coming to an end. Netflix said today it has canceled the high-school true-crime parody series American Vandal after its second season. "We're very grateful to the creators, writers, cast and crew for bringing their innovative comedy to Netflix," the streaming service said in a statement, "and to the fans and critics who embraced its unique and unconventional humor." Still, industry insiders tell Vulture that American Vandal producer CBS Studios has already heard from other outlets interested in picking up rights to the show, leaving open the possibility that the Peabody Award–winning series may have life after Netflix — perhaps on the Eye's own streaming service CBS All Access. Peter Maldonado and Sam Ecklund may still have another case in them yet.
Josef Adalian contributed reporting.