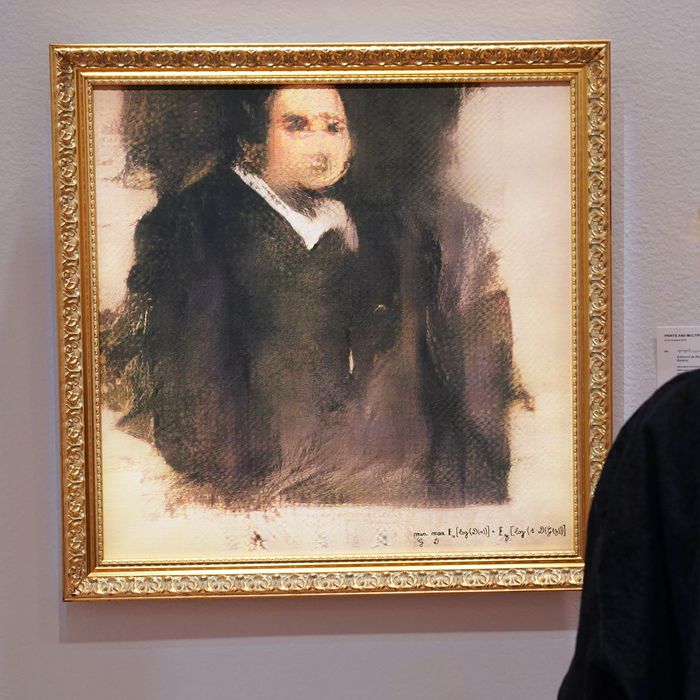 Edmond de Belamy, from La Famille de Belamy
.
Photo: TIMOTHY A. CLARY/AFP/Getty Images
Last night Christie's did it again! The auction house sold an iffy object for an astronomical price.
Last year the company sold a portrait for $450 million that was said to have been painted by Leonardo da Vinci — a work many now suspect might have been painted by a studio assistant or a follower, at best, or even only an adept copyist with major assists from recent over-restoration and an all-out Christie's worldwide public-relations campaign. This time something estimated to go for $7,000 to $10,000 was hammered down at more than 40 times that already inflated price, $432,000. The work? What Christie's claimed was the "first portrait generated by an algorithm to come up for auction."
Before it was sold to an anonymous phone bidder in France, it was obvious that Christie's smelled a payday in the making from the painting, called Edmond de Belamy, from La Famille de Belamy. The house publicized the work as being "on canvass" and "in a gilded frame," granted interviews, spread information, contacted press and clients, held tony private viewings and public showings — and installed the work between Warhol and Lichtenstein to pump the price and bestow cred. In this world, stagecraft really works. Within days Christie's has been able to pass off something probably never seen by the buyer in the flesh, or researched at all and falsely touted as "the first" of its kind, on someone willing to take the bait. This opens the gates for more of the same. Mission accomplished, Christie's.
The work was made by a French group of students of "machine learning" and "business school." They go by the fitting name Obvious. (You can't make this stuff up.) The picture is a typical computer-printed ink-on-canvass image. Visually, surface- and scale-wise, it is like every other image/painting/print like this that I've ever seen — 100 percent generic. This one depicts a blurry portrait of a man dressed in all black with a stark white collar. He has olden-style longish dark hair in a pageboy cut. All unfinished around the edges, resembles a fuzzy 17th-century Dutch portrait. In the New York Times someone already compared it to a Rembrandt. Really, it's a poster.
The method used to make the poster has been widely used in and out of the art world for a long time. It is an open-source program called GAN. Obvious fed a computer around 15,000 portraits painted between the 14th and 20th century. The machine was then programmed to then create an optical common denominator from the data and print it out. Click print, done.
The Christie's bigwig who brought the work to auction says he knew nothing about so-called "AI art," quipping, "I just responded to it and thought it was cool." He then chirped, "We're the people who sold the Leonardo for $450 million." Indeed, Christie's told the Times that this is "a good way to ease buyers … into works made with AI." So much for integrity, scholarship, research, and transparency.
What makes this sale totally bogus is not only that the poster looks like a lousy 1950s Larry Rivers painting, or that as far back as the 1970s Sol LeWitt was generating written instructions that others used to make his art, or that the process used here is a standard art student and computer-programmer exercise — it's that these algorithmic programs and codes have been in use for a very long time to make the exact same looking things. Some of them are "on canvass" and in "gilded frames." An expert in the field rightly scoffed that the Christie's work is "AI Art 101."
They're right. I've seen the process done with landscapes, flowers, dogs, movie stars, clouds, buildings, and food. This poster is an individual image, but it's not unusual to see it done in grids or series of images printed out. People have done it with Hollywood blockbusters arranged by superhero, color, setting, and even credits. It's been done with porn films that render one Ur-orgy, superstar, or set of sexual fetishes. I've seen every abstract painting reduced to one meta-abstraction and seen it done with these same abstract paintings morphing endlessly one into the next like a hypnotic screensaver. Benjamin Edwards has been doing it in paintings since the late 1990s — compiling all the Starbucks in Seattle, for example, into one wild structure. Artists Jason Salavon and the late Jeremy Blake were doing this sort of thing in video and painting back then too. Julie Mehretu's paintings are said to be handmade versions of the same visual overlay strategies. Really, this generic tic has never not been around since these sorts of digital files, compiled pictures, found footage, and captured images became a genre. World famous photographer Thomas Ruff has made, shown, and sold pictures like this for almost 20 years. In other words, it is a flat-out lie that this is the "first portrait generated by an algorithm to come up for auction." The question is, why did so many collectors go crazy for it?