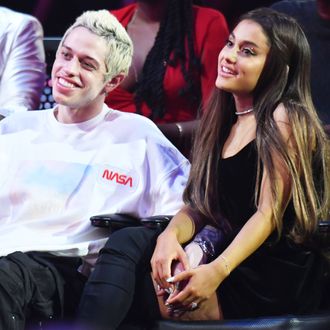 Photo: Jeff Kravitz/FilmMagic
This summer, Ariana Grande and Pete Davidson treated the world to the most exciting season of 90 Day Fiancé to date. They even made it a little past the cut-off! But all good things must come to an end, especially when they start after only 24 days of knowing each other. When news broke that Pete and Ariana were engaged, Ariana simply tweeted lyrics from the musical Wicked. 126 days later, we know more about their relationship than we ever cared to. Here's a rundown of everything that happened while Pete and Ariana defied gravity.
June 12: TMZ reveals the big price tag behind Ariana's engagement ring: $93,000. Clearly Ariana has that kind of money, but who knew Saturday Night Live paid like that? And for Pete Davidson to still dress the way he does? Let's move on.
June 13: It's business as usual for Miss Grande. She spends most of the month promoting the latest two songs she's featured on, "Bed" by Nicki Minaj and "Dance to This" by Troye Sivan.
June 18: Ariana confirms that there's an interlude on her album, Sweetener, called "Pete." In response to a critic, she says, "life's too short to be cryptic n shit."
June 19: They get matching tattoos! This time they get "H2GKMO," which stands for "Honest to God, knock me out."
June 20: Those photos come out. You all know those photos. Ariana is wearing her stable giant sweatshirt, thigh-high boots combo (in the middle of summer!), licking a lollipop, and staring at Pete Davidson like he's the only man in the world. It's one of the photos that inspired the Big Dick Energy movement and will undoubtedly go down in pop culture history.
June 21: Pete visits The Tonight Show to confirm their engagement, remarking that being with Ariana is "fucking lit."
This kicks off Pete Davidson's wild media blitz. First, he's supposed to be promoting Set It Up, the Netflix rom-com he's in, then later in the summer, he starts promoting Saturday Night Live's return. Everywhere he goes, he just gets more and more intense about how great it is to be with Ariana.
June 26: Happy Birthday, Ari! The pop princess turns 25 and celebrates with her friends and family. Pete posts three birthday messages on Instagram, the first one with the caption, "Happy birthday to the most precious angel on earth! You're my favorite person that ever existed :) I love you sm." This is so aggressively normal in all the best ways.
July 1: Another month, another tattoo. Ari gets Pete's father's firefighter badge number on her foot. Pete has the same numbers on his left forearm. His dad was a New York City fireman, who died on 9/11.
July 5: Ariana Grande responds to an old joke of Pete Davidson's in which he made light of the Manchester bombing. She replies to a fan's tweet and then follows up with "i hear and respect you all always."
July 13: Ariana drops "God Is a Woman" and its music video, in which she fingers the Earth. If that's not big dick energy, what is?
July 17: Pete and Ari take a little trip up north to Syracuse where Pete is filming a movie.
July 24: All of the photos on Pete's Instagram are deleted. That feels like a safe decision.
August 16: The better half of the relationship goes on The Tonight Show to promote Sweetener and tells the world that she first fell in love with Pete three years ago, when she was on SNL. Pete also tells GQ that he tried to put a ring on it the day after he met Ariana, but she called his bluff.
August 17: Sweetener drops! Fans hear the interlude "pete davidson" for the first time, and even Lana Del Rey likes it.
August 18: Ariana breaks down in tears while talking about the Manchester attacks on Beats 1 radio.
August 27: Pete and Ari throw the rules of PDA out the window while attending the MTV Video Music Awards.
August 28: Pete tells Variety the very casual way he proposed to Ari: while they were watching a movie.
August 31: Ariana performs "Natural Woman" at Aretha Franklin's funeral. Photos of a bishop touching her inappropriately go viral and the next day, he apologizes.
September 7: Rapper Mac Miller dies of an overdose. Ariana Grande turns off comments on her Instagram account.
September 8: She posts this black-and-white photo of Mac with no caption.
September 14: Ariana posts a sweet home video of Mac, with a long, heartfelt caption.
She comes back to social media slowly, tweeting encouraging statements and responding to fans.
September 18: By this time, Ariana's new pet, Piggy Smallz, has made its social media debut. Pete honors their pet the only way he knows how: with a tattoo.
September 21: Pete comes back to Instagram very briefly to promote the new season of Saturday Night Live, then he deactivates his account.
September 24: It's hard to imagine what TMI is for a couple that has hardly ever had a filter. But I think a line is crossed with all the info Pete divulges on The Howard Stern Show. For example, "I was jerking off to her before I met her!"
September 27: Ariana tweets, quoting her post saying "everything will be okay," and adding "j fucking k." The world simultaneously frowns.
Meanwhile, they still keep putting Pete on late-night television! He stops by Seth Meyers to talk about how Ariana got a pig, Piggy Smallz.
September 28: After it's revealed that Adam Driver and Kanye West will be on Saturday Night Live, Lorne Michaels says that Ariana Grande was meant to perform, but pulled out at the last minute due to "emotional reasons." Bopping to "No Tears Left to Cry" over Kanye's rant, any day!
September 29: Ariana puts their initials on a lock, then attaches it to a fence at her Sweetener pop-up in New York City. Now, their bond is sealed forever!
September 30: Season 44 of Saturday Night Live premieres. Alongside jokes about the Kavanaugh hearing, the show touches on Pete Davidson's relationship a few times. On Weekend Update, Pete has a foreboding extended joke about what will happen if they ever break up.
October 4: Ariana posts a snippet of a new song. Hello, let's celebrate that!
October 9: Pete Davidson's Dangerous Woman bunny mask tattoo is covered up by a weirdly skinny heart and a little A. Things between the two have been low-key, but this cover up is a big, ugly sign that something is about to break. One cover-up down, so, so many to go.
October 10: Ariana Grande's song about anxiety "breathin'" gets a music video! But it's just a video of her pig sniffing around. Ari has called Piggy Smallz her emotional support animal, so maybe there is some meaning deep down.
October 14: TMZ reports that Pete and Ariana have called off their engagement. The internet erupts in a series of "I told you so's" and eye-rolls.
October 15: Ariana Grande announces her role in the televised concert production of Wicked. She'll be just fine defying gravity all on her own.