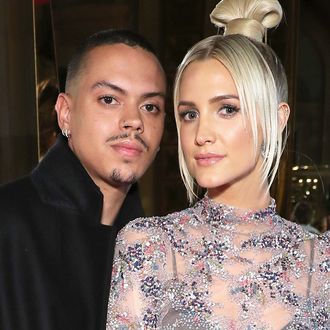 Ashlee + Evan, as they will be known from this day forward.
Photo: Getty
Sonny and Cher. John and Yoko. Beyoncé and Beyoncé's husband. History has gifted us many a marriage that doubles as a musical partnership, which brings us to why we're here today. We need to talk about Ashlee Simpson and Evan Ross, or should I say, simply, Ashlee + Evan. Together they are many things. Husband and wife, as of 2014. Reality-show stars, as of September (because we learned nothing from Newlyweds!). And now a musical duo, as of, like, a second ago. It has come to my attention that Ashlee + Evan have been quietly recording bluesy, moody, lusty, acoustic-y music for their show (also named Ashlee + Evan), which they will now release as an EP next week. And, goddammit, I love it. All of it. Her rasp next to his honeyed vocals make sweet, sweet love. So much love, in fact, they've got a song about reciprocating oral sex and another about doing the nasty in Paris. I'm sold.
Simpson, you absolutely should recall, is a former pop-rock star with a three-album discography that is better than most remember. But few have thought about Simpson since she last made us all want to la la on kitchen floors and such (except New York; we never forget). Why, then, should you care about Simpson's return to music? I asked myself that same question upon opening an email announcing the news of their EP until my eyes caught a name in the mix: Verdine White. The legendary Earth, Wind & Fire bass player has co-produced one of their singles, the supremely funky, sensual, and deeply enjoyable "Tonic," and there can only be one explanation for how in tarnation this collaboration could've happened.
What we are witnessing here is the greatest swindle, glow-up combo in modern pop music. Because when Simpson married Evan Ross, she essentially also married his mother, Diana Ross. I don't mean to suggest Diana made "Tonic" happen, but would it have happened had Ashlee and Diana's worlds never commingled? It's not like Ashlee doesn't come from her own famous family, but ask yourself what has being related to Jessica Simpson or (sort of) Pete Wentz done for anyone lately. We see you, Ashlee. We see you.