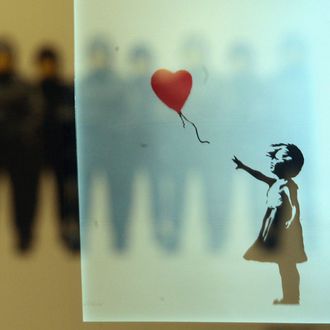 Photo: Matt Cardy/Getty Images
This isn't Banksy's first time at the rodeo and even if it was, well, that rodeo would be covered in priceless graffiti. He knows when he needs to kick things up a notch, though. Like on Friday night, when Sotheby's auctioned off the anonymous street artist's famous 2006 work "Girl with a Balloon" for the equivalent of over $1.2 million. After the auction closed, an alarm reportedly sounded from the piece and the canvas slowly started to slide down … into a shredder mounted in the painting's frame, ripping it into little strips, a truly wonderful Banksy moment you can see for yourself in the photos below.
"It appears we just got Banksy-ed," Alex Branczik, Sotheby's European director of contemporary art told the Art Newspaper. "He is arguably the greatest British street artist, and tonight we saw a little piece of Banksy genius." Branczik also said he was "not in on the ruse," which really takes it to that next level.
According to the Financial Times, the vendor selling the piece acquired "Girl with a Balloon" directly from the artist himself. Said Sotheby's in a statement, "We have talked with the successful purchaser who was surprise by the story. We are in discussion about next steps." Several outlets have postulated that the stunt required Banksy (or an agent there of) to be in the room to remotely activate the shredder. Reports the Art Newspaper, "a man dressed in black sporting sunglasses and a hat was seen scuffling with security guards near the entrance to Sotheby's shortly after the incident."