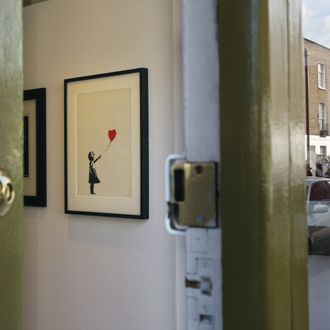 The original work,
Girl with Balloon.
Photo: ADRIAN DENNIS/AFP/Getty Images
On October 5, anonymous street artist and art-world prankster Banksy shocked onlookers at Sotheby's (and subsequently the world) when the artist's beloved "Girl with Balloon" was sold at its London auction for the equivalent of over $1.2 million then proceeded to "self-destruct." After the work slid from its ornate frame, shredding like office paper, a question remained, what happens next? Thanks to a statement from Sotheby's on Thursday, we now have an answer. Like a phoenix rising from its ashes, the tattered "Girl with Balloon" by Banksy has been reborn, recertified, and renamed as "Love Is in the Bin," and the winning bidder is keeping the work, strips and all.
The buyer, described as a "European collector" and "long-standing client of Sotheby's," will proceed with the purchase at the same price as auctioned, not more, as some speculated. According to Sotheby's, the buyer commented: "When the hammer came down last week and the work was shredded, I was at first shocked, but gradually I began to realize that I would end up with my own piece of art history."
That same day on Instagram, Banksy wrote a quotation, "The urge to destroy is also a creative urge," attributed to Picasso, along with a video showing how the shredding device was built into the frame.
In the statement, Banksy's former gallerist Steve Lazarides shut down any further speculation that the stunt was done in collaboration with the auction house. "I worked for him for 12 years," he said, "the idea of him colluding with an institution to pull off a stunt is the complete antithesis to his philosophy."
If you happen to be in London this weekend, the "new" work will be on view to the public at Sotheby's new Bond Street Galleries on October 13 and 14.