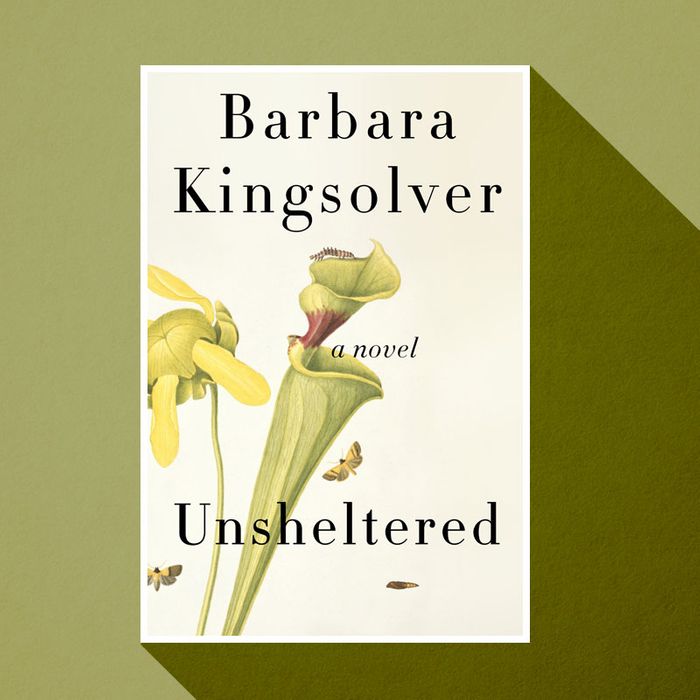 In a long, mildly unhinged 1999 essay on Barbara Kingsolver's career-cementing novel, The Poisonwood Bible, critic Lee Siegel canonized the author as "the most successful practitioner of a style in contemporary fiction that might be called Nice Writing." It wasn't a compliment. He found her work so reverential of liberal sentiment, so much in awe of the plights of the disenfranchised, that it "place[s] the supremely empathetic author in a protected niche, far beyond the reader's capacity to criticize." In other words, Kingsolver just cares so, so deeply for the world that you'd have to be a monster, or at least a little gauche, to rip her for shoddy prose or flat characters. And this was before she went full-on environmental crusader in books like Prodigal Summer and Flight Behavior.
For a long time, Kingsolver was accepted critically as a social realist, come to lure in readers with "fiction rich in empathy, wit and science" and convert them one by one. As Dickens showed us, morally charged novels can endure for generations. She represented a particular brand of woke, middle-aged white lady, serving up the novelistic equivalent of low-cal comfort food: I can't believe it's not Franzen!
With her latest, Unsheltered, Kingsolver has traded in moralistic enviro-catastrophe novels that focus on the decimated monarch butterfly and the blighted American chestnut tree for a moralistic financial-catastrophe novel that focus on the destruction of the white, American middle-class way of life. Unsheltered is the story of a freelance writer and her laid-off professor husband, relocated into a decaying New Jersey home that is then swarmed by their dependent adult children, desperate to find firm financial footing, and startled by a nation that seems to be crumbling around them. Kingsolver told the Guardian that the novel asks the question, "What do people do when it feels like they're living through the end of the world as we know it?"
Critics largely agree that it's "the first American novel to treat the 2016 election at length" (Trump is referred to only as "the Bullhorn"), but they are firmly divided over whether it's any good. (Full disclosure: I counted seven clichés in the first two chapters and had to walk away lest they smother me.) For the New York Times Book Review, Meg Wolitzer called it "a sharp, if polemical, cautionary tale, an indictment of American life at an inflection point." NPR's Ilana Masad raved that it "so perfectly encapsulates a particular middle class, largely white generational divide that it could be used as a teaching tool for Baby Boomer parents and their Millennial children across the nation."
But both of those reviews — and every pan — drive at the same point: This is less a novel than an earnest allegory. In the two decades since Siegel called her work "the mere appearance of goodness as a substitute for honest art," Kingsolver has insisted to interviewers that she rejects the label "political novelist." But in Unsheltered, Dwight Garner wrote in a sharp-elbowed review, "every other conversation threatens to become an op-ed piece or a humanistic monologue out of lesser John Steinbeck or Arthur Miller." He went on: "This novel reads as if its author has been sent here, like Spock aboard the Starship Social Progress, to affirm our principles. Kingsolver wants to feed us improving ideas, as if we were moral nestlings." Instead, her politics "sit on the chest of her fiction and asphyxiate it."
Merve Emre has written a particularly cutting essay in the same vein for The Atlantic, calling the characters "sound bites masquerading as human beings," attacking Kingsolver's "self-congratulatory gestures of empathy," and deriding her entire oeuvre as "virtue signaling avant la lettre." The problem with her work, Emre seems to suggest, is that it replaces what fiction ought to do with what Kingsolver desperately wishes fiction could do. Whatever it needs to do in the Trump era, this isn't it.
Unsheltered has landed high on the Times bestseller list, but it probably won't come anywhere near the sales of the Oprah-approved Poisonwood Bible. Which may be a good thing, since, as Emre writes, "it just might deflate, once and for all, the middlebrow fantasy that stories can help us get through these dark times." Emre and Kingsolver notwithstanding, that's a fantasy some of us would like to hold onto just a little while longer.