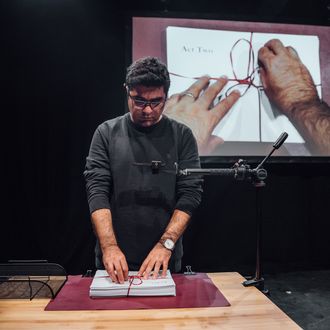 The Busth Theatre production of
Nassim
.
Photo: David Monteith-Hodge/Photographise
Earlier this year, Barrow Street Theatre lost its lease to the Greenwich House Theater, a space it had occupied since 2003, but the producers behind it have announced that the Off Broadway company will live on, now as Barrow Street Theatricals. Original Barrow Street producers Scott Morfee and Tom Wirtshafter will partner with producer Jean Doumanian on the American premiere of Iranian playwright Nassim Soleimanpour's and London's Bush Theatre production of Nassim, written by Soleimanpour and directed by Omar Elerian. That production will take place uptown at New York City Center Stage II, though that will not necessarily become Barrow Street's new home.
Barrow Street Theatricals, as it is now called, previously produced and housed work such as Tribes, Our Town, and most recently, Sweeney Todd, at their old home, the 199-seat Greenwich House Theater. Beginning in 2019, that space will be the home of Ars Nova (which has produced The Great Comet and KPOP, among other works). In the interim, Black Light is currently playing there. Soleimanpour's first play, White Rabbit Red Rabbit, ran for nine months in New York in 2016. In Nassim, as in that play, a guest actor performs the work each night without rehearsal. They work off of materials enclosed in a sealed envelope, as dictated by the playwright. Performances will begin December 6 ahead of an official opening on December 12.