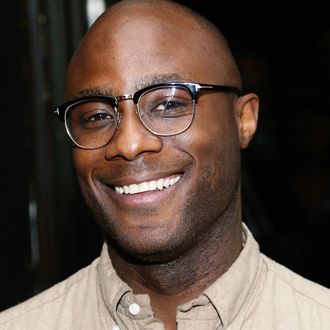 Barry Jenkins directed the first English-language adaptation of James Baldwin's work.
Photo: Lars Niki/Getty Images for The Academy of Motion Picture Arts & Sciences
James Baldwin died 31 years before Barry Jenkins's new film If Beale Street Could Talk premieres this year, but Jenkins has an idea of what the writer would've wanted in an adaptation. After the Baldwin estate agreed to let Jenkins direct the first English-language adaptation of Baldwin's work, they gave him a notebook that included the novelist's own ideas for a film version. Jenkins shared some of Baldwin's ideas with the New York Times Magazine: "There's Ruby Dee, a mysteriously initialed 'D.B.,' the singer and actress Rosalind Cash," the magazine reports. As for directors, Baldwin considered the photographer and filmmaker Gordon Parks, François Truffaut, and A Raisin in the Sun's first stage director Lloyd Richards. "And then I ended up directing the damn thing," Jenkins told the Times. It's what he deserves!