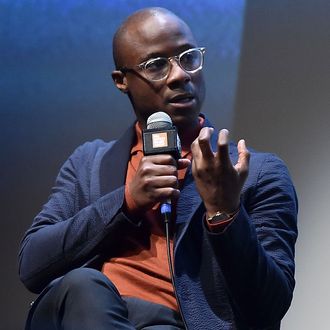 Barry Jenkins.
Photo: Theo Wargo/Getty Images
The new film from Barry Jenkins, If Beale Street Could Talk, is filled with light, color, and fresh faces like star KiKi Layne's. Some faces, however, were more familiar to audience members at the Toronto International Film Festival, who walked away from the film wondering "What's Dave Franco doing here?" But Jenkins has an answer. At the New York Film Festival, Jenkins explained why Franco's character is so important to the film. The younger Franco brother plays Levy, the only landlord who will show apartments to African-American protagonists Fonny (Stephan James) and Tish (Layne). Jenkins lowered Levy's age from James Baldwin's book to be around Franco's real-life age, 33. Then, they worked together to figure out how they could really connect Levy, Fonny, and Tish in this scene.
"There's this very simple scene where his character walks into the film and is appointed this very important task," Jenkins explained. "I was really careful about writing into the source material too much, but it just felt like there was something that this character needed to say to our main characters. He says, 'I'm just my mother's son. Sometimes that's all that makes a difference between us and them.'"
"You would assume black people are one of us and white people are one them," he continued. "But it's like no, there are us, people raised right by our mothers and there are them, who maybe haven't been. We can't even blame them for that because maybe their mothers didn't have the capability to raise them the way that we were raised."
Even though Jenkins made the character younger, he found that the small exchange was able to "link it back up with the novel." So, if there's ever a moment where Dave Franco takes you out of the film, just listen to Barry's words.