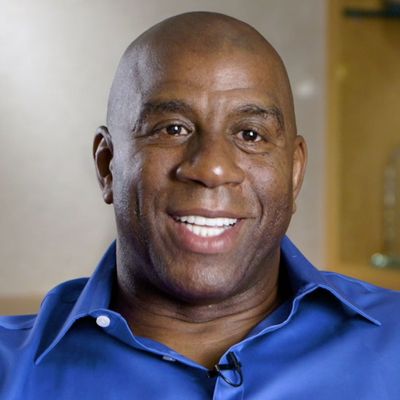 Magic Johnson, one of the many basketball legends featured in
Basketball: A Love Story
.
Photo: ESPN
Basketball: A Love Story is a longform narrative executed in short-form bursts of storytelling.
The 20-hour ESPN documentary series, which debuts tonight and continues over four additional Tuesdays, takes a fascinating but not entirely satisfying look at the most notable moments in basketball, considering the sport in its multiple forms: pro, college, and Olympics, via women's play as well as men's. It does so in 62 short films, each devoted to a different aspect of the game or key moments in hoops history, from the 1951 college basketball point-shaving scandal to the 1972 Munich Olympics where the U.S. played a bitterly contested gold medal game against the Russians. If you have even the slightest interest in basketball, you will want to watch at least some of this sweeping, fragmented docuseries, which features interviews with some of the most notable people to ever play, coach, or comment on the game accompanied by narration from familiar voices such as Chadwick Boseman, Daveed Diggs, and Julianne Moore, among others.
You'll notice that I said at least some, but I didn't say all. That's because Basketball: A Love Story — directed by filmmaker Dan Klores, who made the 30 for 30 doc Winning Time: Reggie Miller vs. the New York Knicks — has been structured in a way to make it consumable in manageable bites. All of the mini-films, which each run anywhere from roughly eight minutes to a half-hour, are available to view on the ESPN app, which gives Basketball: A Love Story a bit of a Choose Your Own Adventure quality. Or perhaps it's more apt to describe it as a series of 30 for 30 shorts. Either way, those mini-films are presented during those Tuesday-night broadcasts in an order that doesn't always flow thematically or chronologically. Practically, it makes sense for ESPN to take this approach: Slicing up this 20-hour mega work of nonfiction makes it more manageable for viewers and more flexible for the network. (One can imagine some of the Basketball: A Love Story pieces being shown in between NCAA games on a Sunday afternoon in addition to being repurposed on the app.)
But from an artistic standpoint, the impact of the project suffers from being jigsaw-puzzled to such an extent. Segments that establish the basics of a narrative are sometimes followed much, much later by ones that add important detail to the same story. For example, "Scandal," part five of the docuseries, airs on the first Tuesday and covers the basics of the aforementioned 1951 point-shaving scandal. But part 15, "The Witch Hunt," which explores how innocent players got swept up in the overzealous attempt to crucify anyone semi-connected to Jack Molinas, a key guilty figure in that illegal betting business, doesn't air until the following Tuesday, which blurs the straight line that connect these two to each other.
People who go that Choose Your Own Adventure route and watch bits and pieces based on their own interest will be less bothered by this — in fact, they can view segments like "Scandal" and "The Witchhunt" back-to-back, which makes much more sense. But because I went through the screeners based on ESPN's timetable — and because there are times when a part will end even though it seems like there is still much more ground to cover — I felt more often than not that Basketball: A Love Story was missing its opportunity to be a truly definitive work. This is an impressive, more ambitious 30 for 30–style effort, instead of what it could have been: the basketball equivalent of Ken Burns's Baseball.
Which is not to say that, as a fan of the sport, I didn't enjoy watching it. I did. The "Signature Moves" vignettes that focus on the mastery and poetry of players doing what they do best — Steph Curry's ability to sink a three, or former Washington Bullet Wes Unseld's uncanny knack for tossing outlet passes exactly where they needed to go — are well suited to the concise nature of the short film approach. Klores doesn't avoid the darker history of the game either. Several segments highlight the racism and sexism that black players and women have had to overcome simply so they can play the game they love; "Patriots to Protest," a look back at the black athletes who chose to boycott the 1968 Olympics and those who chose to play, is particularly jarring to consider in light of recent controversies in sports. "If you're living in a racist society," says Lew Alcindor, who would later change his name to Kareem Abdul-Jabbar, in a TV interview, "it's up to you to do something for yourself." His words are echoed in every knee that's been taken by an NFL player 50 years later.
Though Basketball: A Love Story is a mostly male-dominated affair, the parts that cover the women's game are especially compelling because those stories aren't told as frequently. Nancy Lieberman, a Basketball Hall of Famer and current assistant coach for the Sacramento Kings, talks about being told to "act like a girl" when she was growing up, and recalls how she ignored that advice, eventually playing as the only women on a men's professional team in the United States Basketball League. A short film called "Title IX" highlights, among other things, the trail-blazing role that Cathy Rush played by coaching the championship women's team at Immaculata University, which suffered once Title IX was passed even as the opportunities for young women to play at other schools expanded. By the way, and for the record, Rush's annual salary for coaching a team with an astonishingly strong record was just $429 a year.
Stories like these scream out to be feature-length. Unfortunately, Basketball: A Love Story ain't got time for that. It also doesn't have time to delve more thoughtfully into some of the systemic problems that plague the game.
Watch "General Knight," which covers the notorious anger management issues of Indiana University coach Bobby Knight, to see how true that is. While that piece certainly acknowledges that Knight's tirades, physical violence toward his players — he got in trouble for choking one of them — and chair-throwing were inappropriate, it also makes sure to emphasize how much discipline he instilled in his teams. At no point does the short ever question why basketball, as well as many other sports (and, for that matter, society in general) are so ready to characterize bullying and abuse as a semi-valued byproduct of teaching men how to be men. ESPN doesn't present these two parts anywhere near each other, but for those freestyling their way through Basketball: A Love Story, I recommend watching "General Knight" back-to-back with "The Choke," a recounting of how then–Golden State Warrior Latrell Sprewell choked his coach, P.J. Carlesimo, resulting in a 68-game suspension. I have a feeling that could be pretty revelatory.
The story of Sprewell, Knight, and the relationship between coaches and their players — the subject of part two — could itself be a terrific and insightful documentary. That's the thing about Basketball: A Love Story: It's filled with interesting and edifying material, but it only skims the surfaces of the events it covers. If you want more depth, you'll have to seek out other documentaries — I'd recommend More Than a Game, UConn: The March to Madness, and any of the more focused 30 for 30 films — or wait until someone else gives some of these basketball tales the level of scrutiny and focus they deserve.