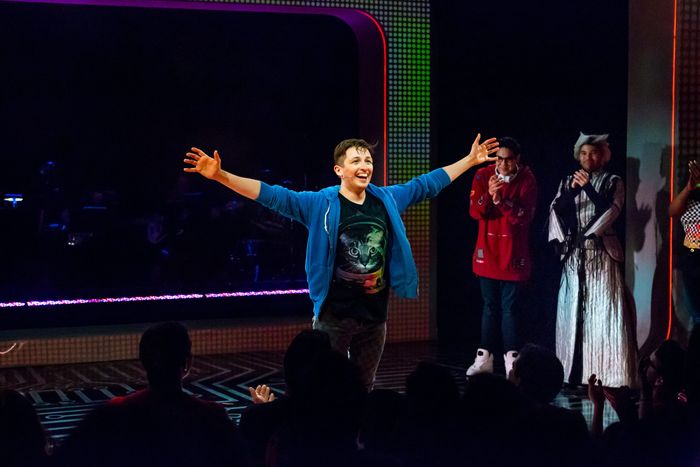 Photo: Mark Abramson for Vulture
The line that nabbed some of the biggest applause at the last Off Broadway performance of Be More Chill on Sunday night was pretty much a throwaway, when a dorky theater teacher mentions his dream of going to Broadway. The show's chances of making it that far might have seemed just as slim as that drama teacher's when it first had a short run in at New Jersey's Two River Theater in 2015, but its audience grew (and grew and grew) online thanks to its cast recording, which earned more than 150 million streams, spawning fan art, lip syncs, and many other forms of online adoration. Thanks to those fans, the energetic high school meets sci-fi musical, based on Ned Vizzini's 2004 novel, sold out Off Broadway this year, and will transfer to Broadway's Lyceum Theatre this spring.
As Be More Chill wrapped up its Off Broadway run Sunday night, Vulture stopped by the Pershing Square Signature Center to capture the show and those fans in action. Be More Chill's primary audience is high-school kids who identify with the show's dorky protagonists and arrive in costume as its characters. Many of them learned about the show online, and have since seen it in person multiple times (with plans to return for the Broadway run). There are parents in the crowd, too, some of whom have also caught the bug and join in on the cosplay, posing with some of the show's signature computer choreography.
The crowd gathers before the curtain rises, with choreographer Chase Brock in a distinctive hoodie on the bottom right.
Will Roland, of the original cast of Dear Evan Hansen, takes a bow as Be More Chill's hero Jeremy Heere.
Roland joins the rest of the cast in what one character in the show calls a "victory dance," otherwise known as a curtain call.
Left to right, Be More Chill's cast includes Britton Smith as Jake, Lauren Marcus as Brooke, Gerard Canonico as Rich, Stephanie Hsu as Christine, Will Roland as Jeremy, George Salazar as Michael, Jason Tam as The Squip, Tiffany Mann as Jenna, and Jason Sweet Tooth Williams as Jeremy's Dad/Mr. Reyes.
In addition to Be More Chill, Joe Iconis (in glasses, center) has also written on musicals including The Black Suits and Broadway Bounty Hunter, as well as songs for Smash. Next him in plaid is bookwriter Joe Tracz of The Lightning Thief as well as Netflix's A Series of Unfortunate Events.
George Salazar signs autographs. His character Michael, a loner and a stoner, has connected with fans with particular intensity, thanks in larger part to his second-act solo "Michael in the Bathroom," which dramatizes an anxiety attack at a party in wrenching detail.
Michael wears a "CREEPS" shirt during "Michael in the Bathroom," and so too do the fans who come to the show (you can buy one at the concession stand as well). Others dressed as other characters. One teenage girl, Sam, came dressed as Jeremy's love interest Christine in an outfit she made herself. Why Christine? "I'm such a theater kid and I'm weird and I'm quirky and I just related to her so much."
Offstage, Salazar's headband has become a trademark, and therefore the subject of fan art.
Sierra, pictured in the CREEPS shirt, drove up with her brother and mom from North Carolina to see Be More Chill for a second time. "I got my whole family into it," she explains. "We're going to come back when it's on Broadway. We have to."
Katlyn Carlson, who plays popular girl Chloe, poses with fans. "It's the older people who've surprised me the most," producer Gerald Goehring told Vulture. "I just thought we would get the Instagram followers," explaining that, like the younger audience, those older fans "still feel like they're an outsider. The feeling doesn't go away, they're just good at covering it up now."
On the Squip wall, fans post the names of people who inspire them. It's named for the pill-shaped supercomputer Jeremy ingests in the show to become cool, which manifests to him as Keanu Reeves (Jason Tam, in an increasingly outrageous series of all-white outfits). The names on the wall range from Lin-Manuel Miranda to Ruth Bader Ginsburg to Jessica Rabbit, Tom Holland, and of course, cast members from the show.
Sisters Isabelle Mann and Georgia Mann showed up with gifts for Roland. Georgia, a high-school freshman and dedicated Dear Evan Hansen fan, runs a fan account dedicated to him. Her sister, who works in theater, got her interested in the first place. "I drag her to shows," Isabelle said, "she drags me to the stage door."