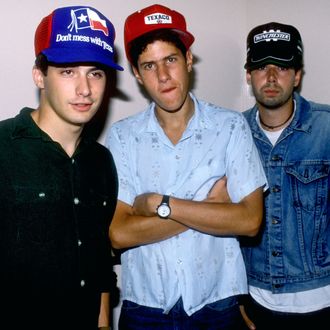 The Beastie Boys.
Photo: L. Cohen/WireImage
Before the Beastie Boys became one of rap's most legendary groups, they were just three dudes at a Black Flag show that would unknowingly change their lives. At the time, in 1981, Black Flag were performing their first-ever East Coast show at the Peppermint Lounge in Times Square. In the room to witness it were Mike D, MCA, and Ad-Rock — who hadn't yet met — and, coincidentally, several others who would go on to become some of their generation's most influential musicians. One of them: Henry Rollins, who brought an electrifying "fuck New York and everyone in it" D.C. attitude to the crowd, unlike anything had Mike D had ever experienced. All of their respective origins, according to the Beastie Boys' new memoir, can be traced back to that formative night.
"In retrospect, maybe the most impressive thing about the show is how many bands formed at that moment and in the aftermath," Mike D says. "It inspired Yauch, and John [Berry], and me to form Beastie Boys a few months later. It inspired Adam Horovitz to form the Young and the Useless. Thurston Moore was there. He was already playing around with Kim [Gordon], but they didn't debut as Sonic Youth until a few months later. And that summer, D.C. punk and mosher, Henry Garfield, who was seeing Black Flag for the first time that night, would join the group as its singer under the name Henry Rollins. To him, and all of us in the audience, that night in March changed what we thought was possible."
Hear Mike D and Ad-Rock rehash the story of that mythic night in this exclusive clip from their memoir's audiobook, out October 30, which features an all-star voice cast including Elvis Costello, Jarvis Cocker, Kim Gordon, Nas, Snoop Dogg, Chuck D, and more.