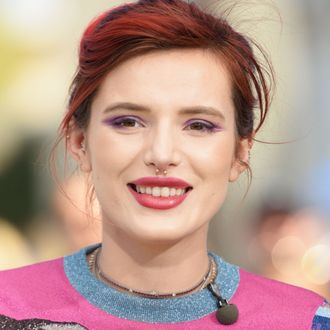 Meow!
Photo: Noel Vasquez/Getty Images
Ever since a Los Angeles Times profile reported that actress and Instagram sensation Bella Thorne has 18 million Instagram followers and 19 cats, it is — unfortunately for me — cat day on Vulture.com. Forget whatever's streaming on Netflix (Élite, which you should be watching) or the also very good Wildlife: we are gathered here today for some feline considerations. Per the Times, Thorne "didn't want her first cat, Lola, to be spayed because she thought it was barbaric, and now there are four generations of cats living here: Nuzzling against your knee, crawling up the screen windows, tearing down metallic streamers." Nineteen cats is entirely too many cats, according to me, a person who doesn't have any pets but does have an obsession with Bradley Cooper and Lady Gaga that requires quite a lot of care and attention. Since we're discussing Bella Thorne and her cats, it seems important to ask a few pressing cat questions:
- How many litter boxes do you need for 19 cats, and do you keep the litter boxes all in one room, or spread them out around the floor plan?
- As wealthy cats — Thorne can pull $65,000 from one Instagram ad — do the cats feel like The Aristocats is an accurate representation of their wealth, or a reductive one?
- When Bella Thorne summons the cats for a mealtime, is that a "cat call"?
- When a catfight happens, do the cats not involved in the drama bet on the results?
- Is it even legal to have that many animals in a residential neighborhood? At one point does the number of animals in one house turn from "pet-obsessed" to "zoo"?
- Do all the cats share toys or do they all have separate cubbies for their accessories of choice like small children?
- When Bella Thorne is out of town, do the cats plan a big rager like in Project X, or is it more their style to prank potential robbers like in Home Alone?
- After cat number, say, eight, do you stop naming them and just assign them numbers?
- Does her accountant draft a monthly cat budget? And do the cats have access to the account?
- Are all of the cats related? Is it weird if cats do incest or is that, like, normal in cat culture?
- How many of these cats have seen A Star Is Born? How do they feel about Ally's sellout bops?