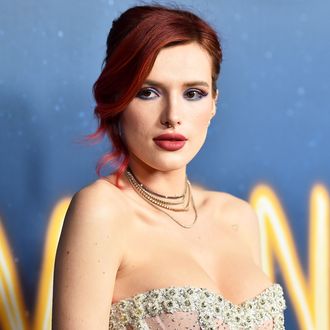 Bella Thorne.
Photo: Alberto E. Rodriguez/Getty Images
The internet is currently reeling due to a new Bella Thorne profile published by the Los Angeles Times today, in which it is revealed right in the headline that the actress currently has a whopping 19 cats roaming around her Los Angeles home — or, more accurately, roaming throughout the castle she has built for them inside her Los Angeles home:
Thorne's home appears to be her canvas — the medium she uses to express herself, be it through her hand-painted 12-foot unicorn statue, the hundreds of felt roses she's glued to the wall or the castle she created for her 19 cats. (She didn't want her first cat, Lola, to be spayed because she thought it was barbaric, and now there are four generations of cats living here: Nuzzling against your knee, crawling up the screen windows, tearing down metallic streamers.)
Given that another one of the Bella Thorne stats touted in the Times headline is her 18 million Instagram followers, I headed there to check out what I assumed would be an impressive photo collection of her 19 cats and cat castle. I was disappointed to discover, however, that she has only Instagrammed her cats one time over the past year:
Prior to the above video, the last time Thorne Instagrammed one of her cats was way back in December 2017. It's unclear how many cats she had then, but she had at least 7 cats in May 2017 and 12 cats in April 2018, so we can confidently estimate she owned somewhere between 7 and a dozen cats at the time of this posting — yet only one is featured:
On the flip side, Thorne's dog Tampon has been featured on her Instagram a handful of times this year in addition to having her very own separate Instagram account, on which the cats are also not featured:
Thorne does show off her cats on Snapchat sometimes, but why does she remain largely silent about them on Instagram while Tampon the dog gets featured on her Instagram, on Tampon's own Instagram account, and Thorne's Snapchat regularly? Why is she keeping her 19 cats all to herself and away from the enjoyment of her 18 million Instagram followers? Why not post photos of her 19 cats on the social-media platform most known for pet photos? Why relegate all 19 cats to the ephemeral trap of Snapchat when Instagram offers eternal fame and a place fans can most easily check in on them and their cat castle? What is Bella Thorne hiding?
We'll update this post of Thorne breaks her silence.