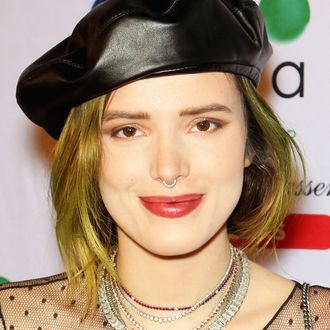 Bella Thorne.
Photo: Gabe Ginsberg/Getty Images
We at Vulture might've had some fun upon recently learning Bella Thorne owns 19 (19!) cats, but buried within that same Los Angeles Times profile is an aside that isn't meant to be taken as lightly. Hell, it's just plain depressing if true. As Thorne recalled during her Famous in Love days on Freeform — a drama that was canceled earlier this year after two seasons — the network took an antagonistic stance toward her and labeled her a "diva," believing she was "uncontrollable and crazy." Thorne thinks Freeform took this stance because they were "scared" she was going "to go running her mouth" if she was upset about issues such as feminism and bullying. "One issue is when you have a girl, a young girl who is on your show," Thorne explained, "you can't tell her that she's ugly or she's fat or she's this or she's that because that's going to make her feel bad." When the Times asked for clarification about who called her ugly, Thorne confirmed it was the network, who declined to comment.
"In emails, and there was another thing that was in front of everyone on set," Thorne continued. "After, the cast was texting me, 'Oh, my God, Bella. I am so sorry. That was so awkward. I feel so bad. Do you want me to come over to your room?' "Oh, my God, I can't believe they did that.' It was all supposed to change on season two, and it didn't." You need to count on three hands everything Thorne is working on now, so your loss, Freeform.