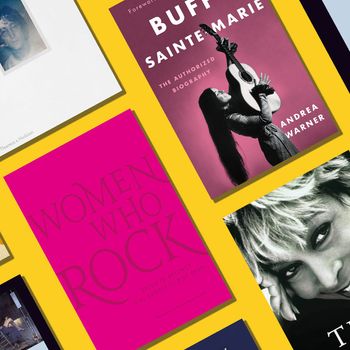 Writing women into music history has taken some time. NPR's ongoing "Turning the Tables" series has been working to shift the canon with lists and essays aimed at rebalancing coverage, and other outlets have joined the effort. The industry has a ways to go — music festivals still book lopsided lineups, and country radio ignores and harasses women artists — but on bookshelves, women are beginning to elbow the Beatles and Stones homages out of the way. Collections like Woman Walk the Line and Pretty Good for a Girl rub spines with memoirs from indie goddesses Carrie Brownstein and Kim Gordon. Adding to that ever-growing list, here are seven new — and necessary — books by and about women artists and their momentous work.
Leonard Cohen, Joni Mitchell, and Gordon Lightfoot tend to take center stage in the canon of Canadian folk, but a new biography about Cree singer-songwriter Buffy Sainte-Marie rescues her from the margins. Sainte-Marie's career spans more than 50 years and 20 albums, across which her forthright lyrics and advocacy for indigenous rights earned her a 31-page FBI file and got her blacklisted from radio play by two American presidents. Based on more than 60 hours of interviews with Andrea Warner and featuring a forward by Mitchell, Buffy Sainte-Marie shrewdly examines the artist's life, art, and impact.
The indie-country star enjoys defying aesthetic expectations, but the crux of Cash's music is in her potent lyrics — at times uplifting, at others searing. In Bird on a Blade, she carves out verses from some of her more memorable songs, including "Fire of the Newly Alive" and "Black Cadillac." Juxtaposed with tender paintings from artist and friend Dan Rizzie, Cash's lyrics are luminescent nuggets, gleaming with desire, loss, home, and self-empowerment. "We live our lives like fugitives," Cash writes, "when we were born to live like queens."
It's about damned time there was a collection dedicated to major women musicians. Women Who Rock is a neon-pink compendium of odes to legends past and present. Covering more than 100 trailblazers — Bessie Smith, Beyoncé, Selena, PJ Harvey, Dolly Parton, Linda Ronstadt, Missy Elliott, Cher — the book features specially commissioned, full-color illustrations of each artist paired with brief essays by artists, music critics, and scholars. Edited by Evelyn McDonnell (the co-editor, with Ann Powers, of 2014's Rock She Wrote), it covers artists chronologically before situating them in their genre and time. Women Who Rock takes the rallying cry "Girls to the front" to another level.
Oftentimes, women's voices aren't absent so much as erased. As John Lennon explained in a 1980 interview about one of his most iconic songs, "Imagine" was a collaboration with Yoko Ono, but he didn't credit her because he was "a bit more selfish, a bit more macho" at the time. Ono corrects the record with her new book Imagine John Yoko, a making-of documentary in book form. Collecting an impressive 1,362 illustrations — including photographs, handwritten lyrics, and maps — Ono shares Imagine's story through ephemera and personal accounts from everyone involved in its creation. The result gives new meaning to the line, "Imagine all the people."
Tina Turner's personal life has sometimes overshadowed her career, but she reclaims that narrative in her new memoir. Opening with her surprise marriage at 73 to longtime boyfriend Erwin Bach in 2013, Turner uses the happy moment to illustrate and recast darker times past. "I was married to Ike Turner, but I was never a bride," she writes, recounting their famously turbulent years. Brave and wry, she shares it all, from her small-town Tennessee childhood to her stunning success, that notorious marriage, and the more recent suicide of her son Craig. "I'll be honest with you," she writes. "I'm certainly trying to be honest with myself."
Smith augments her 2010 National Book Award–winning memoir with an array of imagery, tracing her heady time in the early '70s as New York City gave birth to new movements in arts and music. In addition to a new introduction from Smith, the illustrated edition features artwork from Judy Linn, Kate Simon, and Lynn Davis, and includes more photographs of Smith and her then-partner Robert Mapplethorpe at rest, work, and play. Collages and drawings from Mapplethorpe beautifully complement Smith's descriptions of his distinctive aesthetic.
The 33⅓rd series is long-form journalism at its best, commissioning music critics, scholars, and writers to expound on the impact of a particular album. For those projects that didn't quite fit within prevailing artistic narratives at the time of their initial release, it's a chance to excavate their true significance. A new volume from the novelist and critic Amy Gentry analyzes Amos's polarizing 1996 album, which examined women's difficult place in the patriarchy of religion. Blending feminist criticism and art theory, Gentry deftly explains how Amos's juxtaposition of ambitious arrangements with ugly subject matter illustrates the myriad ways in which women use art to reevaluate dark experiences.