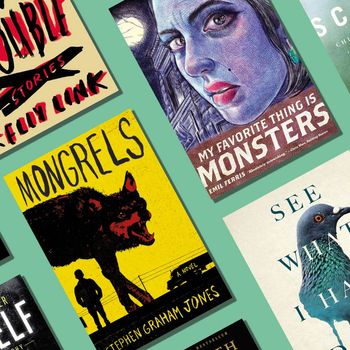 Pumpkins are appearing on porches, sweaters are coming out of closets, and scary things are appearing in stores. No, not just stale bags of waxy candy corn: horror books!
For the scary book aficionado, this is the best time of year to stock up on chilling novels and creepy short story collections. But what if you want to participate in this Halloween reading season, yet the thought of a horror book makes you want to hide under the covers? What if you're a horror wimp — a Halloweenie, if you will?
If you are the kind of person who keeps their Stephen King novels in the freezer, but wants to participate in literary Halloween season without leaving the lights on all month, have no fear! Here are ten spooky books that won't keep you up at night.
Kelly Link is the literary heir to Ray Bradbury's short fiction throne, and her latest collection is filled with fantastic, genre-melding tales. These stories incorporate various horror elements, like vampire boyfriends and creepy faeries, but they fascinate instead of scare, making it the perfect book to test the spooky waters with. Also notable: Get in Trouble was a national bestseller and a finalist for the Pulitzer Prize.
Photo: nc
The Lizzie Borden case is one of America's most famous grisly true-crime stories. Looming large in the country's imagination, Lizzie herself evolved into a character, a part of the horror landscape along with the likes of Jack the Ripper and Countess Elizabeth Báthory. This is a compelling literary reimagining of Borden's story that focuses not on the macabre details of the crime, but on the characters themselves and their interior lives.
Many people will be seeing slasher movies this October. If you're too nervous to watch, why not read about one instead? Named one of Book Riot's "Best Queer Books of 2017", it tells the story of a young man in the South whose horrific experience at a gay conversion summer camp becomes the fodder for a slasher film many years later. Seeing the film forces him to reckon with the events of his youth. This poignant novel is the exact safe distance from a slasher, allowing you to absorb the story without too much fear.
This strange and wonderful short story collection is dark, but not frightening. It focuses on rural American life and how it intersects with sexuality, gender, and class. The stories examine the inexplicable and the unsettling without crossing over into the full-on terrifying. Plus, if you're buying a physical copy, the all-black book jacket makes it the most Halloween-appropriate book you could carry around this October.
Don't let the title fool you: This debut graphic novel is certainly full of beautifully drawn monster imagery, but it's not meant to chill you. It centers on the story's horror movie-obsessed protagonist, Karen, as she deals with the difficulties of life growing up as a young misfit girl in 1960s Chicago. When Karen's neighbor is murdered and she begins to investigate the case, she sees how the lives of those around her are entangled.
Monster stories are a staple of Halloween, but they don't always have to be scary. This dark and hilarious coming-of-age werewolf book was named one of the best books of the year by Tor.com and Book Riot. It was also a finalist for various horror honors like the Shirley Jackson Award and the Bram Stoker Award. Despite these literary horror accolades, worry not — this story is moving rather than chilling as it follows the life of a young boy and his beastly family as they try to find their place in the world.
Just like werewolves don't have to be scary, vampires don't either. This debut novel is a stunning piece of historical fiction about the legend of Dracula, the legacy of his real-life inspiration Vlad Tepes, and a fictional mystery that connects the two. The book, nominated by the International Horror Guild for Best Novel, is compelling and gorgeously imagined. Despite the subject matter, it's more rich with history and folklore than with terror.
Don't forget about spooky nonfiction! This fascinating exploration of the science of fear examines the psychology and physiology of being afraid. The author is both a sociologist and a consultant with some of America's most popular haunted houses. In the book, she travels all over the world to examine fear in other countries and cultures. It is highly educational, but be careful — the hardcover copies glow in the dark and might be startling in the middle of the night.
Actress Elsa Lanchester is best known for her iconic role in the Halloween season classic The Bride of Frankenstein. This recently re-released autobiography, with a new foreword by writer and actress Mara Wilson, is a great book to read if you want to know more about Lanchester's incredible life without actually having to watch any monster movies.
If you want to read a bona fide October classic, this 1962 novel about two young boys resisting the powerful pull of an evil carnival that comes to their small, midwestern town is an excellent choice. It has been a spooky, all-ages staple for decades. Even if you've read it before, it's worth a revisit: Ray Bradbury delivers the perfect amount of eerie Halloween fun alongside his signature dreamy and beautiful prose.
Mallory O'Meara is a Los Angeles based filmmaker and author. Her book, The Lady of the Black Lagoon, is out March 5, 2019 and is available for pre-order now. You can follow her on Twitter at @malloryomeara.