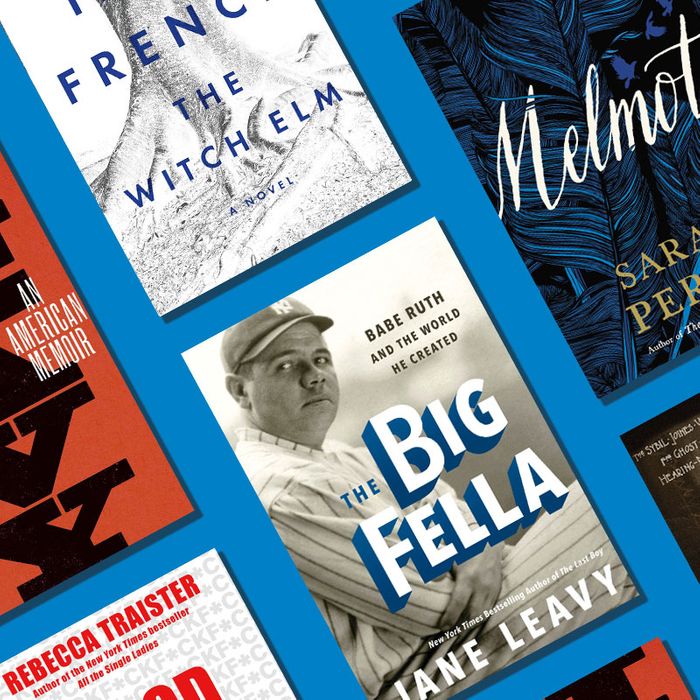 Each month, Boris Kachka offers nonfiction and fiction book recommendations. You should read as many of them as possible. See his picks from last month and next month.
Frederick Douglass: Prophet of Freedom, by David W. Blight (Simon & Schuster, Oct. 2)
Our President has said that Douglass is being recognized more and more these days, and in fact there might soon be some truth to that. Blight is a lifelong Douglass scholar, the ideal author to take on a truly comprehensive biography of the fugitive from slavery-turned-abolitionist. With unprecedented access to private documents, Blight paints the portrait of a man of contradictions, of flesh and blood, who continually revised his life story, had a complicated family life, and sacrificed most of his time as a free man for the most important causes of American history (including women's suffrage).
Good and Mad: The Revolutionary Power of Women's Anger, by Rebecca Traister (Simon & Schuster, Oct. 9)
Much was made last week of Christine Blasey Ford being (and having to be) a "perfect" survivor – traumatized but never angry. Traister, a New York contributing editor and the author of All the Single Ladies, digs deep into the fights for suffrage, civil rights, and fair labor laws in order to remind us that it's organized anger, not passive martyrdom, that tends to win the day. She follows the feminist waves into the Trump era — a time of marches, #MeToo, and political campaigns raging at a system that promoted an abuser over a highly effective and very reasonably angry woman President.
The Witch Elm, by Tana French (Viking, Oct. 9)
After six linked Dublin Murder Squad procedurals that quickly became the most sought-after galleys in book publishing, French takes a break from both the series and the detective's point of view without sacrificing the existential force and unpredictability that built her broadening fan base. The protagonist in this case is not a cop but (it would seem) a victim; a happy-go-lucky art-gallery publicist beaten in his apartment and robbed of his good looks, good memory, and good fortune. After he moves onto his ailing uncle's estate, French's dark mystery gets churning and never turns back.
Riddance, by Shelley Jackson (Catapult, Oct. 16)
A post-modern gothic novel about "The Sybil Joines Vocational School for Ghost Speakers & Hearing-Mouth Children," assembled by a fictional editor out of scattered documents, isn't for everyone. You'd have to like both Halloween and meta-fiction, Edward Gorey and David Mitchell. For all its inventive bravura, Jackson's book is a brainy but ultimately tender mystery, spinning around a fascinatingly deluded headmistress who thinks stuttering children can channel the dead; one of her star student-cultists, and the question of who offed a very unlucky school inspector.
Melmoth, by Sarah Perry (Custom House, Oct. 16)
In another novel well timed for Halloween, Perry takes the gothic tradition in a different direction – toward those European novels of ideas that reckon with the human propensity for evil. Helen Franklin, a British-born translator in Prague, is shown a manuscript about Melmoth the wanderer, a folkloric wraith cursed to bear witness to individual acts of complicity with persecution and genocide. (Melmoth is a real legend; Perry changes his gender to female.) Franklin herself is wracked with mysterious guilt, which ultimately manifests in the sensation of Melmoth's presence, unraveling the dark events of her own past.
Heavy: An American Memoir, by Kiese Laymon (Scribner, Oct. 16)
Weight is both unavoidably corporeal and a load-bearing metaphor in this novelist-essayist's sharp and (self-) lacerating memoir, addressed to the single teen-mom-turned-professor who raised him to become exceptional, sometimes using a belt. Every action has a reaction, and every success its cost, as Laymon thrives in some respects but succumbs to addictions (food most of all). Race, class, and the scars of sexual violence are front-and-center, a constant pressure and threat, but its effects are registered at ground level, a space too complex and for pop sociology.
The Big Fella: Babe Ruth and the World He Created, by Jane Leavy (Harper, Oct. 16)
The baseball superstar, whose outsize body and spirit turned him into one of the first true American celebrities, is no stranger to biographies. But Leavy always entertains, injecting necessary context about a sport that was just beginning to become a major advertising and marketing vehicle. She also evokes sympathy for the Babe — a wild boy from the age of seven, when he was sent off to a home for delinquents — without excusing his sins and excesses. Leavy brings the larger-than-life slugger down to the size of a real human being.
Friday Black, by Nana Kwame Adjei-Brenyah (Mariner, Oct. 23)
George Saunders for the post-Obama era, with some Paul Beatty sprinkled in, Adjei-Brenyah takes the absurdities of racism and other American ills to comic-dystopian extremes in her debut short story collection. A theme park called Zimmer Land allows patrons to hunt "terrorists" and other people of color; a chainsaw murderer of five black kids concocts an elaborate plea of self-defense; a mall becomes the scene of a zombie apocalypse—or is it just the Friday after Thanksgiving? Most surprisingly, tenderness pokes through in stories that come closer to real life, like "The Lion & the Spider."
Every editorial product is independently selected. If you buy an item through our links, Vulture may earn an affiliate commission.