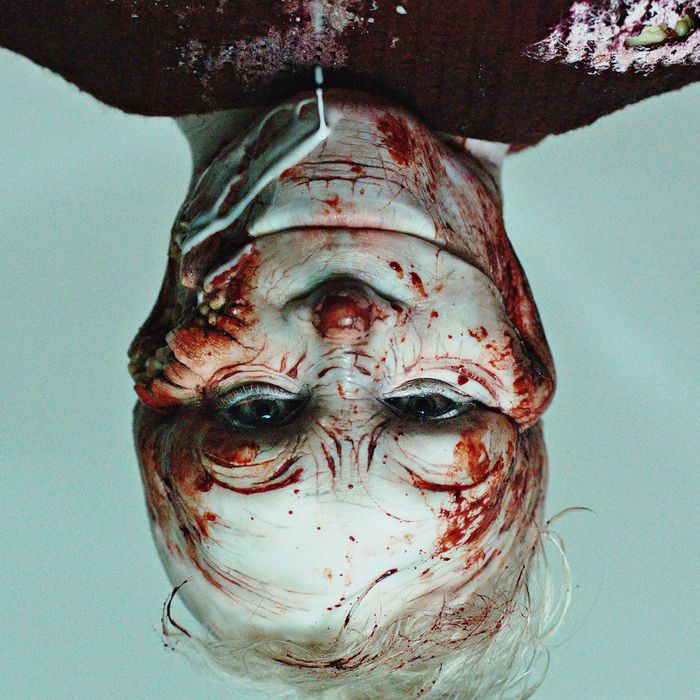 Full stop:
Channel Zero
is the scariest show on TV.
Photo: SYFY/SYFY
This Halloween season, you're probably looking to binge all the spooky TV shows and movies you can handle as you prep your costumes, arrange your decorative gourds, and hollow out some jack-o'-lanterns. Thankfully, networks and streaming sites have stacked their programming with tons of horror specials — AMC has Fear Fest, Hulu is doing Huluween, Netflix is bringing you Netflix and Chills, Freeform has 31 Nights of Halloween, and Syfy is delivering 31 Days of Halloween. And Vulture is here to highlight the best and scariest new programming rolling out in October, from new seasons of TV shows to original movies to feature films that are debuting on streaming hubs. No matter the particular kind of horror, there's something here for you: We've arranged them all by the flavor of scares they offer.
Do you want … true-life horror?
Eli Roth's History of Horror (AMC)
The director of Hostile and The House With the Clock in Its Walls hosts this docuseries in which cinema icons and masters of horror — Jamie Lee Curtis, Robert Englund, Linda Blair, Quentin Tarantino, John Landis, and more — talk about the impact and evolution of horror. History of Horror premieres October 15.
Haunted (Netflix)
Netflix goes the docuseries route for Haunted, which interviews people who have had liaisons with the paranormal and recreates their stories with dramatizations. The complete first season arrives on October 19.
Haunted Live (Travel Channel)
Now airing on the Travel Channel, Haunted Live hooks viewers into the lives of a paranormal investigating group named the Tennessee Wraith Chasers. As the show airs, viewers can follow along via Facebook and interact with the Chasers, giving them input about what to explore next.
Lore (Amazon)
The second season of this anthology series will continue the mission of the first: To uncover the real events that gave way to our most frightening myths. Based on a podcast by Aaron Mahnke, the show uses animation and narration to dramatize the stories, and you can see the new batch of episodes on October 19.

Most Terrifying Places in America (Travel Channel)
Another seasonally appropriate docuseries that's currently airing on the Travel Channel, Terrifying Places does exactly what the title says: It tours the most haunted sites in the country, like the famed Winchester House in San Jose, California, and the Shanghai Tunnels in Portland, Oregon.
True Horror (Shudder)
This docuseries is now airing in full on Shudder, and it chronicles the real-life supernatural encounters of selected people, which are re-staged with dramatic narratives.
Do you want … horrors of the occult?
Apostle (Netflix)
Fans of The Raid, stand at attention! Welsh-born writer and director Gareth Evans is jumping to Netflix with Apostle, which stars Dan Stevens as a man in the early 1900s who travels to an island in order to rescue his sister from a cult. Think of The Wicker Man, but with more high-intensity action and someone coring a human skull. Apostle is now streaming.
Satan's Slaves (Shudder)
This Indonesian film focuses on a family who has recently lost their mother, a famous singer, to a mysterious illness; following her passing her children are tormented by malevolent forces.
Do you want … witches?
American Horror Story: Apocalypse (FX)
Supreme Cordelia and her witches are back in the eighth season of Ryan Murphy's horror anthology. And this time, they're fighting a sexy young Antichrist after the fall of civilization! New episodes are now airing.
Charmed (The CW)
Young witches are trending! It's been a strange road for this reboot of the WB-era supernatural drama, with plenty of frustration on behalf of the original cast about how the updated version has come together, but give the new Pruitt sisters a chance. Charmed premiered on October 14.

The Chilling Adventures of Sabrina (Netflix)
Perhaps the most anticipated horror series of the season, Netflix's Chilling Adventures of Sabrina stars Kiernan Shipka as the titular Sabrina in a very Riverdale-esque incarnation of one of your favorite teen witches. Just don't expect a talking cat this time. Chilling Adventures premieres on October 26.
Witch in the Window (Shudder)
A father and his young son take a bonding trip together with the goal of fixing up an old house, until they discover that its former occupant was a cruel woman whose spirit may have stuck around after she died. Shudder snapped this film up from the festival circuit, and it starts streaming on October 18.
Do you want … fantasy horror?
Castlevania (Netflix)
What better time than Halloween to get into a series based on a popular video game about killing vampires? Season two of Castlevania starts streaming on October 26 — the same day that Chilling Adventures debuts.

Van Helsing (Syfy)
The third season of this Syfy series bowed at the start of October, and it focuses on Vanessa Helsing, the daughter of famed vampire hunter Abraham Van Helsing. Vanessa woke up from a five-year coma to a world overrun by vampires, but her unique blood makes her immune to infection, and also she's a Van Helsing, so she's got some slaying to do.
Z Nation (Syfy)
Season five of Z Nation premiered earlier this month, and if you're looking for some post-apocalyptic zombie action comedy, try watching a motley crew of survivors guide the one man who can devise a cure across the country from New York to a lab in California.

Do you want … family-friendly horror?
Creeped Out (Netflix)
This anthology series for kids was already available in the UK and Canada, but Netflix is finally bringing it to the wider world. A masked figure called The Curious guides viewers through spooky tales of kids confronting the inexplicable.

Do you want … haunted houses?
Channel Zero: The Dream Door (Syfy)
Full stop: Channel Zero is the scariest show on TV right now. Each season of this anthology series is based on a different internet myth (a creepypasta, if you will), and each one is a surreal, terrifying journey into the theater of the mind. Dream Door premieres on October 26, but this time around, the whole season will air over consecutive nights, culminating in a Halloween finale. If you're looking for legitimate frights, this is the show to watch.

The Haunting Of Hill House (Netflix)
Ace horror director Mike Flanagan re-teams with his Gerald's Game star Carla Gugino for this adaptation of the classic Shirley Jackson novel, now available to stream on Netflix. The Haunting Of Hill House unfolds over two timelines, past and present, and focuses on how a family has grown along with the trauma they endured from growing up in Hill House.
Malevolent (Netflix)
Florence Pugh stars in this ghostly romp about a group of 20-somethings scamming people as a team of paranormal investigators. Well, they're scamming until Pugh's character actually starts seeing spirits and they end up trapped in a haunted house.

Terrified (Shudder)
This Argentinian film won Best Horror Feature at this year's Fantastic Fest, and its poised to be one of — if not the best — horror films of the year. Terrified takes place in a neighborhood in Buenos Aires where very bad things are happening, like levitating bodies and mysterious voices coming from nowhere. Feel the terror when it starts streaming on October 11.

Do you want … teen screams?
Light as a Feather (Hulu)
Hulu is going all-in on the holiday with Huluween, and Light as a Feather is part of its spooky programming. Based on the sleepover game you definitely played after you watched The Craft with friends, Feather follows a group of friends who all start dying, leaving the survivors to solve the mystery before all of them are picked off.

Killer High (Syfy)
High school reunions go best when the guests don't end up dying, but that's the macabre challenge to be faced in this horror comedy, which debuts on October 20.

Do you want … brutal body horror?
Into the Dark: The Body (Hulu)
Blumhouse partnered with Hulu for this year-long anthology series, which premiered in early October. Each month, a new installment of Into the Dark will air, most centered around a different holiday, with the first being The Body. It's about a hitman who ends up at a Halloween party with his latest job wrapped in cellophane like a costume prop. Fans of gory horror shouldn't miss this one.

Stan Against Evil (IFC)
Starting on Halloween night, demon hunter Stan Miller returns in this very Ash vs. The Evil Dead-esque horror-comedy series on IFC. If you're a John C. McGinley fan, why wouldn't you want to watch him battle monsters?
The Walking Dead (AMC)
Watch Andrew Lincoln's final ride as Rick Grimes on the new season of The Walking Dead, which premiered earlier this month on AMC. Nothing says Halloween like feel-bad zombie survival drama!
Do you want … entrapment horror?
Dead in the Water (Syfy)
If you have a phobia about being isolated in a vast expanse of water, beware! A group of women on a boat in the middle of nowhere must confront an invader on their ship. Oddly enough, it seems like an actual man would be scarier in this scenario than a ghost. Dead in the Water premieres October 27.
No Escape Room (Syfy)
A father and daughter decide to check out a local escape room, only to realize there's something more far sinister afoot then just being locked in a room you have to problem-solve your way out of.
Do you want … demonic horror?
Cucuy: The Boogeyman (Syfy)
Riverdale fans should seek out Marisol Nichols in this Syfy original about a teen girl who discovers that the myth of El Cucuy — a Mexican bogeyman figure — is actually true. She's under house arrest when she realizes all this, so expect shades of the excellent New Zealand horror feature Housebound. Cucuy premieres on October 13.

Karma (Syfy)
A recent college graduate named Manny takes work from his father-in-law evicting delinquent tenants from their homes, which results in a relentless karmic demon following his every step. That's a bummer of a deal, but it sure sounds like Manny deserves it. Karma premieres on October 13.
Do you want … all of the above?
Huluween Film Fest (Hulu)
Hulu has provided a fun alternative to movies and TV shows by streaming a program of short films that premiered this month on the service. The Rizzle, Carved, The Hug, Urn, Lippy, The Gillymuck, The Box, and Haunting, Horrifying Sounds From Beyond the Grave, all range from four to six minutes for some quick creeps by new filmmakers.