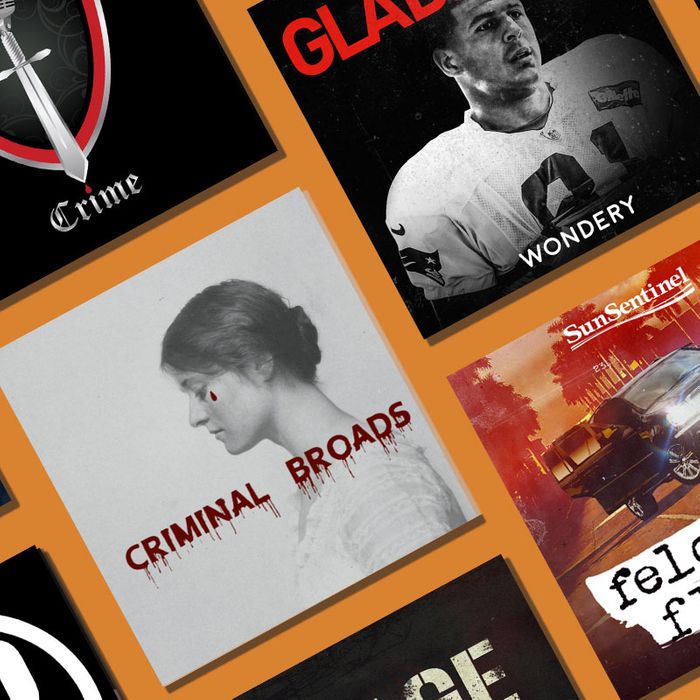 The true-crime podcast universe is ever expanding. We're here to make it a bit smaller, a bit more manageable. There are a lot of great shows and each has a lot of great episodes, so we want to highlight the exceptional, the noteworthy. Each week for the month of October, our crack team of podcast enthusiasts and specialists will pick their favorites. To read last week's edition, click here.
Gladiator: "Bristol" and "Gator Nation"
When former New England Patriots' star Aaron Hernandez was sentenced to life in prison for murdering Odin Lloyd, pundits and players seemed quick to recall his troubled past as a college player and his habit of hanging out with a dangerous crowd from his hometown of Bristol, Connecticut. Two years later, false reporting around his suicide produced a new round of breathless speculation about his sexuality. Gladiator, from the Boston Globe Spotlight team and Wondery, makes quick work of dispatching this kind of reckless spin in "Bristol," the heartbreaking, must-listen second episode of the series. "Bristol" is a masterclass in audio storytelling, painting a grim portrait of the former player's childhood while taking a broader look at the effects of unrelenting toxic masculinity, both on the football field and closer to home. That chapter is followed by "Gator Nation," in which we get disturbing details about his journey to the University of Florida, where the Urban Meyer–led football machine lured Hernandez in, used him to win, and then spit him out unceremoniously, all the while playing some seriously shady games with law enforcement. And if you find yourself wondering what part the New England Patriots played in the Hernandez story, hang on to your jockstraps, because as we hear at the end of the episode, Gladiator is definitely going there. — Rebecca Lavoie
Listen: Spotify | Apple | Website
Felonious Florida: "The Disappearance of Lisa Spence, Part 2"
The first episode of this two-part series is about the 2009 disappearance of Lisa Spence, a woman from Trinidad who was convinced to move to Miramar, Florida, by her on-and-off boyfriend Paul Edwards. Lisa and Paul's relationship was referred to euphemistically as "rocky," so when she stopped showing up for work and her loved ones began receiving weird texts from her cell phone, police zeroed in on Paul. The second episode focuses on the fascinating (and frankly surprising) lengths that investigators went to to prove what they suspected. To be frank, Spence's murder is so tragic and cruel that it made me want to scream. Not for the faint of heart. — Jenni Miller
Listen: Spotify | Apple | Website
Once Upon a Crime: "Haunted Homicide: Chapter 4: The LaLaurie Mansion"
Host Esther Ludlow concludes her amusing month-long series "Haunted Homicide" — examining true-crime cases that have inspired their own ooky-spooky ghost stories — with the cruel tale of New Orleans socialite Delphine LaLaurie. If you watched 2013's American Horror Story: Coven, which cast Kathy Bates as an immortality-cursed version of LaLaurie, you're probably familiar with the story's broad (albeit hyper-sensationalized) brushstrokes: In 1843, a fire broke out in the kitchen of the LaLaurie's home in the French Quarter, and when local authorities came to put out the blaze, they discovered a number of abused slaves chained up in the mansion. Word of the atrocities quickly spread and a mob descended upon the residence. LaLaurie ultimately fled to France and her infamy only grew. To her credit, host Ludlow takes great pains to fact-check the prevailing lore, and while many strings are revealed to be false or exaggerated, we're still left with a chilling account of a woman with little-to-no remorse for the wounds she's inflicted. Oh, and lest I bury the lede, there's a Nicolas Cage cameo! — Amy Wilkinson
Blackwood: "The Bugman"
The story of the Blackwood Bugman immediately gave me flashbacks to being a terrified middle-schooler watching The Mothman Prophecies, turning my popcorn bag into a sweaty-palmed mess while my best friend sat beside me sinking lower and lower into her chair — so, understandably, I was a bit anxious listening to this at night. I'll go ahead and tell you now: This is technically a fictional audio drama. But Blackwood can compete with the some of the best audio dramas out there (see: Limetown), and thus I think it deserves a spot on this list. Molly Weaver, Bryan Anderson, and Nathan Howell start with the aforementioned Bugman, a local legend that has turned into a polarizing issue for the town of Blackwood. But the "facts" are: Someone has been slaughtering teenagers in the woods. There are kidnappings. Mysterious happenings. All the makings of a great, spooky yarn. The first two episodes came out yesterday: Listen at your own risk. — Hillary Nelson
Listen: Spotify | Apple | Website
48 Hours: "Cold-Blooded Killer"
Mike Williams was minding his own business and hunting ducks on Lake Seminole when he went missing on December 16, 2000. When the search didn't turn up a body, authorities attributed his disappearance to, uh, alligators. By all accounts, he and his wife Denise were happy and successful so there was no reason to suspect foul play, but his mom Cheryl did not buy the alligator explanation. Naturally, Cheryl was written off as an annoying kook, but guess what? Annoying kooks get sh*t done, and eventually the mystery of Williams's disappearance was solved. And it's a doozy. Weirdly enough, 48 Hours did a TV episode about the disappearance of Mike Williams that aired on October 20. I'm not sure how it differs from the podcast, because hello, this is about podcasts and not TV shows. — Jenni Miller
Casefile: "Case 97: Rebecca Schaeffer"
The slaying of Rebecca Schaeffer remains one of the most notorious Hollywood crimes of all time. In 1989, the 21-year-old actress was coming off of a star-making turn on the CBS sitcom My Sister Sam when she was gunned down by a deranged fan, 19-year-old Robert John Bardo, in the entryway of her home. The murder reverberated throughout the entertainment industry and served as the catalyst for many of today's anti-stalking laws. Casefile's examination of the crime intercuts Schaeffer's rising-star narrative with that of Bardo's descent into madness, culminating in their tragic meeting — one that could have been avoided had Bardo's obsession with Schaeffer been taken more seriously. As always, the podcast's unnamed narrator presents the tragic events in his signature matter-of-fact style — an especially good tack for the Schaeffer case, which in less measured hands could come off as a tawdry True Hollywood Story episode. — Amy Wilkinson
Listen: Spotify | Apple | Website
Bear Brook: "Eunsoon Jun"
Full disclosure: Bear Brook is made by people I know. People I work with every day, in fact. But, if you listen to my podcast Crime Writers On… you *know* I wouldn't recommend listening to something that wasn't great. And the fourth episode of Bear Brook is really, really great. In "Eunsoon Jun," reporter Jason Moon takes what seems like a narrative side trip from the story of four identified bodies found in two barrels in the woods of New Hampshire, to the gruesome 2002 murder of a California woman at the hands of her very creepy live-in boyfriend. Along the way, we meet real-life supercop Roxane Gruenheid, a character whose quirky personality and eye for detail could have sprung from a Coen brothers' script. Gruenheid's relentless investigation not only solved Eunsoon Jun's murder, but also so spooked the killer that he changed his plea to guilty AT HIS OWN MURDER TRIAL just to try and stop her from digging into his past. But she didn't stop. And the mystery she began to unravel revealed that Larry Vanner, a.k.a. Bob Evans, a.k.a who-knows-who-else, had a much darker past — and many more victims — than anyone could have imagined. And where do the threads of that mystery lead? All the way back to New Hampshire, and those bodies found in Bear Brook State Park. — Rebecca Lavoie
Listen: Spotify | Apple | Website
Criminal Broads: "Vice Queens of Sydney: Tilly Devine and Kate Leigh"
If it's weird to think that a true crime podcast is charming, then I don't want to be right. This episode of Tori Telfer's smart and funny podcast has everything: diamonds, furs, Pomeranians, bootlegging, brothels, cocaine, and straight razors. Look, I'm sure that Tilly Devine and Kate Leigh's crimes terrorized Sydney, and they were awful people, but it's easy to look back on the 1920s and '30s as a glamorous time to be a lady gangster. It's like something out of a Phryne Fisher novel — and isn't that a nice respite from the 24/7 news cycle? — Jenni Miller
Hostage: "Patty Hearst Pt. 3: Captive of the SLA"
As its name suggests, this new podcast hosted by Irma Blanco and Carter Roy focuses its true-crime lens on cases that involve the taking of a hostage. Their debut is an ambitious three-parter detailing heiress Patty Hearst's kidnapping (and later collusion — forced or not) with the Symbionese Liberation Army. Blanco and Roy embellish the well-trod case files with insights into the psychology of hostage takers and victims, offering a rich account of a very complicated affair. — Amy Wilkinson
Listen: Spotify | Apple | Website
This week's reviewers: Rebecca Lavoie, Jenni Miller, Hillary Nelson, and Amy Wilkinson.